With over 3 billion users worldwide, WhatsApp is the best and the most successful instant messaging app. The instant messaging app is known for its free messaging, VOIP calls, and video calling features and is now used by almost everyone, including our friends, family members, neighbors & relatives.
If you rely on WhatsApp for communication or use it regularly, you might know that the app receives updates periodically. A few weeks ago, WhatsApp confirmed some new features expected to roll out to every Android & iOS user in 2022.
We are talking about WhatsApp because recently, the app received another feature that allows users to share their location on the Status. Yes, you read that right; users can now share their location directly on the WhatsApp Status.
To share live location on WhatsApp Status, users need to use a new location sticker that has just been introduced. The WhatsApp Status location sticker has been rolled out to Android and iOS users, but it will take time to reach every device.
Steps to Add Location Sticker on WhatsApp Status
Hence, this article will share a step-by-step guide on adding a location sticker on WhatsApp Status. The steps will be straightforward; follow them as we have mentioned.
1. First, open the Google Play Store on your Android device and search for WhatsApp. Next, open the WhatsApp app from the search result and install the updates (if available).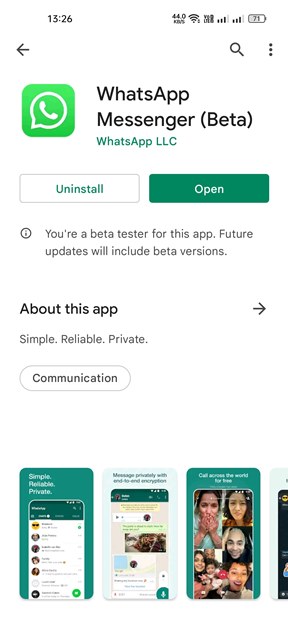 2. Once updated, open the WhatsApp app and swipe right from the home screen to access the Status.
3. On the WhatsApp Status page, tap on the (+) icon to create a new Status. Now, capture a photo or record a video. You can even choose an image or video from the gallery.
4. On the next screen, tap on the Emoji icon located at the top.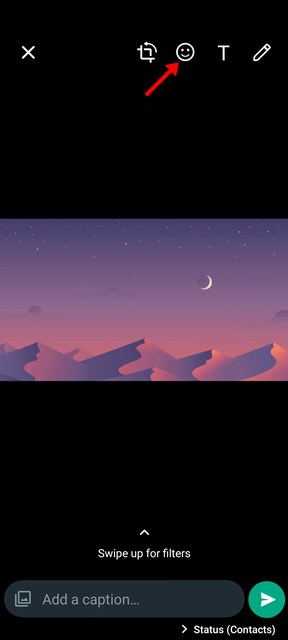 5. Switch to the Stickers tab and select the Location sticker under the 'Content Stickers'
6. On the Select Location screen, tap on either the 'Select your current location' option or pick the location manually on the map.
7. The location sticker will be added to your image/video. You can drag the sticker to adjust the placement. You can also tap on the location sticker to change its style.
That's it! After making the changes, tap on the Send button to share the image/video to your WhatsApp Status.
Note: If you cannot find the location sticker on your WhatsApp, you need to install the WhatsApp beta app.
So, this guide is all about adding a location sticker on WhatsApp Status for Android. A similar feature is also available on Instagram as well. If you can't find the Location sticker, you need to install the WhatsApp Beta app on your Android. After installing the beta version, follow the same steps to use the Location sticker on WhatsApp Status.