If you are someone who often has multiple app windows open in the background, you might know how difficult it is to manage them all. To manage all open app windows, Microsoft's Windows 10 offers a feature called 'Cascade windows' that automatically organizes your open Windows.
Besides the cascade windows, you have no option to align or organize your app windows on Windows 10. While the cascade windows feature is useful, sometimes it's not enough, and we want to have more window management features.
To have more window management features on Windows 10, you need to start using the PowerToys. PowerToys has a feature that can force a specific window to always open in the same spot. Without PowerToys, app windows can change their last known spot if you assign another window in that place.
PowerToys FancyZones
Well, PowerToys is a utility that brings sets of tools to improve the functionality of your Windows 10 computer. You can add or remove more features to your system, pick colors, resize images, manage keyboard layouts, and more.
If you want Windows 10 to always open windows at the same place, you need to use the FancyZones addon of PowerToys.
If you aren't using PowerToys on your Windows 10, you need to follow our guide Download & Install PowerToys in Windows 10 to install PowerToys on your Windows 10 computer.
Steps to Always Open Windows in the Same Spot
After installing the PowerToys utility on your Windows 10, you are reading to force Windows 10 always open app windows in the last known spot. For that, you need to follow some of the simple steps we have shared below.
1. After installing PowerToys on Windows 10, open the tool from the System tray.
2. On the left pane, select the option 'FancyZones'
3. Now use the toggle button to turn on the feature 'Enable Fancy Zone'
4. Now scroll down to the Window behavior section.
5. Enable the option 'Move newly created Windows to their last known zone'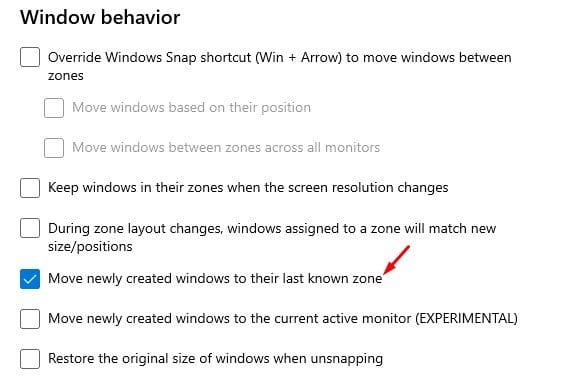 Note: The feature will also work with the Startup apps. As soon as your computer starts, the Windows will be assigned to the same spots where they have been previously.
That's it! You are done. This is how you can always make Windows open at the same place on your Windows 10 computer.
So, this article is all about how to make Windows always open in the same spot. This could be a very handy feature; especially for those who have trouble organizing app windows. If you need any more help, let us know in the comment box below.