Well, it's no doubt that Windows 10 is right now the best and most used desktop operating system. Compared to every other desktop operating system, Windows 10 offers more features and customization options.
If you have been using Windows 10 for a while, you might know that the operating system offers lots of Windows Management Tricks. Most of the tricks were kept hidden from everyday users. One such feature is 'Cascade Windows'.
Also Read: How to Check the Windows 10 OS Build, Version, Edition & Type
What is Cascade Windows Feature on Windows 10?
Let's admit, while dealing with multiple apps, we often face difficulties in arranging multiple Windows in Windows 10 computers. Sometimes we have so many windows open that we cannot differentiate which one belongs to which app, like this.
To deal with such messy Window arrangements, Windows 10 has a feature known as 'Cascade Windows'. It's a Window management feature that arranges all open Windows to overlap one another, with their title bar remaining visible.
The feature is present in every Windows 10 build and version. It lets you quickly organize all your open windows in just a single click. Below, we have shared a detailed guide on how to cascade all your Windows on Windows 10 computer.
How to Cascade all your Windows on Windows 10?
It's pretty easy to cascade all your Windows on Windows 10 computers. For that, you need to minimize any open windows that you don't want to cascade. The reason behind that is the Cascade feature ignores the minimized windows.
Next, right-click on a blank space on the taskbar and click on the 'Cascade Windows' option.
Once done, all of your non-minimized windows will be overlapped on top of one another. The title bars will remain visible, allowing you to find and switch to any open Window easily.
To revert the changes, right-click again on the taskbar and this time select the option 'Undo Cascade all windows'. This will bring back your original Window arrangement.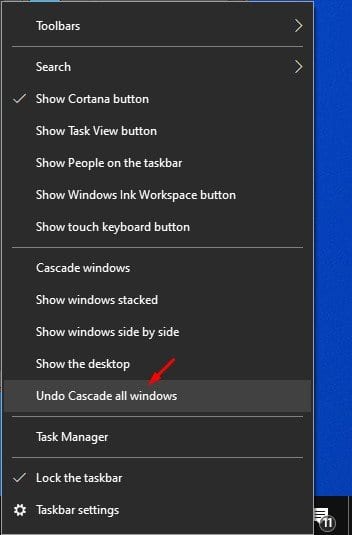 Important: If you made changes to the Window layout while performing a cascade, the 'Undo Cascade all windows' option wouldn't work.
So, this article is all about how to cascade all your open Windows on Windows 10 computer. I hope this article helped you! Please share it with your friends also. If you have any doubts related to this, let us know in the comment box below.