While picking up a smartphone, we consider many things like RAM, Storage, Battery, etc. However, out of all those, the battery turns out to be the most important one because we now use our smartphones more than the computer.
As of now, there are plenty of battery saver apps available on the Google Play Store which can further enhance your battery performance. However, not all battery saver apps work. Most of the battery saver apps were made to display ads.
Also read: How To Increase Battery Life Of Android (Best Methods)
List of 10 Battery Saver Apps For Android That Work
So, in this article, we will share some of the best battery saver apps for Android that work.
These apps kill all unnecessary app processes from the background, thus improving the battery life. So, let's check out the best battery saver apps.
Hibernation Manager is an app that can help you save battery when you don't use your Android device. It's not a regular battery saver app; it's an advanced app that hibernates your processor, settings, and even applications to save the battery power.
You can manually choose the battery draining application to disable it on your system. Overall, Hibernation Manager is a great app to save battery life on Android smartphones.
Well, Naptime is a little bit different than all other battery saver apps listed in the article. It utilizes the built-in doze power-saving functionality of Android to reduce power consumption.
The app automatically disables WiFi, mobile data, location access, and Bluetooth when they doze mode kicks in.
Hibernator doesn't put your apps into hibernation mode. Instead, it closes the apps automatically every time the screen is turned off.
That means, whenever you lock your Android device, it automatically close the background apps to save battery life.
It is one of the best battery management app that Android users would love to have. Unfortunately, the app doesn't lead to better battery life, but it does more than that.
It provides users with a complete overview of the actual battery capacity and its performance in different scenarios.
With AccuBattery, you can easily figure out your battery discharging time, detect apps that drain battery life, and more.
Well, Service is another best power saver app for Android that is pretty similar to Amplify. Like Amplify, Servicely also works on rooted Android smartphones, and it lists down apps that consume most of the battery power.
Apart from that, Servicely can detect apps and services running in the background and automatically disables them.
Well, Greenifty comes with some powerful battery optimization features which can improve the battery life for sure.
The app lists down apps running in the background, and it puts them in hibernation mode. That means the apps will be there on the smartphone, but they will be hibernated.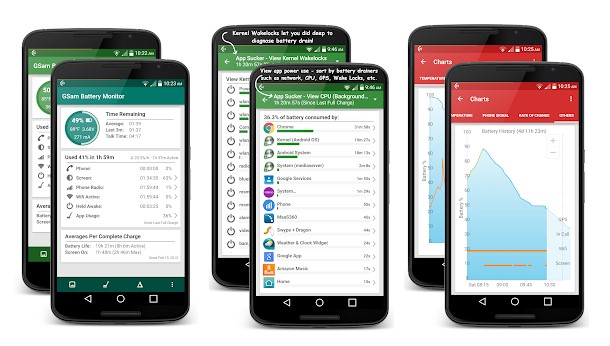 As the name of the app says, GSam Battery Monitor is not a battery-saving application as it won't do anything to save your battery life on its own.
However, GSam Battery Monitor can provide you with a complete overview of apps draining battery life.
This app is meant to recognize apps that are causing the wake lock. The great thing about GSam Battery Monitor is that it can detect both partial and complete wake locks. So, once you get the app data, you can either disable or uninstall them.
Well, if you are looking for the best open-source Android app just like Greenify, then Brevent might be the one to pick. Another great thing is that Brevent works on both rooted and non-rooted Android smartphones.
The app follows a simple concept of detecting apps draining the battery and putting them to hibernation.
Well, it's a free battery saver tool that helps to boost mobile battery life for your Android phone and tablets. The Android app runs in the background and monitors every app that's running on your device. So if any of your apps suddenly starts to use more energy, it alerts you.
So, these are the best Android battery saver apps that you can use to extend the battery life. If you know any other apps like these, then make sure to drop the name in the comment box below. I hope this article helped you! Please share it with your friends also.