Writing text on a computer is easy, we just need to open Notepad or Word Document to start writing. However, things become a little bit complicated when it comes to Android smartphones. Android smartphones do provide users with Memo to write text, but it fails to provide the best ever writing experience.
So, if you are a writer and if you are searching for the best apps to write text, then you are reading the right article. In this article, we are going to share a few best Android apps that would improve your writing experience on Android.
15 Best Android Apps for the Writers 2020
It's worth to note that there are plenty of Android writing apps available on the Google Play Store, but mentioning all of them is not possible. So, in this article, we have shared the apps that are popular and have lots of positive reviews. So, let's check out the best Android apps for the writers.
1. IA Writer
This app was greatly popular among the writers on the iOS platform before it got it's an all-new version for the Android. While getting its appearance on the Android, it just doesn't take enough time for the app to gain the whole of traffic and popularity. Ultimately with the features to sync the files from the Google Drive and Dropbox as well as exporting the files to multiple formats this app is just perfect for the writers. The best thing is that this app is available for free of cost!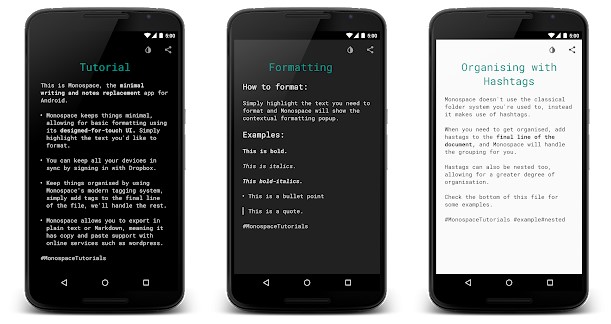 With basic text formatting options and simple design, this app is best for the users who want to write their article without being getting distracted in lots of those functions and features. This app has the integration with Google Drive and the Dropbox so you could easily import your text documents and also export them to the cloud storage from where it could be accessed on any device later on. Cloud integration is only available in the paid version of this app that costs about $4!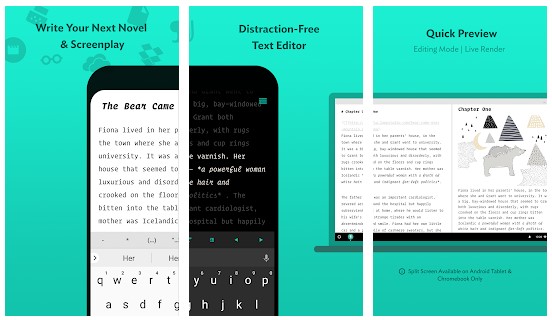 Another simple but writing-focused app that the users could use to write their documents, stories, etc. without being distracted by any multiple options feeling around in the interface. Apart from these, the best feature of this app is that it could save the snapshots of your work that could be hugely helpful! Other than that the app also has the support for the Bluetooth keyboards and the shortcuts which are extremely beneficial for the small screen devices.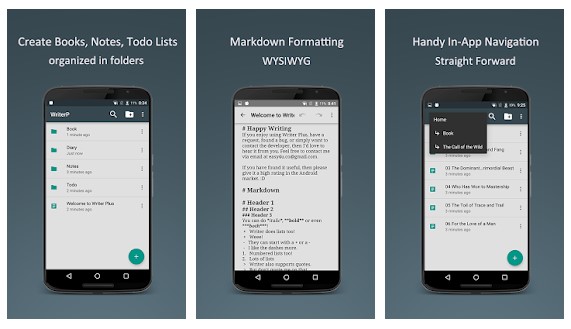 Superb looking interface makes you feel interested in writing the text o your device. Integrated with lots of amazing features for the editing of the text as well as the formatting of the text styles this free app is worth doing any writing tasks. There is, unfortunately, no support for the Cloud services which means you have to save and access all your files only on the Local storage of the device!
5. MarkdownX
This is an excellent app that boosts those standard text editing features as well as the preview mode for your final documents. You could only access your Dropbox folders for the text files, export the data to the HTML format or directly the text format. All this you get free of cost so you should go for it!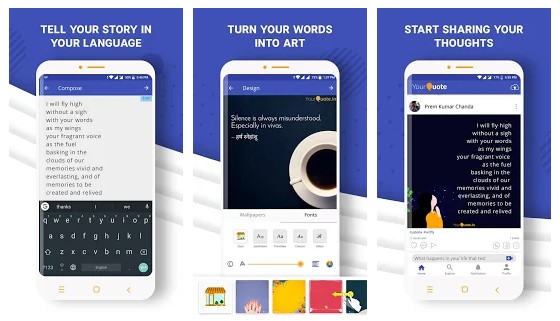 YourQuote is basically a writing & blogging app that broadcasts your words as beautiful images and text on pictures. This app allows you to write on photos and provide your copyright, turn all your creative writing Google searchable as your quotes.
If you want to create an outstanding writing experience on a tablet, INKredible is just for you. This app is meant to be distraction-free. INKredible will make writing on a tablet feel as good as, or even greater than, pen on paper.
ClevNote is a memo app to help users to write memos necessary daily. You can write down the necessary items and use them for the shopping list or to-do list. You can freely modify it for a to-do list, work list or any kind of things-to-do list.
9. Notepad
This is a full-featured and easy to use notepad app for your Android smartphone. You can use this app as a digital notebook or diary. The app is also best for recording lectures, business meetings, and interviews.
If you are looking for an Easy & simple notepad app for your Android smartphone that you can use for quick note-taking, then you should download and install Keep My Notes app from Google Play Store. It features an offline notebook that you can use to write on all the notes to remember without the need for an internet connection.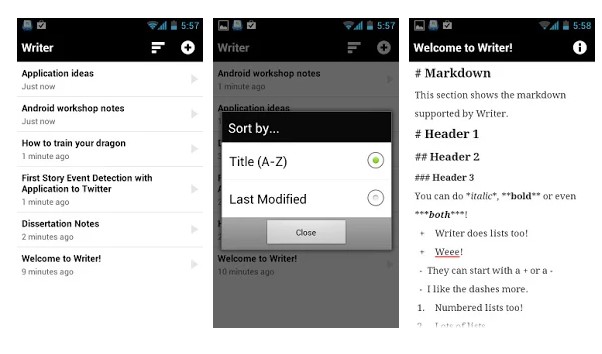 Well, if you are looking for a powerful Android writing app that is simple to use and comes without any distraction of a traditional word processor, then Writer might be the perfect pick for you. The app packs almost everything that you need for your writing needs.
Well, Google Docs is not exactly an app for writers, but it's nothing less than that. Google Docs is one of the best file formats that's used to create, edit, and collaborate with others on documents. With Google Docs, you can create new documents or edit the existing files on the go. Not just that, but Google Docs also works offline.
Well, Writer Plus is another best free Android writer app that creative writers would love to use. The best thing about Writer Plus is that it allows users to jot down quick points at ease. Not just that, but the writing app comes without the fuss and distraction of a traditional word processor. The ultimate goal of Writer Plus is to make things simple and it tries to be as basic as possible.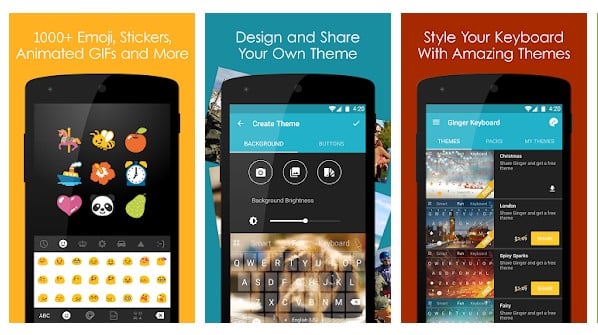 Well, if you are a writer, then you will probably need a productive keyboard app. Ginger Keyboard is one of the best and most used Keyboard apps for writers that will fulfill all your typing needs. The most interesting thing about Ginger Keyboard is its Advanced sentence rephrasing which can instantly throw you new variations for your sentences.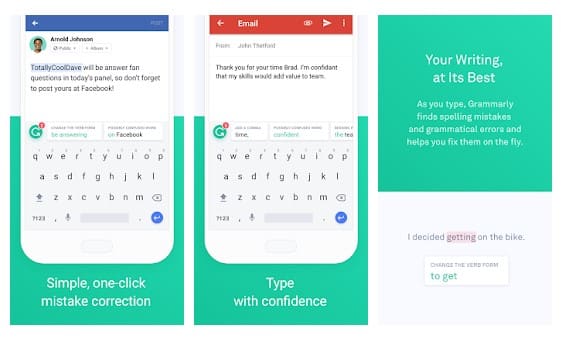 Grammarly Keyboard is one of the leading English grammar services available for desktop and mobile operating systems. Grammarly Keyboard for Android includes a sophisticated grammar checker, contextual spelling checker, punctuation correction, etc. Not just that, but Grammarly Keyboard will improve your overall wring skills.
So, these were the best Android apps for the Writers that all they could use for even large projects very potentially. I hope this article helped you! Share it with your friends also. If you know any other such apps, let us know in the comment box below.