Nowadays, smartphones have become the primary source of media consumption. If we talk about Android smartphones, most of the device has a built-in music player. The stock music player works well for music listening, but it lacks many useful music-related features like an equalizer.
Android has supported equalizers for a while but is useless because it offers fewer controls. So, to get the best music listening experience, one needs to install an equalizer app.
List of Best Equalizer Apps For Android (Boost Audio)
You can adjust various frequencies with equalizer apps to get the perfect sound. Equalizer apps will overall enhance the music output quality of your device.
So, in this article, we will share some of the best Android equalizer apps.
SpotiQ is a full-fledged audio equalizer app available for Android smartphones. The app supports a five frequency bands equalizer, automatically detecting your music player.
The app has many built-in audio presets; you can use them to enhance the sound quality. The good thing about SpotiQ is that it automatically detects Spotify songs and applies your selected preset.
If you are looking for an advanced audio processing app for Android, look no other than Poweramp Equalizer. It's a full-fledged equalizer app that offers you many features and options.
Regarding music player compatibility, most third-party audio players and streaming apps were supported. Overall, Poweramp Equalizer is one of the best audio equalizer apps for Android.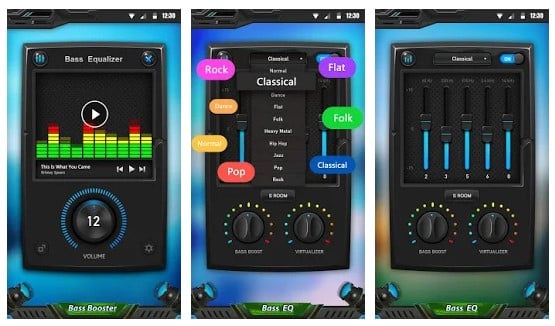 It's one of the best and top-rated Android equalizer apps available on the Play Store. The good thing about Equalizer & Bass Booster is that it provides both an equalizer and a bass booster.
Regarding the equalizer, the app provides a five-band equalizer to control the sound output.
This is an Android equalizer app with many features and a clean interface. Like Equalizer & Bass Booster, Equalizer FX offers users a five-band equalizer, bass boost, and virtualization features.
Apart from that, Equalizer FX is also known for its advanced loudness Enhancer feature, which works with the latest version of the Android operating system.
If you are searching for an Android app with an equalizer feature and an excellent interface, then Music Equalizer might be your best pick.
Regarding the equalizer feature, the app provides a five-band equalizer with a bass booster. Not only that, but the equalizer also provides you with more than ten pre-built presets.
It is one of the best and top-rated Android Equalizer apps on the Google Play Store. The great thing about Music Volume EQ is that it works pretty well with all Android versions, and the developer claims it should work well with most of the famous media player apps for Android.
The Music Volume EQ also provides users with five band Equalizer and nine presets.
This app provides users with a five band equalizer and only works when it detects a headphone. Once you are set, the Headphones Equalizer automatically adjusts itself according to the playing music.
Not just that, but Headphones Equalizer is also known for its headphone calibration correction tools.
If you are searching for a full-fledged music player app to fulfill your music needs, try Equalizer music player booster.
It's an all-in-one Music Player app available out there with Equalizer support. In addition, it offers a 7-band equalizer and a powerful bass volume booster.
Flat Equalizer is a relatively new Android equalizer app on the Google Play Store. The great thing about Flat Equalizer is its minimal Flat UI that follows Google's Material Design.
Apart from that, the equalizer app also offers users two different themes – Light and Dark. So, Flat Equalizer is another best Android equalizer app you can use today.
It is a music player app with a built-in ten band equalizer. In addition, the music player app for Android supports a wide range of music file formats like mp3, midi, wav, FLAC, raw, aac, etc.
It also offers users 12 music presets like Bass, Pure Voice, Classical, Dance, etc.
Muzio Player is a music player app for Android that is fast, stylish, and very powerful. Like every other music player for Android, this one allows you to manage music files you've locally stored.
We have listed the Muzio player because it comes with a powerful equalizer. You can tweak the equalizer settings to boost your music playback experience.
Currently, the music equalizer supports 10 free presets, 5 bands, virtualizer & 3D reverb effects adjustments, etc.
Sound Beautifier is a lesser known equalizer app for Android that can make your favorite music sound more beautiful.
The equalizer app for Android lets you change the audio frequencies, boost the bass levels, boost volume, beautify music by adjusting the presets, etc.
Sound Beautifier is highly compatible with loudspeakers, Bluetooth speakers, headphones, and earbuds. There's a noticeable difference in the sound output quality after tweaking the equalizer settings.
So, these are the best Android Equalizer apps you can use now. If you know of other apps like these, let us know in the comment box below. I hope this article helped you! Please share it with your friends also.