Top 10 Best Google Cardboard VR Apps for Android 2019: Here are the apps from Google that are made with collaboration of Cardboard features and hence has added VR capabilities too. You can check these best apps from Google Cardboard that you can download to get some great experience.
[dropcap]C[/dropcap]ardboard consists of a low-cost, DIY virtual reality headset that anyone can build, and a software platform that makes it incredibly easy for app developers to add VR support to their creations.
Also Read: Best Apps To Surf Anonymously In Android
Top 10 Best Google Cardboard VR Apps for Android 2019
So we have mentioned some best apps that you will surely love to try with your google cardboard. So have a look at all these apps below :
Also Read: Top 10 Best VPN For Chrome To Access Blocked Sites
This is a game that is made on the story-line of the film Star Wars hence if you have seen this movie then you can guess what you could you experience in this game. In this game you put your controls as a secret agent on Jakku,that is the desert world that you could have seen in the film Star Wars. This game also provides the VR experience on your device that makes this game a real challenge for the competitors.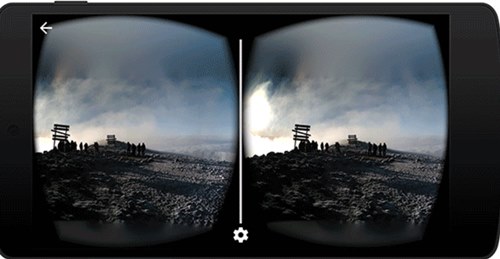 The best photography app released by the Google that has some great features like it lets you capture 360-degree panoramas with VR, virtual reality photos and view them through Cardboard.This app provides exception photo experience and the difference can be seen while comparing it with others.The VR feature makes the pictures look realistic and provides some great 3D depth to the pictures.
The app is just a great News and Documentary apps that you can have on your phone.This app provides you some real content of news as soon as it is available.The displaying of the content is also great and overall it provides very good experience for those who want to go through the News and Documentaries etc.
#4 Tilt Brush Gallery
This app is not yet officially a Google cardboard app but has just its demo version has been released.This app provides you with the VR capabilities with which your photos in the gallery looks like realistic.Your gallery will then have a great tilt of realistic looking pictures that present the great view to the user. You can download the one for you when it is available in the official version.
This app is just like google earth that provides nearby locations to you or anywhere else in the world.There are many such apps that are available on the market but this app is different because of its 360-degree feature. By using this, you can experience the locations in 360 degrees view.This app does not support the VR feature of Google Cardboard.
#6 The North Face: Climb
You get a visually stunning and high production experience from Jaunt, the developer of this app. This app lets you follow to the North Face climbers as they climb and base jump their way around Yosemite and Utah. It is recommended to use this app in 5-6 inch smartphone to play this cool app.
This app is all about the VR experience of the Lanterns Festival. You can see the scenes of lanterns floating on moonlit water (there's a day-night cycle) and off into the mountainous distance using this app and all in VR experience.
This is a small game that consists of neon, arcade style brick breaker that's amusing for a quick hit. You get a chance to play through various levels of this game after going through each level.This is a pretty game that you can play if you want to have some refreshing blow.
This is somewhat different kind of AR-style game in which it uses your phone's camera so as to look at the things in somewhat awkward style that is presented on your screen and it feels like the drunken is moving ahead to reach the goal position.You can choose to experience ten levels of being drunk and your view of what's in front of you blurs, doubles and moves slowly. Scary, but funny, stuff.
The controversial poem "Kiss" based film that takes you to the battle of soumme. You can get the best ever VR experience in the game, play the chapter of the game where you can control a man sitting inside library reading the books and a sudden war like motion comes over.The only con of this game is that you get just a single chapter to play.
Also Read: Top 10 Best Custom Rom For Your Rooted Android Device
These are the best Google cardboard apps that you can download. These apps provide VR experience also and while using these apps you will also feel realistic touch. You cannot get such an amazingly performing apps at such a low price while most are also free of cost. So don't waste your time hanging on some other apps and just give these a try.