If you search for file transfer apps on the Google Play Store, you will find hundreds of apps. WiFi file transfer apps can transfer files from one Android to another. Most apps also have a desktop client, enabling users to transfer data from PC to Computer or computer to PC.
Out of all those WiFi file-sharing apps, Shareit seems to be the best and most popular one. With ShareIt, you can easily share movies, videos, music, wallpapers, and other documents. This app is also available on desktop platforms like Windows, allowing you to transfer files from PC to Android or vice versa.
13 Best SHAREit Alternatives For Android
However, Shareit is not the only one of its kind. There are many Shareit Alternatives available on the internet that do the same thing. This article will share some of the best SHAREit Alternatives that allow you to transfer files anywhere and anytime.
Send Anywhere is one of the great SHAREit Alternatives to securely share files between iOS and Android devices. The most notable thing about Send Anywhere is that it sends the original file size without compression.
Upon installation, Send Anywhere automatically generates a 6-digit key. You need to use that key to send and receive files from other devices. Apart from that, the app even allows you to share files with multiple people at once via a secure link.
Apart from Android-to-Android file transfer, Send Anywhere can also transfer files between Android & PC. Overall, Send Anywhere is one of the great SHAREit alternatives you can use today.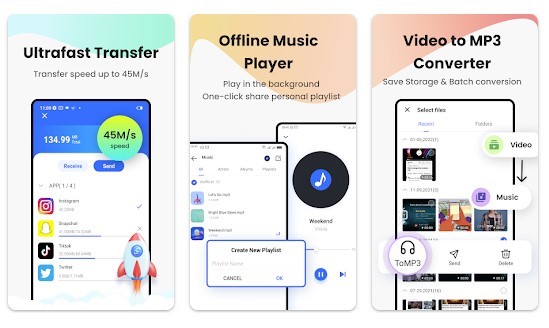 XShare is another excellent file transfer app that uses WiFi to transfer files. The app can transfer your photos, videos, documents, and other files faster.
Apart from file transfer, XShare also offers a file manager that you can use to view or manage files. The app is entirely free to download & use, and millions of users already use it.
ShareMe from Xiaomi is probably the fastest file-sharing app available for Android smartphones. Guess what? ShareMe is fully compatible with Xiaomi, Samsung, Oppo, OnePlus, Vivo, LG, and Realme smartphones.
With ShareMe, you can easily share images, videos, music, apps, and other file types between mobile devices.
It is another best Shareit alternatives on the list that you can use on your Android smartphone. The app arrives with an excellent interface that looks clean and well-organized.
Like Xender, Zapya doesn't need a working internet connection. It just creates a hotspot to send and receive files.
If you are searching for a Shareit Alternative that's not bloated with unnecessary features, then FEEM might be your best pick. You should connect both devices to the same WiFi network to share files with FEEM.
The data sharing speed is much faster and is available on almost all major platforms, including iOS, Windows 10, Mac, Linux, etc.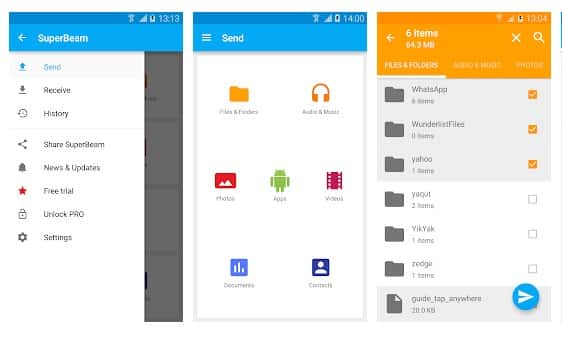 Superbeam is another best WiFi file transfer apps you can use right now. Like ShareIt, Superbeam also relies on WiFi Direct technology to quickly transfer files. Apart from that, Superbeam also supports file sharing via NFC, QR Code, or the web browser.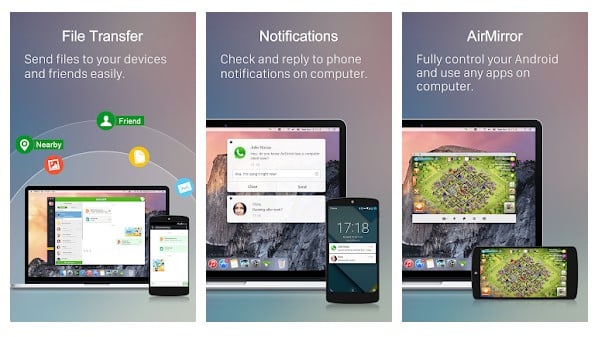 It is one of the best and top-rated remote access tools for desktop and mobile operating systems. With AirDroid, you can access and manage your Android phone or tablet from a PC.
To start a remote session, AirDroid relies upon WiFi. Once mirrored, users can transfer files between devices.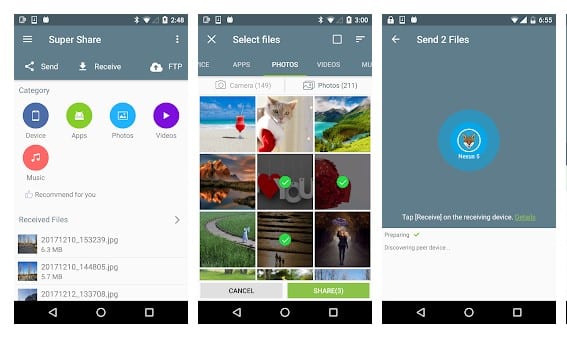 It is another best file transfer apps for Android, similar to ShareIt. Like SHAREit, Easy Share also allows users to share all file formats. WiFi P2P is the file-sharing method the app uses, and the speed goes up to 20 MB/s.
Apart from that, Easy Share can also transfer files to your PC by FTP Server. Other features of Easy Share include backup apps, sharing unlimited file size, etc.
Well, it's one of the best file transfer tools available for Android smartphones. You can share videos, pictures, music, apps, e-books, pdf, etc.
With this app, you can send files with up to 40MB/s speed. So, it's another best ShareiT alternatives you can use now.
If you are searching for an Android app to transfer files over WiFi, JioSwitch might be your best pick.
It's a data transfer app that supports many file types to transfer from one smartphone to another. It has cross-platform support and hence can be used to transfer data between Android and iOS.
WeTransfer is slightly different than Shareit or every other app in the article. Basically, this app lets you share files with other devices, but the means of sharing is different.
Instead of sharing over WiFi, WeTransfer allows you to host & share files via URL and Link. Once you host a file, you will get an option to create a shareable link.
You can grab that link and send it to your friends. There are no file size limits & restrictions on uploading file type.
This is a file explorer app for Android, but it has a few file-sharing features. The FX Connect feature of this file explorer lets you transfer files from phone to phone with the WiFi direct feature.
It also supports NFC to connect two photos by physically touching their backs together. It also has a new Web Access feature that lets you manage files & media from your computer's web browser.
Files by Google is an all-in-one file management app for Android. It's basically a file manager suite that provides you with various features.
You can use this app to manage your files, free up space, find files faster, share files offline with the nearby share, etc.
Regarding the file sharing feature, it lets you share files with devices around you with the Nearby Share feature. The feature can send files with speeds up to 480 Mbps.
So, these are the best SHAREit Alternatives for Android. You can use these best file transfer apps for Android instead of SHAREit. If you know of any other such app, let us know in the comment box below.