It's no doubt that the technology around us is evolving rapidly. Those days are gone when international calls used to be expensive. International calls are still pretty expensive in 2022, but we now have VoIP Calling apps. VoIP is also known as IP telephony, and it's a telephone connection over the internet.
The great thing about those apps is that they offer free international calls to any country. Many international VoIP calling apps are available on the Google Play Store, but not all provide free services. Apart from voice and video calls, VoIP apps also offer chat features.
List of 10 Best VoIP apps for Android Devices
This article will share a list of the best VoIP apps you can use on your Android smartphone. With these apps, you can make free international calls to any country. So, let's check out.
magicApp is a bit different from all other VOIP apps listed above. The app provides a virtual phone number that you can use for making and receiving calls & SMS. The service isn't either free. You have to purchase the number, which gets you unlimited calls to other US and Canada numbers.
You need to install the magicApp app on your Android and log in with your magicApp username & password. Once done, the app will automatically pull the Caller ID from your mobile phone contact list. After getting the contact details, you can start making calls & sending SMS.
WhatsApp was initially an instant messaging app, but later it got the voice and video calling features. The great thing about WhatsApp is that it's available for both Android and iOS devices.
With WhatsApp, you can easily make voice and video calls to people worldwide for free. Want more? WhatsApp also allows users to share files, update status, send GIFs, etc. However, you need to have a working phone number to use WhatsApp.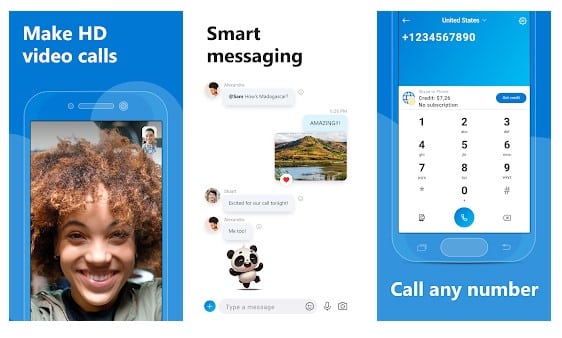 Skype is by far the best and top-rated VoIP service available out there. You won't believe it, but Skype has been around since 2003, and it's still climbing the ladder of success.
Like WhatsApp, Skype is also available for Android and iOS, and you can use it for voice, video, and group calls. You can also apply to get a Skype number to contact someone outside of Skype.
Viber is another best and top-rated VoIP service specializing in free voice and video calls. The great thing about Viber is that it also provides users a personal phone number to call landlines and numbers outside Viber.
To register with Viber, users need to have a valid phone number. Although Viber is not as popular as WhatsApp and Skype, it's one of the most capable contenders in the VoIP world.
If you are searching for the best free and lightweight VoIP calling apps for your Android smartphone, you need to give IMO a try. Guess what? You can easily make voice/video calls, send messages, etc.
The great thing about IMO is that it's compatible with all networks like 2G, 3G, 4G, WiFi, etc., and the call quality is also pretty good.
Facebook Messenger is one of the best and top-rated instant messaging and video calling apps available. Like all other apps listed in the article, Messenger also lets you make voice and video calls over the internet connection.
However, Facebook Messenger is full of bugs, and it's pretty common to experience problems while connecting the calls.
It's one of the unique phone number apps from Google that you can use on Android. It lets you call any phone number in the world without using your cell plan minutes.
You won't believe it, but most US and Canada calls are free on Hangouts Dialer. It also connects with your Google Voice number to make VOIP calls in the Hangouts app.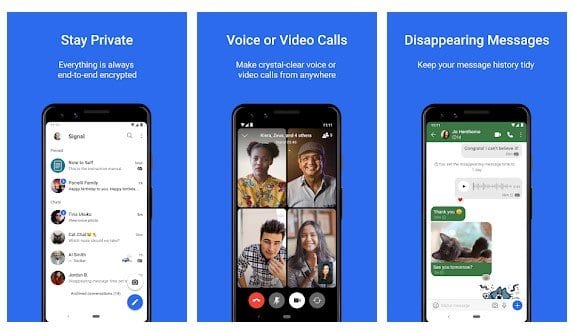 The signal is the best and most secure instant messaging app available for Android. It's one of the best in its section, and it takes privacy very seriously.
With Signal Private Messenger, you can easily exchange text messages, make voice & video calls, send disappearing messages, etc. The app is free, with no in-app purchases.
Zoiper is searching for a simple app that provides superior audio quality for a smooth Voice over IP experience. It's a free IAX and SIP softphone app for VOIP calls over 3G or WiFi. The app is entirely ad-free, and it perfectly fits end users, service providers, call centers, or any other business.
Telegram is another best VoIP app for Android & iOS that you can consider. Telegram has more features than other instant messaging apps on the list. Telegram focuses more on providing group-specific features like exchanging files up to 1.5GB.
You can create groups with up to 200,000 members and more. Additionally, you can set up bots, polls, and quizzes for the group participants.
So, these are the best apps to make VoIP calling apps for free international calls. With these free Android apps, you can talk over the internet just like you talk on a phone. If you know of any other such apps, let us know in the comment box below.