If you are overweight and looking to lose some extra pounds, tracking your calorie intake is the first thing you want to do. Like regular workouts, having a proper diet is important for weight loss.
A proper diet with a healthy lifestyle + workout plans leads to healthy weight loss and better health. If you have an iPhone, keeping track of your food intake & calories would be very easy, thanks to the number of calorie counter apps available on the Apple App Store.
Calorie counter apps for iPhone can track your daily nutrition, macros, and water intake. Some of them can also suggest a proper diet to aid you in your weight loss journey.
10 Best Calorie Counter Apps for iPhone
So, if you are looking for ways to track calories on your iPhone, continue reading the article. Below, we have listed some of the best free calorie counter apps for iPhone. Let's get started.
Lose It! is the ultimate iPhone app for calorie counting, tracking nutrition, and intermittent fasting. The app lets you ditch the unwanted behaviors preventing you from reaching your weight goals.
The massive food database of Lose It! is the key feature of Lose It!. You can track your calorie intake right on the homepage, and adding new food is very easy.
In addition to that, Lose It! also offers you a barcode scanner for scanning packaged foods. Overall, Lose It! is a great calorie counter app for iPhone that you shouldn't miss.
FatSecret is basically a health & fitness app that lets you keep track of your food, exercise, and weight. The app brings the world's highest quality food & nutrition database to get you the calories of any dish.
Along with it, FatSecret allows you to connect with its global community of people looking to make a change for the better.
With FatSecret, you will get a food diary to track your eating, connect with the global community, a barcode scanner, exercise tracking options, a weight tracker, recipes & meal ideas, etc.
While the purpose of the Cronometer is to track calorie intake, it's much more powerful than that and can also track your exercise habits.
You won't believe it, but the extensive food database of Cronometer right now has over 1.2 million verified foods. You need to pick the food and log your meals to get a detailed breakdown of calories, vitamins & minerals.
In addition to that, Cronometer also has an option to integrate with other fitness tracking apps & devices like Apple Health, Apple Watch, and Fitbit.
Although you can download & install Noom for free, you need to purchase its premium plan to make full use of the application.
Noom is basically an iPhone app that gives you a clean, actionable plan to reach your weight loss goals. The app supports food logging with over 1 million food items, accessing thousands of simple, healthy recipes, getting meal plans from registered dietitians, etc.
Apart from regular calorie counting, Noom provides personal health insights to track your progress and water intake, connect your health app, etc.
Lifesum is an iPhone health app that brings you personalized nutrition & healthy eating at your fingertips. It has a calorie counter that can track the calories of any food.
More than a calorie counter, Lifesum also helps you adopt nutritious diets that fit your lifestyle & taste. Apart from these, Lifesum also has a Macro tracker that lets you track protein, carbs, and fats.
Some other features of Lifesum include water tracking, diet plans for weight loss, intermittent fasting plans, integration with fitness trackers, etc.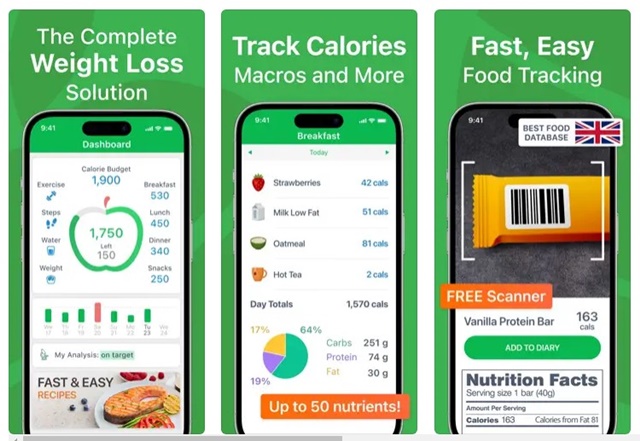 MyNetDiary is an all-in-one health & fitness app for iPhone. With this one, you get an unlimited calorie counter, barcode scanner, food and macros tracker, diet plans, etc.
The app is available in two variants – Free & Premium. The free version offers food & exercise tracking, daily coaching messages, water trackers, diet/nutrition articles, etc.
If the free version of the app isn't enough to convince you, you can upgrade the app to the premium version to unlock the premium diet plans, web recipe import tool, macros planning & cycling, linking with fitness trackers, etc.
Calory isn't as popular as other apps on the list; it's still one of the great nutrition & diet coach apps you can ever use.
You can use this app to count calories, visualize your daily health goals, log your favorite plates, set custom reminders to keep you on track, etc.
The premium version of Calory offers more features like tracking the macronutrients and water intake, creating custom foods and recipes for better health, and barcode food UPC scanning.
MyFitnessPal is possibly the most popular health, fitness & calorie counter app. The app provides options to track progress toward your nutrition, water, fitness, and weight loss goals.
This is one such health app for iPhone that lets you learn about your habits & analyze your eating habits. You can track what you eat to make smarter food choices, find motivation & support, and conquer your health goals.
The calorie tracker of MyFitnessPal lets you automatically count calories & see your daily progress, see your macronutrient intake, keep track of your water intake, etc.
However, to make the most of MyFitnessPal, you must purchase its premium version.
It doesn't matter whether you are looking for ways to lose weight, gain muscle, or maintain a healthy lifestyle; my Macros+ got you covered.
It's the ultimate diet tracking app for iPhone that helps you maintain a healthy lifestyle. The app is already featured in many popular magazines and used by millions of users.
Regarding nutrition tracking, the app provides access to a huge food database with over 5 million items.
You also get a barcode scanner, set your nutrition goals, monitor your weight, etc.
MacroFactor is basically a macro tracker app for iPhone that's great for your weight loss journey.
What we like most about MacroFactor is that it combines innovative coaching algorithms with proven nutrition & behavioral science to help you reach your diet goals.
Along with it, the app uses a dynamic algorithm to adapt to changes in your metabolism & personalize your macro plan.
You get a calorie counter, food database for fetching the macros, habit tracker, etc. Overall, MacroFactor is a great calorie counter for the iPhone you should use.
So, these are some of the best calorie counter apps for iPhones you shouldn't miss at any cost. Most of the apps are free to download & you can get them from the Apple App Store. Let us know which one is your favorite calorie counter app for iPhone.