Now that the new year is coming in just a few months, everyone will make new resolutions. Some of us will try to learn new skills or update the existing ones. So, if you have planned well for the new year and want to adopt a unique talent, you can pick cooking.
Well, cooking is one of the essential skill that only a few knows. Everyone can cook, but just a few can cook deliciously. Cooking is one of the finest arts available on the planet right now. Even if we look around, we will find that everyone wants to cook, but very few know how to cook.
So, why not have some fun while cooking? There are some of the best cooking games for Android available on the Google Play Store that can provide you with the experience of cooking without making any effort. Android cooking games not just help to kill some time, but they can give you valuable knowledge on the art of cooking.
List of 10 Best Cooking Games For Android
So, here in this article, we have decided to share some of the best Android cooking games that every user would love to play. So, let's explore the list of games.
Well, it's one of the best fun cooking games every Android user would love to play. You must create your restaurant and cook for the customers in this game.
As you progress, your restaurant will attract VIP customers. More customer means more money. So, with more money, you can expand your dishes, hire other chefs, etc.
You need to clear up the events in this game as fast as possible. Other gaming features remain the same as World Chef, like expanding the empire, building more restaurants, etc. Another best thing about Restaurant Dash is that you can batter against other online players.
Well, the game is loved by the kids. From cooking food to serving customers, Cooking Mama got all covered. Cooking Mama revolves around a variety of recipes from around the world.
In this game, you must harvest vegetables, cook fish, and arrange other cooking materials to run your restaurant. It's one of the most addictive games that you will ever play on your Android, and it's a free game.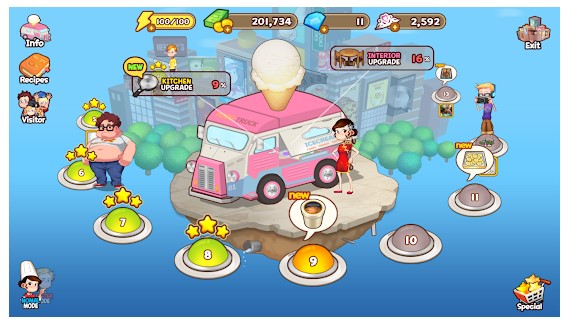 If you are looking for an addictive yet challenging cooking game for your Android, then Cooking Adventure might be the best pick for you. The gaming graphics of Cooking Adventure is beyond amazing, and it offers 20+ unique restaurants to cook different types of food.
The player needs to upgrade their cooking materials, including kitchen appliances, food decorators, etc., to attract more customers.
If you are a pizza lover like me, then you will love Good Pizza, Great Pizza. The game will make you feel like running your Pizza shop. In this game, you must run a Pizza shop by taking customer orders.
The more pizza you sell, the more money you earn. You can later use this money to upgrade your shop, add new toppings, add other equipment, etc.
Well, Stand O'Food 3 is a burger-serving game that is very addictive. In this game, the player must be a cook in a hamburger restaurant. The gameplay is simple, customers will specify the burger ingredients, and you need to create and serve to earn the rewards.
The rewards can later be used to buy spices to increase the prices, add accessories, and a few other things.
Cooking Dash is another best Android cooking game that allows users to sharpen skills as they prepare, cook, and serve delicious recipe items in restaurants.
It's a restaurant simulator game where you must showcase your skills in front of a live audience to make your way to fame.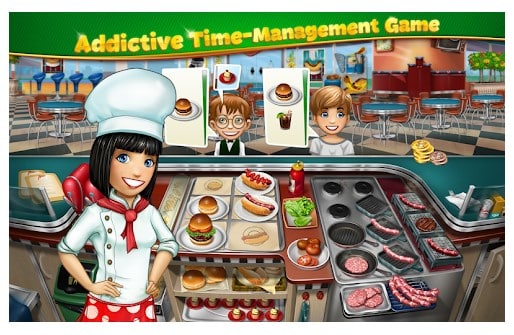 Cooking Fever is another best and top-rated Android cooking game on the list that you would love. The great thing about Cooking Fever is that it offers users more than 20 unique locations to practice different cooking techniques.
The game provides many ingredients and hundreds of kitchen appliances to cook tasty dishes. So, Cooking Fever is another excellent Android cooking game that you can play right now on your device.
Cooking Train is a newly launched cooking game on the list which every cooking lover would love to have. If you are passionate about food, you shouldn't miss this app.
In this game, you must select your disk and get the right ingredients to make the disk. You also must cook in the right order to create delicious meals with the right taste.
Cooking City is similar to the Cooking Train game we have listed above. It's a game where you need to pick and cook your food.
The game lets you choose from 200+ different tasty foods and has over 2000+ levels. Each of the levels in the game has unique goals. Overall, Cooking City is a great cooking game that you should play on your Android smartphone.
So, these are the best Android cooking game that every user would love to play. If you think we have missed any other important game, drop the name in the comment box below.