It's of no doubt that Android is right now the most popular mobile operating system. Compared to every other mobile operating system, Android provides users more features and customization options. Not only that, but the app availability is also quite high on Android.
On average, Android users install almost 15-25 apps on their smartphones. The only problem with installing new apps is that each one of them sends tons of notifications. Sometimes, we get spammed with the amounts of notifications, and our phone starts to show signs of lags.
The latest version of Android does provide users with advanced notification management feature to control notifications. However, you can create Notification rules for any specific app. So, in this article, we have decided to share a working method that would help you to create notification rules for Specific apps on Android.
How To Create Custom Notification Rules For Android Apps
By following this method, you will be able to mute notifications of particular WhatsApp groups between a scheduled time. The same thing can be done for other apps as well. So, let's check out how to create custom notification rules for apps on Android in 2020.
Step 1. First of all, download and install Filterbox on your Android device.
Step 2. Once done, open the app and grant the permissions.
Step 3. Now you will see an interface like this.
Step 4. Next, tap on the 'Filter' button.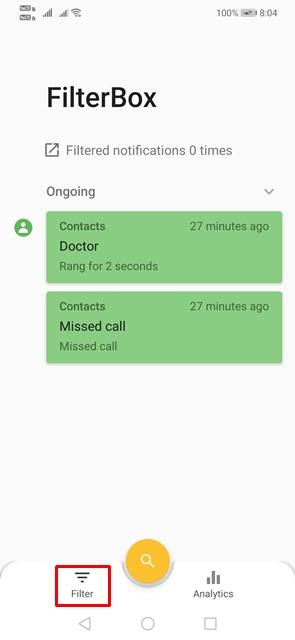 Step 5. To add a new app, tap on the '+' icon.
Step 6. Give the new rule a name. Under the 'From apps', select your app. Next, select the time frame to dismiss notifications by time.
Step 7. If you want to dismiss notifications by text, then use the drop-down menu to select 'Contain text'. Add the text there to dismiss any notification containing the given text.
Step 8. You can also set the action as per your wish. For example, you can choose to 'Dismiss', 'Mute', or 'Postpone' WhatsApp group notifications, or Facebook notifications, etc.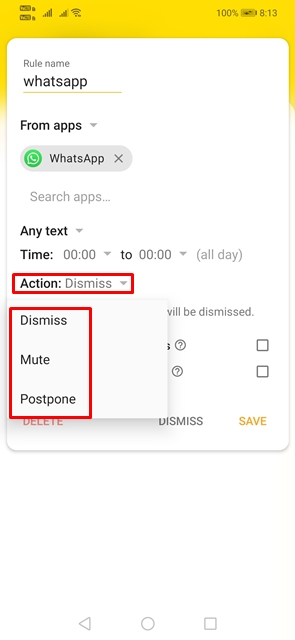 Step 9. The final result will look something like this depending upon the settings and apps you have chosen.
How many rules I can create?
You can create unlimited notification rules by following the method given in this article?
Can I block WhatsApp group notifications with this method?
Yes, you can block notifications of individual WhatsApp groups with this method.
Is the app safe to use?
The app is available on the Google Play Store. The app has gone through all security checkups performed by the Play Store.
So, this is all about how to create custom notification rules for apps on Android smartphones. I hope this article helped you! Share it with your friends also.