While using Facebook on the PC web browsers, you might like to find much more features and get on more customized Facebook as it only comes with that sticky old-age look, so to do that, you just have to install the extensions, plugins, etc. in your Google Chrome that we have listed below.
Facebook is very popular that most probably every internet user is there on it, and it is all because it provides the users the utmost control over every possible aspect of the conversation, expressing through the timeline and much more and hence gives up the real whole experience that they seek. To date, you may find that even the website Facebook has almost every required feature and function that could be needed, and if the official smartphone apps are considered, then there could be no chance of fewer features.
But if you are using Google Chrome for browsing FB, then there are some great extension options that you can use to modify the traditional Facebook look and add some more features. Here in this article, we have put on some awesome Chrome Extensions which will help you to fully customize your Facebook account, just have a look at them.
Also Read: 10 Best Chrome Extensions to Transform 'New Tab' Page
Chrome Extensions to Fully Customize your Facebook Account
Below are the extensions that you can implement in your browser and have a great experience while using Facebook in that browser. So have a look at all these extensions below.
Also Read: How To Protect Google Chrome Browser With Secure Browsing
1) Flatbook
Install this extension on your Google Chrome browser and you will get to see Facebook in a very new look and design. This app customizes the whole look of the Facebook site and whenever you will go to it after enabling this extension, you will see Facebook in a very new design with whole things changed completely, like text, Ads (removed), panel styles, etc.
2) Facebook Chat Privacy
This is a really good extension for the Google Chrome browser through using which you can change facebook's behavior and stop it from sending up constant updates about whether you have read up the message or not you are typing up the message or not. All these pre-confirmations by Facebook will be stopped easily.
Also Read: How to Make Your Own Google Chrome Theme
3) Social Fixer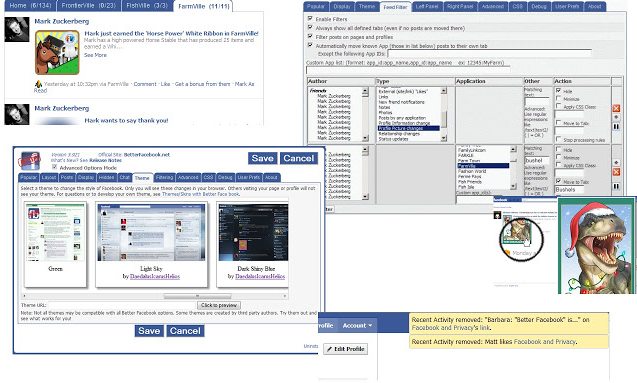 This tool makes browsing through Facebook extremely easy as you can find particular posts from the timeline by just searching for their keywords, getting the images zoomed automatically whenever the mouse hovers over them, playing animated GIFs, and changing the various aspects of the text, etc.
Also Read: How To Make Google Chrome Faster For Web Browsing
4) Rather
You could be frustrated to see similar posts everywhere on your Facebook timeline and want to get some great posts from other people or groups to be seen in that place. Rather helps you to do that by removing all posts with specified keywords and then showing the other posts on your timeline that are of your interest. To get the benefits of the Rather, you will have to install this extension on your Google Chrome browser and it can be used from there afterward.
Also Read: How To Hijack Your Friends Browser Using Chrome Extension
5) Friends Feed
Facebook mostly shows the posts that your friends might have seen or liked whatsoever but there is no relation with all of these posts. Doesn't this feel sticky, as you just don't want to see every action of your friends with their timelines? To solve this and remove that kind of post and notifications from your Facebook, this app works up the job quite nicely. Just install this extension on your Google Chrome to enjoy its functions with Facebook.
Also Read: How To Auto Mute Noise Tabs On Google Chrome
6) Better Facebook for Chrome
With Better Facebook for Chrome, you can customize your layout and change the way Facebook works. Users can change and improve their Facebook experience. Better Facebook for Chrome is dedicated to keeping our application updated and current.
7) Toolkit For Facebook
Facebook Social Toolkit is a collection of automation tools created to save you time. Well, this will improve your overall Facebook experience because this extension lets you do things like, unlike all FB pages, post on your page, delete all comments, like all comments, and much more.
8) Photo Zoom
Photo Zoom for a lightweight Facebook extension that integrates directly into Facebook so you can see the larger images of albums, profile images, and more whenever you hover over an image!
9) Ponyhoof
Well, if you are looking to change the look of your Facebook interface, then you will find Ponyhoof useful. This modifies your Facebook interface with colorful cartoon characters from the entertainment franchise My Little Pony, which is developed by Hasbro.
10) F.B. Purity
Fluff Busting (F.B.) Purity lets you Clean up and Customize Facebook. It has a myriad of features for eliminating junk and clutter on Facebook. F.B. Purity lets you hide the Suggested Posts / Related Posts / Sponsored Posts / Sponsored Stories / Upcoming Events / Games your Friends are playing / Games You May Like etc.
11) Stylish
Stylish lets you style the web according to your taste. With Stylish, you can customize any website to your color scheme in 1 click, with thousands of user styles with beautiful themes, skins & free backgrounds.
12) Secret Emoticon & Smiley
Give you access to all Facebook secret emoticons & smileys in messenger, chat, posts, comments, notes, FB pages, groups, and events. This is one of the best Google chrome extensions on your Chrome browser.
13) Save to Facebook
Save things to Facebook to read, watch, buy, share, or revisit later. This is the official Save to the Facebook button. It makes it easy to save things you discover from around the web so you can get back to them later.
Easily share any link to Facebook, Groups, and Messenger. Click on the Facebook button whenever you're on a website, and you'll get the Facebook sharing dialog.
15) Color & Theme Changer for Facebook
Tired of the boring blue? Change & customize Facebook With this Chrome Extension; you can easily customize your Facebook theme colors, including header, font, text, button colors, chat layout, backgrounds & more. Color theme to anything you want and create a better Facebook experience.
Also Read: Top 10 Best Google Chrome Extensions For Students
So these were the great Google Chrome extensions that you can integrate with your browser so as to customize the Facebook account with much more flexibility and control. Just add all of these or the selected ones to your browser and start to enjoy up to Facebook with more than ever control and features.