If you are using Windows 10, you might know that the operating system ships with a built-in antivirus scanner. The antivirus tool of Windows 10 is called Windows Defender, and it protects your system from both known and unknown threats.
Although Windows Defender is offered for free, is it enough to protect your PC? The straight answer would be 'No'. To get complete protection, one should always rely on premium antivirus software offered by leading security companies like Avira, Avast, Kaspersky, etc.
Premium Antivirus suites not only removes threats from your PC but also run in the background and prevent threats from entering your system. These days, having a proper security tool is very important since we all download files from the internet, enter sensitive details on web browsers, etc.
So, in this article, we will talk about one of the leading antivirus programs for PC known as ESET Online Scanner. Let's check out.
What is ESET Online Scanner?
Well, ESET Online Scanner is a free utility provided by ESET. It's available for both home users and businesses, and the good thing, it's absolutely free to download and use.
Despite being a free tool, ESET's online scanner provides robust security to your device. It effectively scans and removes malware and threats from your computer for free.
Now you all might wonder what's the difference between ESET Online Scanner and ESET Internet Security. Both of the tools are powered by the same antivirus engine, but they serve a different purpose. Let's know both of the programs in detail.
Difference Between ESET Internet Security & Online Scanner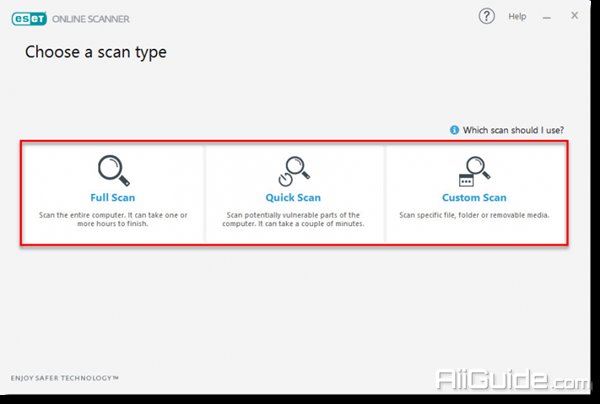 Well, both of the tools are offered by ESET, but both of them serve a different purpose. ESET internet security is a full-fledged security tool that protects your computer from different types of threats.
On the other hand, ESET Online Scanner doesn't protect your computer as it provides a one-time scan option. That means ESET Online Scanner will run only when you are actively using the program.
It won't provide you Real-time protection or block threats in the background. Instead, ESET Online Scanner provides you one-time scan option to remove malware and threats from your computer for free.
Uses of ESET Online Scanner
Although ESET Online Scanner is meant for one-time scans, it can help you in other ways as well. For example, you can use it to test your existing antivirus, detect malware, etc.
ESET Online Scanner can run alongside any existing antivirus to find and remove viruses, Trojans, spyware, phishing, and other internet threats. You can even use it for periodic scanning of your device.
As of now, ESET Online Scanner is only compatible with Windows 10/8.1/8/7 operating system.
System Requirements to run ESET Online Scanner
If your PC matches the below requirements, it can easily run the ESET Online Scanner. Let's check out the system requirements.
Operating System: Supports every version from Windows 7.
Disk Space: 400MB.
RAM: 500MB (Minimum), 1GB (Recommended)
Internet Connectivity: Yes
Download ESET Online Scanner Latest Version for PC
Now that you are fully aware of ESET Online Scanner, you might want to download & install the program on your PC. Since ESET Online Scanner is a free tool, you can download the latest version from the official ESET Website.
However, if you want to use ESET Online Scanner on multiple systems, it's best to download the file shared below and store it on a portable storage device. Below, we have shared the latest version of ESET Online Scanner. So, let's get to the download link.
How to Install ESET Online Scanner on PC
Well, it's pretty easy to install ESET Online Scanner on Windows PC. You don't even need to create an account or register to any service to use the tool.
First of all, download the ESET Online Scanner installer file that we have shared above. Once downloaded, run the program on your PC and follow the on-screen instructions to complete the installation.
Once installed, open the app and run a full scan. ESET Online Scanner will download the update and will scan your entire system for threats.
So, this guide is all about downloading ESET Online Scanner latest version for PC. I hope this article helped you! Please share it with your friends also. If you have any doubts related to this, let us know in the comment box below.