A program uninstaller is a software that you install to uninstall other software programs on your computer. You might wonder why one would need a program to uninstall other programs?
Windows 10 does allows you to uninstall programs from the Command Prompt, but what if the program you are trying to uninstall doesn't have an uninstaller.exe file?
This is where the uninstaller tool comes in; it can remove stubborn programs from your computer. Uninstaller programs find and remove the locks that prevent a program from uninstalling completely.
Few uninstaller programs like IObit uninstaller can even remove programs and leftover files from your PC. Hence in this article, we will talk about one of the leading software uninstallers for PC known as IObit Uninstaller.
What is IObit Uninstaller?
Well, IObit Uninstaller is a lightweight Windows program that's designed to remove any unwanted software from your PC. Apart from the regular software, IObit Uninstaller can even remove bundled programs in one click.
IObit Uninstaller enforces some advanced mechanisms to remove 5x stubborn software and 30% more residuals from your system. From browser extensions to a toolbar, IObit Uninstaller can find and remove every program from your PC.
Apart from these, IObit Uninstaller even got a feature that lists all the pop-ups you allowed on Windows Apps and websites. With just one click, you can remove all programs or browser add-ons that are showing you pop-ups.
Features of IObit Uninstaller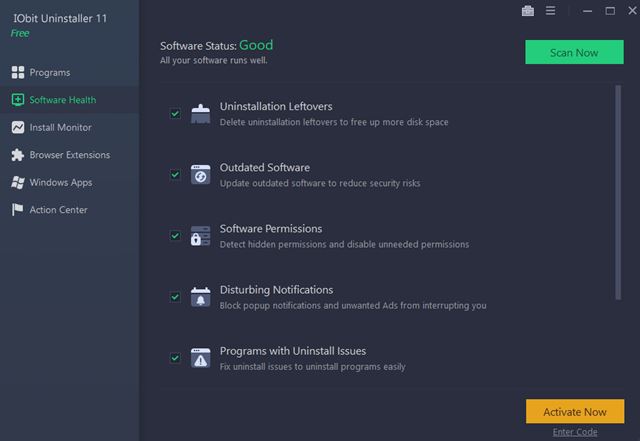 Now that you are well aware of IObit Uninstaller, you might want to know its features. Below, we have listed some of the best features of the IObit Uninstaller. Let's check out.
Free
Although IObit Uninstaller has premium plans, you can use it for free. The free version of IObit Uninstaller has limited features, but it works well on removing stubborn programs from your PC.
Lightweight
Compared to other software uninstallers, IObit Uninstaller is lightweight. It runs on your background to check the app locks without slowing your PC. The clean user interface is another plus point of the IObit Uninstaller.
Remove Stubborn programs
IObit Uninstaller is designed to remove unwanted programs and bundled software from your PC. It can even remove programs that won't uninstall from your system. IObit Uninstaller claims to remove 5x more stubborn software than any other software uninstaller.
Remove Malicious Toolbar
The latest version of IObit Uninstaller can even remove malicious toolbars and plug-ins that may record or steal your browsing data. In addition, it can identify malicious plug-ins and toolbars on Chrome, Edge, Firefox, and Internet Explorer.
Remove Software Residual Files
Apart from uninstalling software, IObit Uninstaller can even clean up the leftover files. After the uninstallation, IObit Uninstaller scans for leftover files, folders, and registries.
So, these are some of the best features of the IObit Uninstaller. It got more features that you can explore while using the tool on your PC.
Download IObit Uninstaller Latest Version
Now that you are fully aware of IObit Uninstaller, you might want to install the program on your PC. Please note that IObit Uninstaller is available in two versions Free and Premium.
You can use the free version, but it will have limited features. If the program satisfies your needs, you can purchase the premium version.
Below, we have shared the latest version of the IObit Uninstaller. The file shared below is free from virus/malware, and it's completely safe to download & use.
How to Install IObit Uninstaller on PC?
Installing IObit Uninstaller is pretty easy, especially on Windows 10 operating system. First, you need to download the IObit Uninstaller installation file shared above.
Once downloaded, run the installer file and follow the on-screen instruction provided on the installation wizard. After the installation, run the program and hit the scan button.
Now IObit Uninstaller will list all programs that were installed on your PC. Next, you need to click on the uninstall icon behind the app name to remove the program & leftovers from your system.
So, this guide is all about IObit Uninstaller's latest version. I hope this article helped you! Please share it with your friends also. If you have any doubts related to this, let us know in the comment box below. Also, if you know of any other program uninstaller, let us know in the comments.