In the field of gaming, Counter-Stike has already managed to own a sweet spot in the hearts of gamers. Everyone knows about the game, and there is a higher probability that everyone has played it once in their lifetime.
The original Counter-Strike was released way back in 2000 and has been around for almost two decades. When the game's first version was launched, it received much love from the gamers.
In the early 2000s, Counter-Strike was the first FPS game and became popular due to its skill based gameplay. Then, in 2012, Counter-Strike: Global Offensive (CS:GO) was introduced, becoming popular in no time.
How to Download and Play Counter-Strike 2 (CS2)
We are discussing Counter-Strike because Valve Entertainment recently officially released Counter-Strike 2 (CS2). Counter-Strike 2 is basically a free upgrade to CS:GO.
Counter-Strike 2 Launches on Steam
Yes! You read that right. After the massive success of Counter-Strike and about two decades of waiting time, Counter-Strike 2 is finally available on Steam.
Actually, Valve announced its next tactical FPS Game – Counter Strike 2, six months ago. But at that time, the company only launched the Counter-Strike 2 Beta version, and that's too for limited users.
When the game was made available for beta testing, Valve promised that the game would be an 'overhaul to every system, every piece of content, and every part of the [Counter-Strike] experience.'
Download Counter-Strike 2
Now that the game has been officially released, you can download & play it right now. And the good part is that like CS:GO, Counter-strike 2 is free to download and play.
The game directly replaces the CS:GO on Steam, and you can download the game directly from the Steam Store. But before you download, check out the system requirements for Counter Strike 2.
Counter-Strike 2 Minimum System Requirements:
Before downloading the game from the Steam Store, ensure your PC/Laptop meets these minimum system requirements.
Windows
OS: Windows 10
Processor: 4 hardware CPU threads – Intel Core i5 750 or higher
Memory: 8 GB RAM
Graphics: Video card must be 1 GB or more and should be a DirectX 11-compatible with support for Shader Model 5.0
DirectX: Version 11
Storage: 85 GB available space
Steam OS + Linux
OS: Ubuntu 20.04
Processor: 4 hardware CPU threads – Intel Core i5 750 or higher
Memory: 8 GB RAM
Graphics: AMD GCN+ or NVIDIA Kepler+ with up-to-date Vulkan drivers. Support for VK_EXT_graphics_pipeline_library is highly recommended.
Storage: 85 GB available space
Sound Card: Highly recommended
How to Download & Install Counter-Strike 2 on a PC?
If your PC meets the minimum system requirements, you can head to the Steam Store & download Counter Strike 2 for free. Just follow some of the simple steps we have shared to download & install Counter-Strike 2 on PC.
1. First, click on your Windows Search button. Next, type in Steam and open the Steam Client app. If the Steam client is not installed, download it from this link.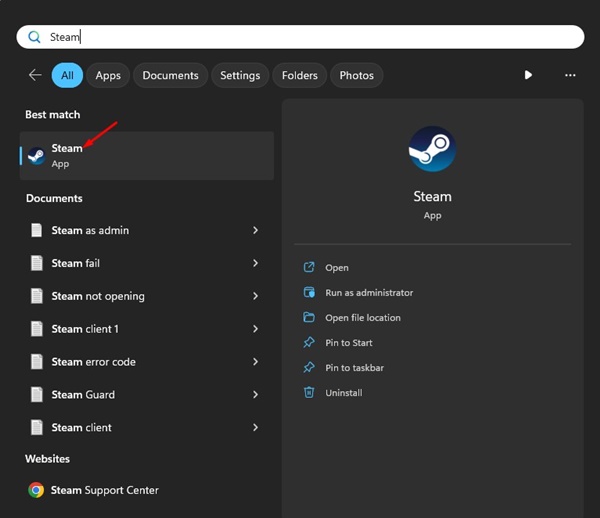 2. Once the Steam app opens, switch to the Store tab.
3. When the Store opens, search for Counter-Strike 2.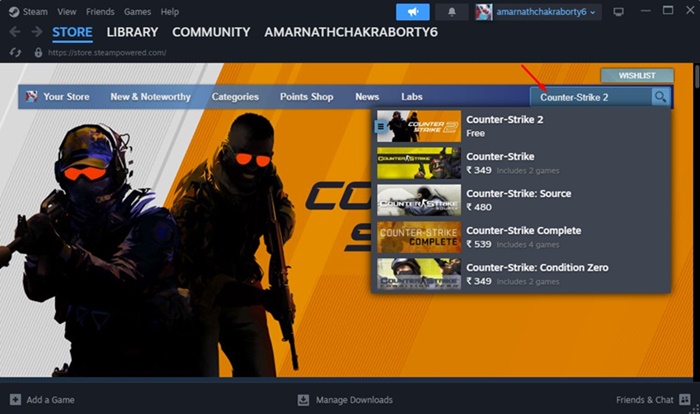 4. Now open the Counter-Strike 2 listing from the list.
5. If CS:GO is already installed on your PC, you can play Counter-Strike 2 after installing the updates.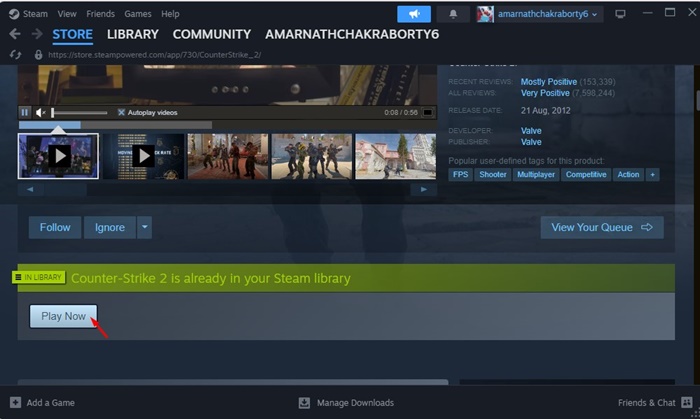 6. Click on the Apply Update button.
7. Once done, your Steam client will restart and ask you to select where you want to install the game/update. Simply pick the installation drive & click Install.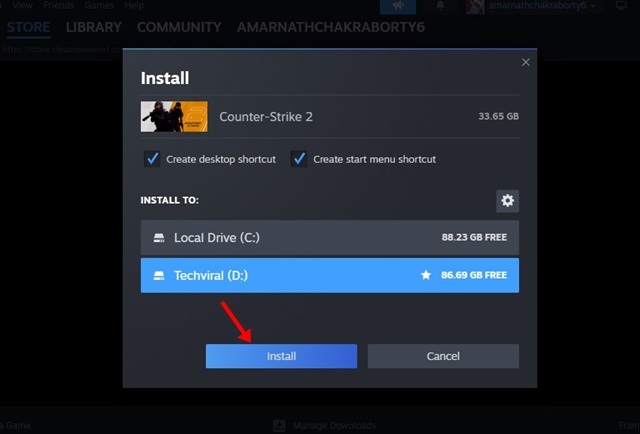 8. You must wait a few hours until the game installs on your computer.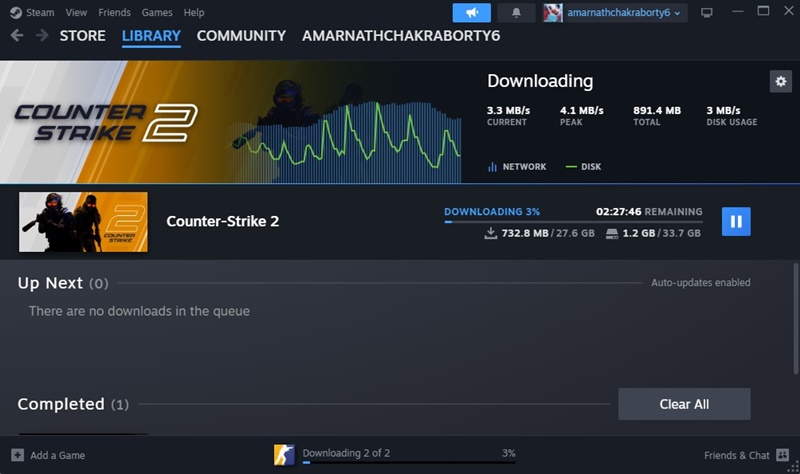 That's it! Once the Counter-Strike 2 has been installed, you can easily play the game on your computer for free.
What's new on Counter-Strike 2?
Counter-Strike 2 is a huge upgrade over CS:GO. According to the company, the new game is a "beginning of an exciting new chapter and the largest technical leap in Counter-Strike's history".
The game has fully overhauled maps, many gameplay enhancements, new CS ratings with the updated premier mode, global & regional leaderboards, game changing dynamic smoke grenades. Also, don't forget that all your items from the CS: GO will be carried forward to the new game.
For more details about the official launch of Counter-Strike 2 on Steam, check out this article – Counter-Strike 2 Officially Launches On Steam.
So, this guide is all about how to download & install Counter Strike 2 on PC. We haven't played the game yet, but if you already played it, share your gaming experience. Also, let us know if you have any doubts about downloading Counter Strike 2 on PC.