If you use YouTube mobile app, you might know that it has a video download option. Now, the popular YouTube app feature has landed on the website's desktop version. You can download videos from YouTube to watch them offline.
However, the feature is still in the testing phase and is now available to YouTube Premium users. Also, it's available for a limited time. If the download button receives a good response on the desktop version, it might come out as a full-fledged feature.
According to the reports from Android Police, the feature is available only in two countries – France and India. One report from The Verge claims that the experimental part is also available in the United States but is not available on every Premium account.
YouTube has also released a statement that mentioned that the feature is exclusively available on Chrome, Edge, and Opera browsers. You must use these three web browsers to find the new feature.
Also read: How to Delete Downloaded YouTube Videos
Steps to Download YouTube Videos On PC
So, to try the new download feature of YouTube Premium, you must implement the simple steps shared below. So, let's check out.
1. Open your favorite web browser and log in to your YouTube Premium account.
2. Now, on your URL bar, enter YouTube.com/new and hit the Enter button. This will take you to the YouTube Lab page.
3. On the YouTube Lab page, scroll down and find the Download Videos from your browser section. Next, click on the Try it Out button.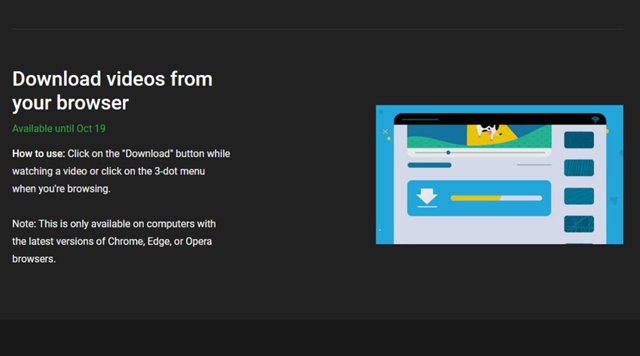 4. To download videos, click on the three dots next to the video thumbnail and select the Download option. Or else, open the video, and you will find the download button beside the video.
5. You will now see a pop-up notification displaying the download progress.
6. You can access your downloaded videos on the 'YouTube.com/feed/downloads' page. Alternatively, click on the three horizontal lines and select the Downloads option.
That's it! You are done. This is how you can test the new download video option of YouTube Premium.
Also Read: 10 Best YouTube Video Editor Apps For Android
So, this guide is about downloading YouTube videos on your desktop or laptop. I hope this article helped you! Please share it with your friends also. If you have any doubts about this, let us know in the comment box below.