[dropcap]L[/dropcap]et's have a look at the method for How to Fix All of Windows 10's Annoyances using the 5 very different methods by which you can fix lots of daily occurring issues in your Windows PC that can make your PC process is slow and you must not like that. So have a look at the guide by which you can do these fixes and can make the things better.
5There is no doubt that Windows 10 is most powerful and sturdy operating system for the computer devices yet the issues that every user is facing with it is tons of bloatware and useless apps inside it. All these ads and apps are unnecessary things that cause a lot of annoyances to the user working on this operating system. It is really hard to find out the way to remove those annoyances and in this way, Microsoft has done no good deal with such an amazing operating system. To help out the users get rid of all of the Windows 10 annoyances then we have found the easy and exact way. Here in this article, we have written about the quick and simple way through which anyone can be able to fix all of the Windows 10 Annoyances. If you are interested in reading about this information or find it helpful for your usage then please read it down. All of the proper information is provided in the main section of this post as is given below, remember to read till the end of the page so that you get the whole knowledge regarding the topic. So, let's get started!
Also Read: 10+ Best Free Antivirus Software for Windows 10 (2019)
How to Fix All of Windows 10's Annoyances
I'm using the Windows for very long time and I know you guys must be facing lots of issues like me as there are certain things that come up using this OS and I have mentioned lots of things by which you were able to fix up certain things and today I thought of writing one guide by which you can fix some commonly arisen issues as with time every user face these issues like adware, slow down of speed etc. And you should know the methods by which you can easily fix these issues. So have a look at complete guide discussed below to proceed.
Candy Crush, FarmVille, and Other Junk Apps
This is one of the major things that you must do as there is lot of app in the Windows that can lead to certain data breach and can slow down your processing. There are several apps like Candy Crush, Farmville and other junk apps that are installed on the Windows 10 and are also shown on the start menu. While any user clicks on the start menu all these apps show up as icons and cover a lot of space. To remove those apps completely just find the icon for these apps in the start menu and then right click over it. Once this is done select the option Uninstall option from the list of options that appears on the screen. This would then uninstall that app from the Windows.
Ads and Bloatware
Most of you must be aware of this term as we have mentioned lots of guides by which you can remove adware from your PC. Microsoft has added so many bloatware and Ads like popups to the whole system that the user can be frustrated. The options to disable all of the ads have been scattered by the developers so that it becomes hard for the users to remove or disable them all. To know about the whole of the ways to disable several ads and bloatware from the system you need to follow up this link- https://techviral.net/disable-ads-on-windows-10-file-explorer/
Get Rid Of Microsoft Cortana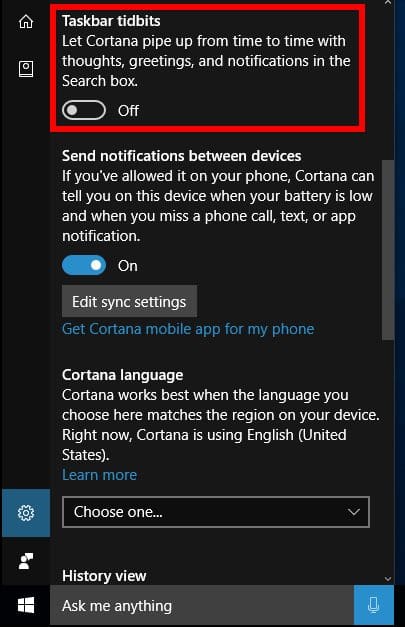 Microsoft's Cortana is a virtual assistant which is pretty much similar to the Google Assistant for Android. However, Microsoft's Cortana for Windows 10 is full of bugs and it can ruin your entire Windows experience. Most of the time Cortana doesn't work and even if it works, it consumes lots of RAM and Disk resources. So, if you want to get rid of Cortant, then click on Cortana Search Bar > Settings. Now scroll down and disable the option 'Taskbar Tidbits'. From now, Cortana will not disturb you in the taskbar.
Disable 'Get Office' Notifications
Since Windows 10 is the most used desktop operating system, it's indeed a great platform to push advertisement. However, Microsoft's advertising their own apps can annoy lots of users. Microsoft often shows ads for Microsoft Edge, Microsoft Office, etc. So, to disable those ads, head to the Settings > Personalization > Notifications and Actions. Now there find 'Get Office' app and turn it off. That's it, you can also find and disable 'Get Microsoft Edge' app from the same panel.
Any other Annoyances
After fixing all of the annoyances above you have to follow the Restart on your device such as to get those changes to work. Other than the above changes you can make the alterations in the options through the control panel section so as to make the Windows look and feel cleaner. So that's all about the fixing of Windows 10 annoyances. If you want to get more guides in Windows 10 fixes that you must go in our Windows section and there you will find lots of guides written by me on Windows fixes. And if there is anything that you doesn't find do let me know.
Also Read: Top 20 Websites For Downloading Windows Software For Free
Finally, after reading this article, you have got to know about the straightforward way to fix all of the Windows 10 annoyances that you may not like to have. All of the information given here is written in such a way that anyone can get about the important aspects easily. Hope that you might be liking the information given in this article if it is so then please try to share it with others too. Also, share your suggestions and opinions regarding this content by using the comments section below. Your indulgence in our work is really grateful to us, keep supporting us and we would be always coming up with all new amazing information. At last but nevertheless, thanks for reading this post! And if you have any topic in the mind that you want us to write then please share with us so that we can work on it for you and you can explore the things better with us