Have a look on Free Android Apps for Kids to Keep Them Busy while they are making noise around and disturbing you in your important work, just give them the android with these app opened and they will no longer disturb you anymore.
[dropcap]A[/dropcap]ndroid is one of the cool thing that you have with you, its the OS where you can try out lots of cool apps that helps you to make your life better. You might have tried lots of apps that helps you in many situations. And today we are here to tell you some apps to handle one of the most common situation and that situation is tackling the kids when you want to do your work and kids don't allow you to do that. So make them busy with some of the best apps that you will surely love as these apps will going to make your kids busy and you can easily do whatever you want. So have a look on all these apps discussed below.
Also Read: Best Android Apps To Identifying Music Playing Around You
Free Android Apps for Kids to Keep Them Busy
Below we have selected some of the best apps that are most addictive to kids and your kids will not going to leave your android till you take it by yourself and at that time you can do the work whatever you want. So download the below apps.
Also Read: How To Create Android Apps Without Coding
This is one of the best game that every kid will love to play in android device. Kids can take charge in their own kitchen in the brand new Dr. Panda Restaurant: Asia! Future fine chefs have the freedom to choose what they want to prepare and exactly how they'd like to prepare it! Chop, grate, blend, fry and more with over 20 ingredients and create the perfect dish. So must download this game in your droid as it will be gonna help you a lot.
Also Read: How to Manage App Permissions on Android Marshmallow
This is another cool app that will help you a lot. Master your classes with the leading education app! Create your own flashcards or choose from millions created by other Quizlet users on thousands of subjects. Feel confident with these powerful interactive learning tools. So download the app and give to your kids and they will not gonna disturb you anymore.
Also Read: How To Remove Stock Apps In Android Without Rooting
#3 PicsArt Kids Drawing Coloring
So time to make you kid litlle creative as this app gonna do the same. With this app, your kids can learn lots of cool things from your android. PicsArt is the best drawing and coloring app for making your kid creative. Every child is an artist, so help yours develop their imagination! Children find countless hours of fun in this app as they explore their creativity through drawing, coloring, and creating art. So try this app today.
Also Read: How to Play YouTube Videos in Background Without Rooting Android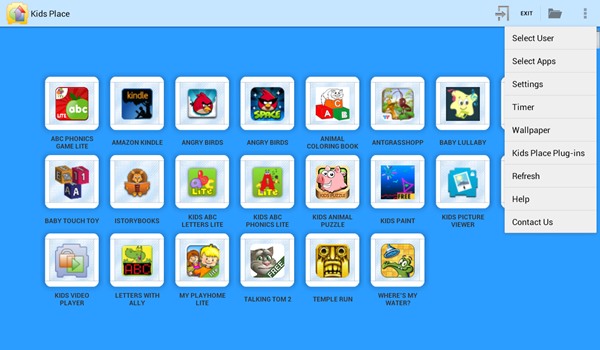 In app launcher with parental controls & child lock that protects your personal data and restricts kids to apps you have approved. Kids Place also prevents children from downloading new apps, making phone calls, texting or performing other actions that can cost you money. It also includes convenience features for parents such as auto app restart, useful for small kids who accidentally exit launched apps. With Kids Place app, kids get fun time and parents can get much needed peace and free time.
The another great app that will help you to make your children busy. Set the stage for reading success with this delightfully interactive educational app. Kids will have a blast learning their ABC's and building vocabulary with the adorable monsters in Endless Alphabet. Each word features an interactive puzzle with talking letters and a short animation illustrating the definition. Before you know it, your child will be using words like gargantuan and cooperate
Also Read: How to Protect Your Device From WifiKill & Netcut Attacks
So above are the Free Android Apps for Kids to Keep Them Busy.  By using these apps, you can easily get some time and relief from the kids, if they are really not allowing you to do your work. So try these apps today. Hope you like the tutorial, keep on sharing with others too. Leave a comment below if you have any related queries with this.