If you have been staying updated with the latest tech news, you might be well aware of Fall Guys. It's a game that has managed to win hearts in every corner of the gaming community. For those who don't know, Fall Guys: Ultimate Knockout is a battle royale game developed by Mediatonic and published by Developer Digital.
The game developers have sold almost 7 million copies of Fall Guys on Steam alone within a month. The game is heavily popular, and it has gone viral. As the game is getting more popular, Android and iPhone users are looking for ways to try out this fun-filled game on their smartphones.
As of now, the game is not available for Android & iOS. However, the good thing is that the game is supposed to be released for Android & iOS next year. Meanwhile, you can try out different Android/iOS games like Fall Guys.
Also Read: Best Android Games That You Must Play
8 Best Games Like Fall Guys for Android & iOS
So, in this article, we will share a few best games like Fall Guys for Android & iPhone devices. These games offer similar gameplay. So, let's check out.
1. Reliable Delivery Service
Well, Reliable Delivery Service is one of the best Android & iOS games like Fall Guys that you can play right now. In this game, you need to deliver packages. You can choose to play alone or can add up to 3 players in a multiplayer mode. In addition, the game offers a variety of vehicles to deliver packages like boats, planes, etc.
The game has a vast map that contains lots of secrets and shortcuts to deliver the package. The twist in the game is that the secrets are hard to find.
2. Human: Fall Flat
Although not similar, Human: Fall Flat is still one of the best physics-based puzzle games you can play on a device. In this game, you play as a wobbly human who keeps dreaming about surreal places filled with puzzles. The ultimate aim of the player should be to solve the puzzles and find the exit.
In this game, you can walk, jump, grab anything, climb, slip on your way. But, while solving the puzzles, you also need to keep yourself safe from the enemies.
3. Fall Dudes
Well, Fall Dudes is pretty much similar to the Fall Guys when it comes to the game. However, unlike Fall Guys, a 60 player battle royale game where you play against 39 players. Apart from that, everything remains the same – move forward while solving physics-based puzzles.
The gameplay is also full of fun where you have to break through doors, run past obstacles, kick off your opponents, etc. So, overall it's a highly addictive game.
4. Run Royale 3D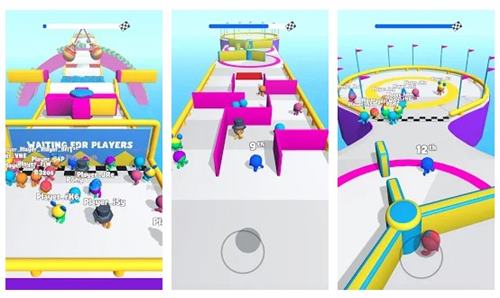 It's another best Android &iphone game on the list where you need to run your way through insane physics-based obstacles & challenges. The game is pretty much similar to Fall Guys when it comes to the obstacles and challenges. Run Royale 3D is heavily addictive, and you should try it on your device.
5. Milkman Karlson
In this game, you play the character of Karlson, who needs milk to survive. So, you need to get to the store and buy some milk to survive. However, along the way to the milk store, you have to tackle various physics-based obstacles.
This is a simple, fun game, but it's very addictive. Unfortunately, the game is meant to run on low-end devices.
6. Knockout Race
Knockout Race is another best thrilling game like Fall Guys, which you can play on Android. It's a battle royale racing game where you can challenge up to 50 players in a race. The gameplay is simple but highly addictive. You need to run, jump, dash, and avoid obstacles to Race to the finish.
The first guy to reach the finish line wins the game. The game offers two different modes of playing the game – Obstacle course and Elimination game.
7. Tetrun: Parkour Mania
Well, Return: Parkour Mania is a free running game for Android available on the Google Play Store. This is a mini fun game where you can showcase your freerunning moves. However, unlike Fall Guys, Tetrun: Parkour Mania is not a multiplayer game. It's just a free runner game where you need to run and avoid collisions with falling dice.
8. Oopstacles
This game follows the concept of a popular TV show – Takeshi's Castle. It's a physics-based obstacle game that shares lots of similarities with Fall Guys. For instance, the game has similar graphics, controls, and even the characters look the same.
The game has two different modes – Versus mode & Challenge Mode. The challenge mode contains over 1250 levels, achievement points, and progress rewards.
Oopstacles also has a scream mode, which allows you to use your voice to control your gaming character.
So, these are some of the best games like Fall Guys for Android & iPhone. I hope this article helped you! Please share it with your friends also. Also, if you know of any other such games, let us know in the comment box below.