Today we are going to share the ultimate way to boost your twitter followers. It is the safe method to imply. Tweepi is a managing app of twitter, it helps us to get more followers instantly
[dropcap]I[/dropcap] don't use twitter very much but once I did, I noticed that twitter is not a bad place to share your thoughts around the world and later I realized that twitter is the only way through which you can get connected with your beloved celebrity, Moreover you can send direct messages to them.
Also Read: Now You Can Add Up To 256 Users in WhatsApp Group
But one thing is assured if you are practicing twitter you will face lots of problem regarding followers, twitter runs in an uncomplicated logic, the higher the followers and lower the following the much greater personality you are. There are many hacks out there on the internet that captioned"How to get unlimited followers" etc but guess what those cheap tricks are completely a waste.
So today I am going to share you the easiest trick which you can implement today to get real targetted twitter followers you don't need to install any app to get this action done. This is a slow method so if you are expecting you will get the flood of followers over night then this one is not for you.
Also Read: How to Run Multiple Whatsapp Accounts On iPhone
How to Get Unlimited Active Twitter Followers Quickly
This is an easy trick which if implement daily can do wonders to your twitter followers. The rule is simple You have to follow others and they will follow you back. And I am sharing you an awesome website which will help you to perform the mentioned action.
Also Read: How To Send Messages To All Facebook Friends At Once
Tweepi is a managing app for twitter it helps you to follow relevant users, clean up the inactivities, follow other followers and unfollow those who doesn't follow you back and many more. Today we will be using Tweepi to manage our twitter profiles so let's know how to increase followers.
1. Go to tweepi.com and click on signup if you are using this for the first time.
2. If you already have a twitter account then simply click on Login via twitter.
3. Now you will be redirected towards the Dashboard wait for few seconds.
4. Now you can see your Tweepi dashboard you can choose the free package, free package is somehow limited, but it's enough to take huge advantage from it. Now you can see lots of option there which includes a number of twitter followers, not following you back etc. You have to choose the option of Follow Followers from there.
5. After you selected the option of Follow followers Tweepi will ask you to insert the username of twitter user whose followers you want to follow. for example, I am following the followers of @rbrosemer and hit the search button
Also Read: How To Protect A Folder With Password In Windows
6. Now you can see the follower list of the searched people and you can follow each and everyone over there by just hitting the follow button. You can follow many users and in return they will follow you back.
Bonus:
1. There is an extension named Tweepi Bulk default action in Google chrome store which will help you to follow each and every user in Tweepi with just a click. It will help you a lot. You can add this to your chrome from here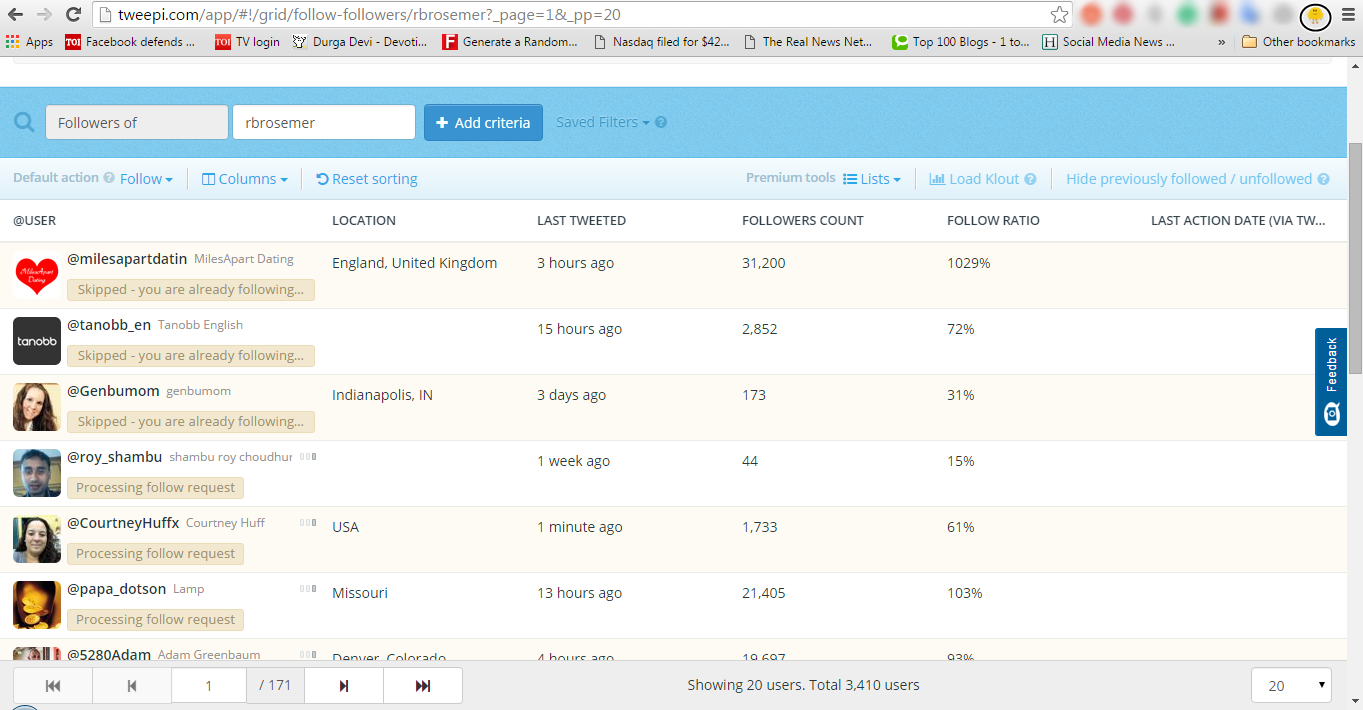 2. You can unfollow those who are not following you back in Tweepi only by this way your followers and the following will be maintained.
Also Read: Best Facebook Tricks and Facebook Hacks
These are the easy way out there by which you can get numbers of active and real twitter followers, It is a safe method to imply it will take some time to grow your follower if you had chosen the free package like me. But it is sure to give you satisfactory results.