Google unveiled its long-awaited smartphone, the Google Pixel 6a, on the first day of Google I/O 2022 with all the required details, such as its first look, specifications, price, and launch date.
Recently, Google has started testing a gift membership feature on its YouTube for some limited creators, who appreciate it.
Alongside, Google also announced its upcoming Pixel Buds Pro, which will launch nearby the Pixel 6a smartphone launch days. So, Let's discuss every possible detail about them.
Google Pixel 6a & Pixel Buds Pro Set to Launch in July
As many rumors suggested, Google will announce the Pixel series' next smartphone at Google I/O 2022, but we didn't expect the Pixel Buds Pro on the list that sooner. We covered a Pixel Buds Pro instant rumor a week ago, and now it is proven, so begin with them first.
Google Pixel Buds Pro: Specifications & Details
After two years of wait, Google unveiled the latest addition to the wireless earbuds lineup, the Pixel Buds Pro, with a different design from the previous and new "Silent Seal" technology.
The Pixel Buds will be available in four color options: Charcoal, Lemongrass, Fog, and Coral which is precisely similar to our earlier leaks report.
Specifications
These Pro earbuds support Active Noise Cancellation with the new "Silent Seal" feature that adapts to your ears' shape to maximize the amount of noise canceled.
The earbuds feature a custom-designed 11mm driver and a custom 6-core audio processor, which is based on custom algorithms to control the cancel out of the noise.
And Pixel Buds Pro contains Volume EQ & 5-band EQ that can customize the sound according to your past preference and keep it balanced to prevent hearing damage if you listen continue for an extended period.
And a typical Transparency Mode, the ability to hear surround audio without taking out your earbuds. These earbuds pair will support the Spatial Audio feature with capable devices, but Google will enable this after an update later in the year because of its connection with Android 13.
Other essential features include Inside Pressure sensors, Beamforming Microphones, Touch controls, Multipoint Connectivity with Bluetooth 5.0, a Voice Accelerometer, and IPX4 water resistance for earbuds & IPX2.
Google's unique features are hands-free Google Assistant support with real-time translation in 40 supported languages.
Battery
The vital section is Battery capability, and the earbuds pair has 11 hours of battery life and 7 hours with Active Noise Cancellation. Battery life with Case is 31 hours & 20 hours with ANC. The charging supports USB-C and wirelessly with Qi chargers.
Price & Availablity
The price for Pixel Buds Pro is $199, which is an outstanding amount for these in-ear premium wireless earbuds. The Pre-order will start on July 21 for your Pixel Buds Pro and might be available from 28 July.
Google Pixel 6a 5G: Specifications & Details
After all, Pixel 6a specs and details are here after a massive queue of leaks and assumptions for a year. There are fewer similarities between past leaks and the actual smartphone.
Google Pixel 6a is the last model for the Pixel 6; after this, the company will start the Pixel 7 series, but on the first day of Google I/O 2022, Google's host Soniya Jobanputra stated that "the Pixel 6 series is the most selling smartphone series from Google. Its selling stats are equal to the combined stats of the Pixel 4 & 5 series".
Design
The Google Pixel 6a design is pretty similar to the Pixel 6. It contains the same iconic bar for the back cameras & doesn't seem to be any significant difference, but this handset has only one colored body, not like the dual colors we saw earlier.
It has an in-display fingerprint sensor and a centered punch hole for the camera in front, and the bezels are slightly curved and bold from the screen. The Pixel 6a will be available in Chalk, Charcoal, and Sage color options.
Camera
The device's back camera bar contains two cameras, a new dual-pixel 12.2MP primary lens with f/1.7 aperture and optical image stabilization, and the other is an ultra-wide 12MP f/2.2 aperture same as the two other Pixel 6 phones.
The front camera contains an 8MP lens with an aperture of f/2.0.
As Pixel 6 is known for its camera features, Pixel 6a has camera features such as Night Sight, which makes night captures brighter in a perfect manner, Real Tone to represent all skin tones, and enhanced Magic Eraser in Google Photos,
Besides, Google has announced the ability of its Magic Eraser that it can also change the color of an object in the image.
Display
The Pixel 6a has a 6.1-inch FHD+ AMOLED display, which seems smaller but similar to the Pixel 6, with a refresh rate of 60hz and HDR support. Also, Its display is protected by Corning Gorilla Glass 3.
Performance
The biggest surprise from the company is Pixel 6a is powered by Google Tensor SoC, which also runs the Pixel 6 Pro, along it having the Titan M2 security chip in tandem with the 6GB LPDDR5 RAM and 128GB of UFS 3.1 storage. The phone comes with 5G connectivity and Android 12 out of the box with five years of security updates.
Battery & Charging
The handset owns a 4410mAh battery which seems slightly capable but Google claims over 24 hours of regular use and up to 72 hours with the new Extreme Battery Saver mode. The Pixel 6A supports 18W USB-PD fast charging and has no wireless charging.
P

rice & Availablity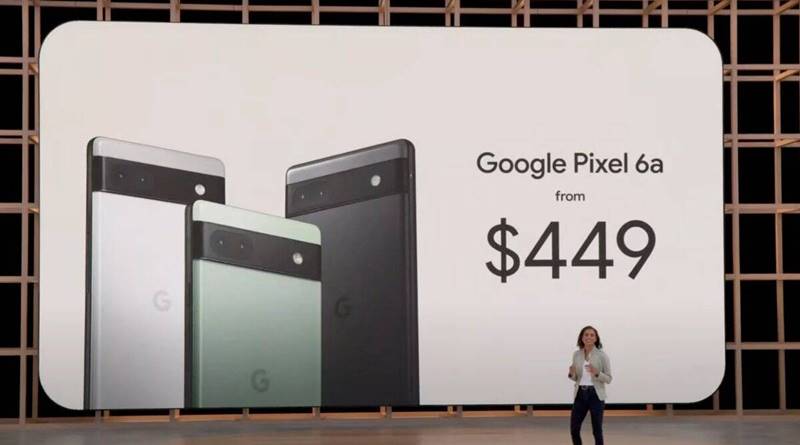 Google Pixel 6a is priced at $449, which is fair for device capabilities; its price is the same as the Pixel 5a launched price but far better than 5a.
The pre-orders will start on July 21 and will be in stores July 28. The availability in Australia, Canada, France, Germany, Ireland, Italy, Japan, Puerto Rico, Singapore, Spain, Taiwan, the United Kingdom, and the United States.