[dropcap]W[/dropcap]ell, we always try different kinds of apps on our Smartphone. After using all those apps, we don't even care to uninstall it. In this case, those apps keep running in the background and also loads during the startup. These things can considerably affect your Android's performance. So, to sort out this issue, we have discussed an easy method that would help you to enable or disable startup apps on Android.
Today with advancement in technology workload on a devices gets also increase and sometimes our system can't handle these workloads and our smart devices get slow down. This generally happens when the load memory gets exceeded than the device Ram, that is Random Access Memory. This memory helps to cache the running processes and when these processes are stopped or are not currently in use this memory store direct path of that process from the main memory. And in your android device when it gets started there are lots of apps that gets pre-started and that loads up on your android. And normally you can't see those apps. But after rooting android you can check out this also and can manage all the startup apps to disable or enable them according to your wish. So have a look on complete guide discussed below to proceed.
How To Enable/Disable Startup Apps In Android
Using a boot manager tweak of the android Xposed installer, you actually installed the app that will let you to manage all the startup apps of your android. And if you disable all the unnecessary apps then you can make your android faster to perform better. So have a look on steps below to proceed.
Also Read: How to Recover WiFi Passwords Using Android Device
Steps To Enable/Disable Startup Apps In Android Using Bootmanager:
Step 1. First of all, you need a rooted android as Xposed installer can only be installed on a rooted android, so Root your android to proceed. After rooting your Android device you have to install the Xposed installer on your android and that is quite a lengthy process and for that, you can proceed with our Guide to Install Xposed Installer On Android.
Step 2. Now you need to get the cool Xposed module that is BootManager in your Android device and enable it in the Xposed installer.
Step 3. Now launch the app and you will see a list of all the apps that are being installed on your device. Now choose all the apps that you want to only gets enable on startup by just tapping on them.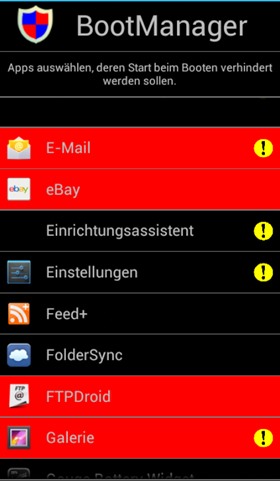 Step 4. Now click on done and the bootManager will run the command to set them at the startup apps.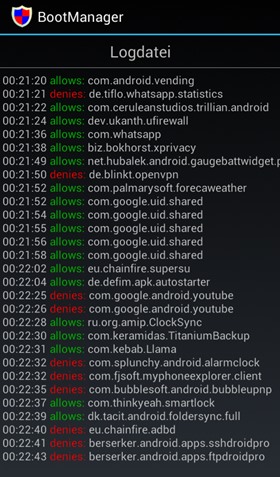 That is it and you are done, now those apps will now being set a startup app and will execute faster at the time of opening them.
Also Read: How to Change Fonts On Android (With or Without Root)
Alternative Apps
Well, there are several other apps available on Google Play Store that allows users to control apps on startup. You can manually disable or enable Android Startup Apps to improve performance.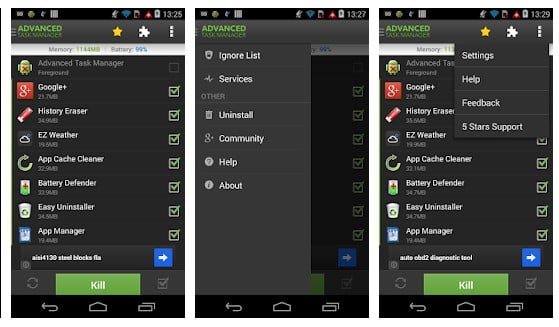 This app acts like a task manager, and it shows all the apps and games that are running on the background. You can find and kill apps that are consuming your battery and RAM resources manually. Not only these, but you can also use Advanced Task Manager to restrict apps from loading at the startup.
Well, this is another best app available on the Google Play Store that allows users to enable or Disable startup apps. As the name of the app says, All-In-One Toolbox features everything from Android Junk Cleaner to memory booster. The app allows users to find and disable startup apps from running during the system boot.
Startup Manager is another best Android app available on Google Play Store that is meant to disable/enable startup items from system boot. The app works on both rooted and non-rooted Android phone, and it shows all apps that run during the system boot. You can manually enable and disable apps that you think shouldn't be running during the startup.
Also Read: How to Restrict Data Usage for Specific Apps On Android
Assistant For Android is one of the best Android startup manager app that everyone would love to have. The best thing about Assistant For Android is that it can show you the current CPU Status, RAM Status, SD Card Status, and a few other things. The app allows users to disable startup apps from an Android device. Not just that, but you can also use Assistant For Android to instantly kill any app or running process.
Smart Task Manager is another best task manager app on the list which allows users to disable startup apps. Basically, its an all in one Android optimization tool that you can use to clear background apps, clean junks, restrict apps from startup, etc. Not just that, but the Smart Task Manager can also show you detailed information about any installed app.
So this is all about How To Enable/Disable Startup Apps In Android. With this cool method, you can easily manage all the apps for the startup to execute them quickly when you turn your android. And this will help you in fast switching between multiple apps in android. Hope you liked this cool trick, do share with others too. Leave a comment below if you have any related queries with you.