Let's admit, once in our lifetime, we all have come across a song whose name or lyrics we don't remember. Not just you and me, this thing happens with everyone out there reading the article. At that time, we don't have many options left apart from guessing the song's lyrics.
However, if you are using Android, you can identify songs pretty quickly. As of now, there are hundreds of music identification apps available for Android. However, out of all those, Shazam seems to be the best option.
Shazam is an Android app that helps users to identify songs in songs. Once identified, Shazam also shows you the artist's name, lyrics, video & playlists. Shazam can even identify music that's already playing on your android or iOS smartphone.
Also Read: Shazam Alternatives
Steps to Identify a Song That's Already Playing on Your Phone
There's a feature called 'Pop Up Shazam' that detects the song which is played on your mobile device. The feature could be handy to the users who want to detect songs from their own Facebook videos or Instagram stories.
Regardless of the apps, you are using for music playback; the Pop-up Shazam feature will recognize and show you the name of the song being played. In this article, we will share a step-by-step guide on how to Shazam a song on your device.
Step 1. First of all, download & install the Shazam app (For Android & iOS) on your Android/iPhone device.
Step 2. Once installed, open the app, and you will now see the main interface of the app.
Step 3. Just swipe right and click on the Settings icon as shown in the screenshot below.
Step 4. Next, enable the option 'Shazam for Pop-up'.
Step 5. Now you will be asked to permit Shazam to draw on the top of other apps. Just grant the permissions.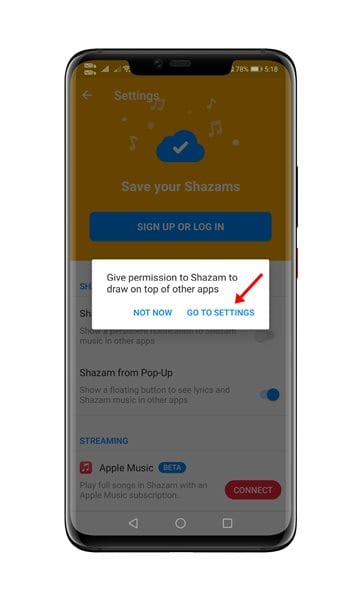 Step 6. Now open any media streaming or music app on Android and play any song. Next, tap on the Shazam pop-up button.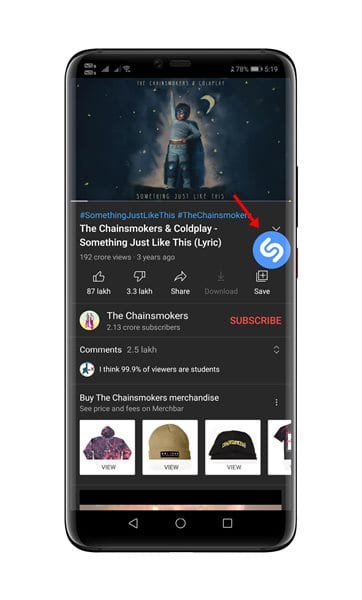 Step 7. Shazam will instantly recognize the song and will show you the song name along with the lyrics.
That's it! You are done. This is how you can use Shazam Pop-up feature.
So, this article is all about how to Shazam a song on your own device. I hope this article helped you! Please share it with your friends also. If you have any doubts related to this, let us know in the comment box below.