As of today, there is plenty of video streaming sites available on the web. However, out of all those, it was YouTube that stands out from the crowd. Not only it's free, but YouTube also serves as a platform for video creators to showcase their talent to the world.
If you have been using YouTube for a while, you might know that it doesn't have an official desktop app. But, now it looks like YouTube can be installed on Windows operating system via any Chromium-based web browser like Google Chrome or Microsoft Edge.
YouTube is now available as Progressive Web apps for quick & dedicated access. Those who don't know what PWA is are basically web pages that were meant to work as an app on a desktop.
Also Read: How To Watch Youtube Videos In VLC Media Player (Windows 10)
Steps to Install YouTube as a Progressive Web App On Windows 10
They are practically just another website or web page, but they were built to appear as a traditional app. Now that YouTube is available as a Progressive Web App, you can install it on your system via the Google Chrome web browser.
In this article, we will share a detailed guide on how to install YouTube as a progressive web app on Windows 10. Let's check out.
Step 1. First of all, open the Google Chrome web browser and click on the 'Three' dots.
Step 2. Now select Help > About Google Chrome. If any update is available, make sure to update it.
Step 3. Once updated, restart the web browser. Now head to the YouTube.com website. On the Address bar, you will notice a (+) or install icon.
Step 4. Click on the (+) icon and then click on 'Install'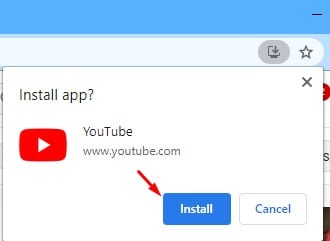 Step 5. If you are unable to find the 'Install' button, then click on the Settings button on the upper-right corner and select 'Install YouTube'
Step 6. Since it's an app, YouTube will appear in the Start menu and desktop. To bring it to the taskbar, right-click on the YouTube, select More > Pin to Taskbar.
That's it! You are done. This is how you can install YouTube as a progressive web app on Windows 10.
So, this article is all about how to install YouTube as a PWA on Windows 10. I hope this article helped you! Please share it with your friends also. If you have any doubts related to this, let us know in the comment box below.