Learn How to Use LED Flash as Notification Light on Android or iPhone: Sometimes we don't notice our ringing phone, it vibrates, blinks, beep, but doesn't pull our attention. So, what if we can use our Phone's camera LED flash  as a notification prompt? Actually, this is possible! We can use our Smartphone's LED flash as notification light on Android or iPhone. You need to go through the full post to know about it.
[dropcap]L[/dropcap]ED notification is really very useful and cool thing for the Smartphone, Do you know? Your phone's LED Flashlight can start blinking when you receive any notifications like messages or receive any call on your Smartphone. But, some of the Smartphones do not come up with notification light feature. However, you can use your phone's flashlight as a notifier.
Also Read: Here is How To Reduce The Data Usage in Android and iPhone
How to Use LED Flash as Notification Light on Android or iPhone
There is the inbuilt feature in iOS to use camera's flashlight as LED notification which is not in Android by default. However, we have a trick that will help you  to use Camera's LED flashlight as the notification reminder on your android device. Here are some different types of apps that are available on Google Play store that can be used to perform this task.
Also Read: How to Make a Fake Incoming Calls on Android and iPhone
Android Apps to Use Camera Flash as Notification Indicator
1. Flash Notification for All App
With this app, you will get the features like incoming call flash alert, SMS Flash. The best thing in this app is you can get the flash notification on Viber, Facebook Messenger, WhatsApp etc.
Features Of Flash Notification for all app
Notification Flash & Screen Flash
Incoming Call Flash
SMS Flash
Flash when a new notification arrives in selected app
(Whatsapp, Email, Twitter, Alarm/Clock, Messenger, any other app)
Also Read: How to Control Anything in your Mac from Android Mobile or iPhone
2. Call Flash: Alert on Call-SMS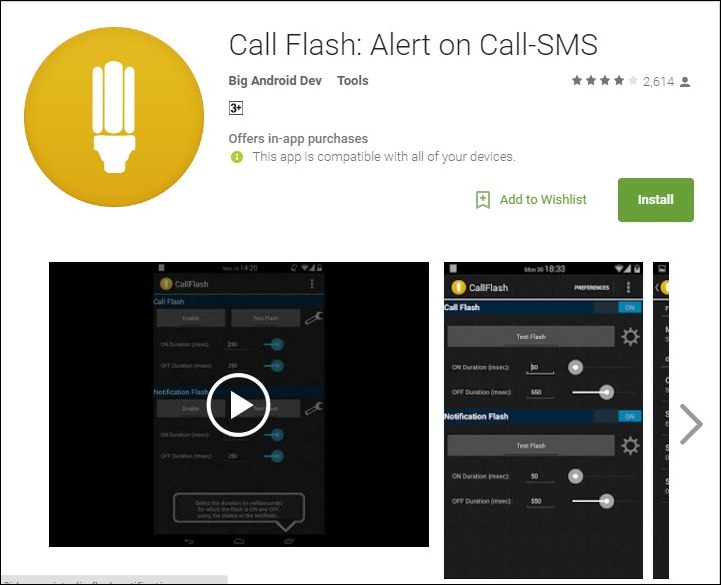 CallFlash controls the flash for calls and other notifications. In this way you can be notified by your flash for every notification. It is an open source project, aiming to keep things simple and functional.
Features Of Call Flash
Operation modes (flash when on silent, vibration or normal mode).
Notification flash modes (Time based or Repetitive).
Flash notification for more instant messaging apps, like Viber, facebook messenger, what's up etc…
Flash only when phone is locked option
Disable flash on call with volume buttons
Option to disable flash if battery is low
3. flashME
flashME will be your light notification on your Android phone. The flashlight embedded in your device will promptly blink as your phone is ringing, or a new text has been received. Moreover, you can set/unset the flashlight blinking for each different notification event (Facebook or Twitter update, calendar alert, any other apps events). You can choose  to have your light notification only when your cell phone is upside down, and the light will continue blinking till you get the notification.
Also Read: How to Use Multiple Instagram Accounts On Android or iPhone
4. Flash Alerts on Call and SMS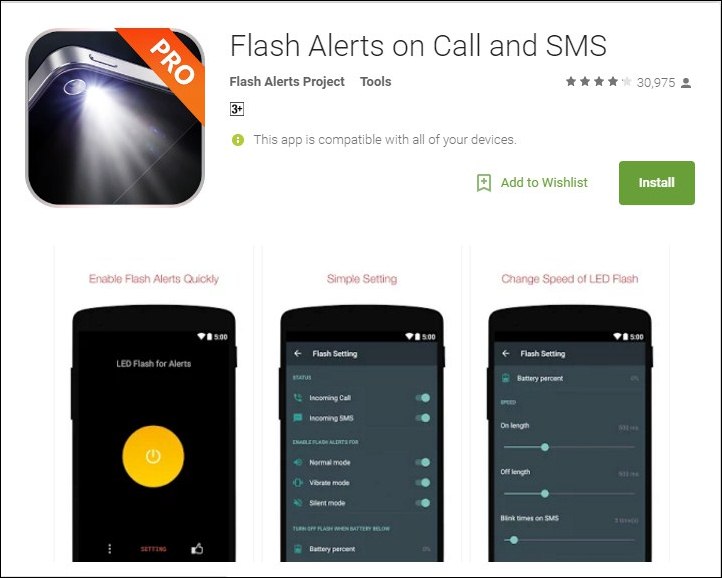 This is one of the popular app available in the google play store which allows you to blink LED flash alerts on Call and SMS. Moreover, you can change the speed of flashlight blinking too.
Features of Flash Alerts On Call And SMS
Blink led flash alerts on Call, ringing flashlight
Blink led flash alerts on SMS
This application helps you not  to miss any Call and SMS
Ringing flashlight when phone have incoming Call and incoming SMS
You can turn on or turn off service by manual over device status sound mode as Ring, Vibrate or Silent mode
How to use the LED flash as a visible notification light on your iPhone
Your iPhone includes an accessibility feature that is specially made available for hearing impaired which gives users a benefit of using LED flash as a hint of incoming notifications. Let's know how to use LED Flash as notification lights on iPhone.
Launch the Settings on your iPhone.
Tap on General > Accessibility.
Scroll down ways and under the Hearing section, turn the option for LED Flash for Alerts to On.
That's it! you are done, now your iPhone's LED flash should light up every time you receive a notification alert.
Also Read: How To Set WhatsApp Profile Picture Without Cropping On Android or iPhone
Now every time you receive any call or SMS your smartphone's LED will start blinking and you will be able to detect the alert even if your smartphone is on silent mode or on a face-off position. Hope you like the article, don't forget to share it with your friends and leave a comment below if you are facing any problem at any of the step discussed above.