OnePlus Nord price and specifications have been leaked ahead of its official launch on a retailers website. According to the leaked list, OnePlus Nord will come with two versions and will have Snapdragon 765G processor with 5G support.
Lots of details about the new OnePlus Nord just leaked.
OnePlus 8 Lite and OnePlus Z, these phones will be sold as OnePlus Nord. On Social media, the devices have been teased.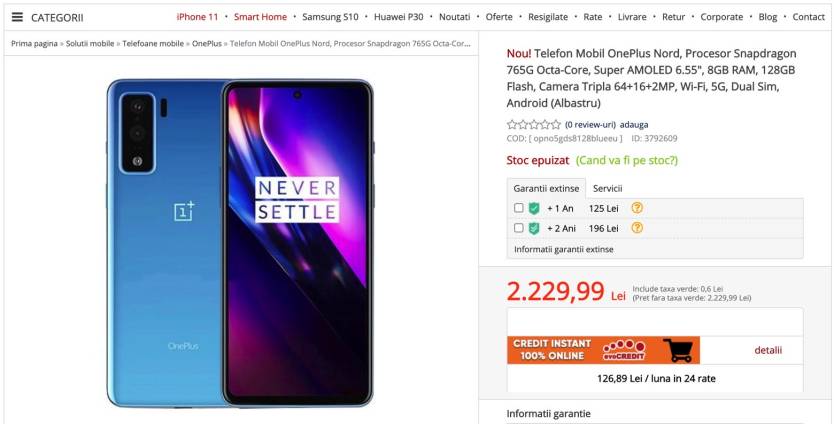 Already we know that the phone will have Snapdragon 765G processor and it will support the 5G network. OnePlus has aimed to sell it for less than $500. According to reports, the price can be $299. It is said that the OnePlus Nord will have the same specifications as Pixel 5.
As per the reports, OnePlus will unveil the device on 21st July, but it looks like you don't need to wait till that. All the details of OnePlus Nord are out ahead of its official launch.
An Italian blog Android Wolrd has listed all the details about OnePlus Nord on Romanian e-commerce website EvoMag. The blue version of OnePlus Nord is sold on the website for 2,300 RON ($536). The other European countries will have a price tag in local VAT tax, that means the US price can be cheaper.
Another listing reveals a 12GB/ 256GB version of the phone's price is 2,755 RON ($642).
All the specification of OnePlus Nord is listed. The device will have a 6.55-inch OLED display with a punch-hole selfie camera. There is an in-built fingerprint sensor. There is a triple camera at the back, which is 64-MP, 16MP, and 2MP sensors.
OnePlus Nord will have Snapdragon 765G Processor, and 8GB RAM 128 Storage or 12GB RAM 256GB Storage. It will have 5G connectivity, dual SIM Support. There will be 4,300 mAh battery, Bluetooth 5.0, 802.11ac Wifi. Nothing is said about the wireless charging support.