When it comes to photo editing, Photoshop is usually the first choice of editors. Although Photoshop is a little complicated to use, it has every feature. However, the sad thing is that Adobe Photoshop is not available for the Android mobile operating system.
Android has lots of photo editing apps, but only a few have Photoshop-type photo editing features. This article will share a list of the best photo editing apps for Android with lots of Photoshop-type features.
Also Read: How to Turn Any Photo In Cartoon Without Photoshop
List of 10 Best Photoshop Alternative For Android
With these apps, you can easily edit your images right from the smartphone. So, let's check out the best Adobe Photoshop alternatives for Android.
Snapseed is one of the top-rated photo editing app available on the Google Play Store. The app is similar to Adobe Photoshop for computers, and it arrives with a pleasant interface.
Talking about the features, the app offers almost every photo editing tool to give your images a new touch. The app is entirely free to download, and it also brings in tons of filters.
In general, Pixlr is an Android photo editor that offers a lot of flexible features. When compared with other Android photo editors, Pixlr is easier to use and is lightweight.
You don't even need to create an account or register to edit images with Pixlr. With Pixlr, you can easily create photo collages, apply filters to photos, add color splash effect to pictures, etc.
ToolWiz is another best photoshop alternative for Android which you can use today. The great thing about Toolwiz photos is that it packs almost every photo editing feature that a photographer needs.
You won't believe that ToolWiz Photos brings in more than 200 photo editing tools to give your images a new touch.
Although not famous, the Multi-Layer Photo editor offers users plenty of useful photo editing tools. It's one of the best alternatives to Adobe Photoshop for Android that you can use right now.
The app provides users with a full-fledged photo editor that makes photo editing simple and full of fun. Like Photoshop, this app allows users to compose pictures in multi layers.
Well, if you are looking for a popular photo editing tool that offers tons of unique photo editing features, then PicsArt Photo Studio might be an excellent choice for you.
PicsArt Photo Studio's great thing is that it allows users to adjust color balance, apply filters, apply brush effects, and retouch photos. Apart from that, PicsArt Photo Studio is also used to create photo collages, clipart, etc.
Although it's not a photoshop replacement for Android, Fotor Photo Editor offers some excellent photo editing features. The app has lots of effects, borders, and stickers that help to expand your creativity.
Fotor Photo Editor's premium version unlocks all the features and paid content, including effect packs, collage packs, sticker packs, etc.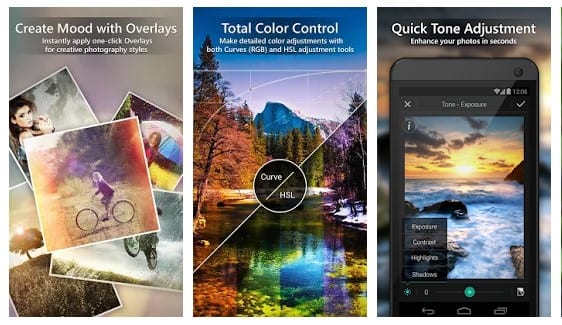 PhotoDirector is an all-in-one photo editing app for Android to enhance, stylize and animate any image. It offers many creative editing tools for object removal, face shaper, object replacement, etc. Also, the app provides lots of photo animation tools like animated overlay, animated dispersion, etc.
Polarr Photo Editor is another popular Android photoshop alternative that you can use today. The great thing about Polarr Photo Editor is that it offers layer editing features just like photoshop. Apart from that, the app houses almost every feature you need for photo editing, and the features are powerful enough to give your images a new touch.
Photo Editor Pro deserves to be on the list with its unique offerings. The adobe photoshop alternative for Android offers everything you want to edit pictures. From stylish effects to body retouch tools, the app has it all. The photo editing tools that Photo Editor Pro offers are powerful yet easy to use, and you can access over 100+ filters.
Well, Adobe Photoshop Mix is one of the best Photoshop alternatives for Android, which you can use right now. You can expect lots of photoshop type features on Adobe Photoshop Mix.
The great thing about Adobe Photoshop Mix is that it offers users layer-based photo editing features just like Adobe Photoshop.
Although Photoshop has no comparison when it comes to photo editing, you can use these Photoshop-type Android apps to edit photos on the go. These apps offer unique photo editing features that will enhance your photo editing experience. I hope this article helped you! Please share it as much as you can.