Well, if you are a cricket lover like me, then you might know that it's always important to know the live scores. Not only cricket, but sports lovers from all across the world always want to stay updated with the latest scores. Let's talk about the cricket, previous month we have seen the Cricket World Cup 2019, which ended up with England winning the tournament.
At that time, the urge to watch live cricket was quite high amongst cricket fans. Since we can't watch live matches all the time due to a busy schedule, we end up installing a live score app or searching on Google. So, for those users, Google has introduced a 'Pin Live Score' Feature.
What is 'Pin Live Score' Feature
Well, Pin Live score is one of the useful features for sports lovers from all across the world. The new feature from Google makes it easier for users to track match scores of their favorite sports team. The Pin Live score feature is for those who keep refreshing the Google search page for the match score.
It allows users to pin the live scores right on Android's home screen. The feature is much similar to the floating chat bubbles which you see on the Facebook Messenger. The live scores of any sports are displayed in the home screen in a floating bubble. So, if you are interested in trying the new feature on your Android, check out the method given below.
How To Pin Live Score on Android's Homescreen
Well, before trying out the method, make sure that there's a live match to see the scores for. Once done, follow some of the simple steps given below.
Step 1. First of all, open Google Chrome browser on your Android smartphone.
Step 2. Now type in the ongoing match like NZ vs. SL, Ind vs. Pak, etc.
Step 3. At the time of writing, there's an PAK vs. SL game going on. You need to tap on the 'Pin Live Score' button as shown in the screenshot.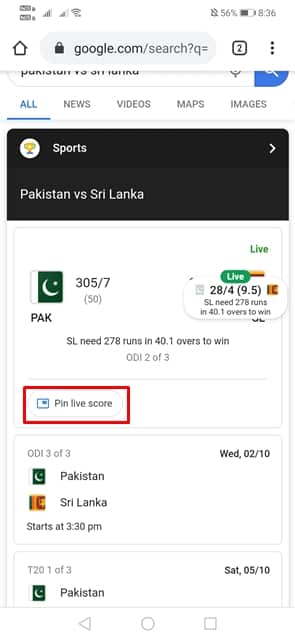 Step 4. Once done, you will now see the pinned live score on the home screen. You can move the pinned live score to your desired location.
Step 5. You can tap on the Pinned live score to get the detailed information about the ongoing match.
That's it, you are done! This is how you can Pin Live score on your Android smartphone. I hope this article helped you. If you have any other doubt related to this, make sure to discuss with us in the comment box below.