Acer unveiled an insane gaming laptop with 21-inch IPS curved display, dual Nvidia GeForce GTX 1080 graphics Cards, and much more monstrous features.
The world of technology does not stop and January is synonymous with great news, with the first major technology fair of the year, the CES that takes place in Las Vegas, between the 5th Jan and 8 Jan.
The big brands are beginning to make known what they have prepared for the new year and Acer has just presented one of the most awaited news for the gaming universe.
Acer's $9,000 Predator 21 X Is The World's First Curved Gaming Laptop
The Acer Predator 21 X, is the first notebook dedicated to curved screen gaming. Are you even imagining playing in a machine like this?
Acer today unveiled the Predator 21 X, which is self-styled as the first in the world to integrate a curved screen dedicated to gamers.
The Predator 21 X was developed for enthusiasts, those looking for the best solutions. The brand even mentions that this is the most advanced device in the market.
As it comes equipped with a 21-inch IPS screen, with a resolution of 2560 x 1080 pixels, with a refresh rate of 120Hz. Through it, the brand aims to ensure a very immersive gaming experience, especially when combined with Tobii's eye-reading technology.
This integrated system elevates the gaming experience, allowing players to identify enemies with their gaze, aim at a weapon, or dodge objects simply by looking at them. This functionality is compatible with over 45 titles such as Elite Dangerous, Deus Ex:
Mankind Divided and WATCH DOGS 2. The curved display also integrates NVIDIA G-SYNC technology that ensures the best gaming experience.
The Predator 21 X GX21-71 integrates two NVIDIA GeForce GTX 1080 graphics cards in SLI and a 7th-generation Intel Core i7-7820HK processor with overclocking capability.
It also has 64 GB of DDR4-2400 memory, up to four 512 GB solid-state drives in RAID 0 configuration (including 2 NVD PCIe SSDs up to 5x faster than SATA SSDs), and a 7200 RPM hard drive with a capacity of 1TB.
This notebook also includes Killer DoubleShot Pro technology that automatically chooses the fastest Internet connection (Ethernet or Wireless) and sends all priority traffic through that interface, while less important traffic is redirected to the other.
The Thunderbolt standard introduces the Thunderbolt for USB-C type connections with speeds up to 40 Gbps.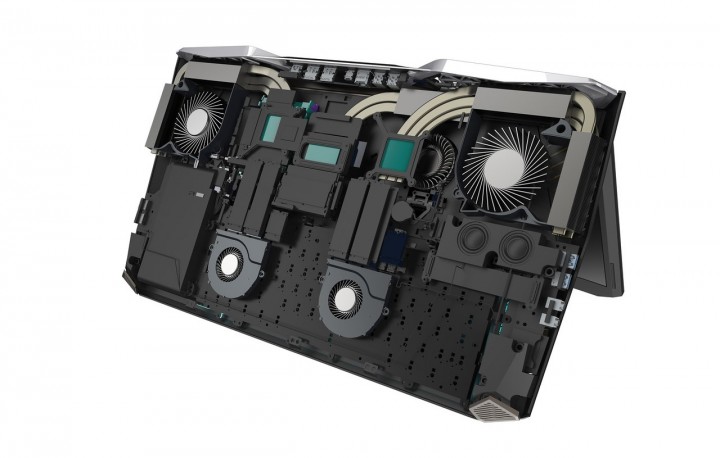 This laptop also incorporates advanced cooling technology consisting of 5 fans (including 3 ultra-thin AeroBlade metal fans) and 9 cooling tubes. It also includes the Acer Dust Defender system, which removes accumulated dust and improves heat dissipation.
The mechanical keyboard includes Cherry MX Brown switches with customizable RGB backlighting for each key, capable of reproducing more than 16.7 million colors. Players can even change the black W, A, S, D keys to blue, thanks to the included accessory kit.
The Predator 21 X's numeric keypad has a unique design that can be turned into a high-precision touchpad.
To make moments of action even more real, the Predator 21 X features a 3-way audio design that ensures high-quality Hi-Fi sound and is powered by 4 speakers (2 twetters, 2 medium) and 2 subwoofers for a full spectrum of sound.
Acer's pre-installed PredatorSense software allows users to control and customize the entire gaming experience from a single interface, including overclocking capability, lights and fans.
In parallel, the Xsplit Gamecaster software allows players to record and edit videos as well as broadcast live on YouTube and Twitch channels.
To ensure safe transport, each Predator 21 X comes with a sturdy carrying case that holds your laptop and accessories securely. The Predator 21 X will be available only in February at a price from $9,000.