Spotify is undoubtedly the best music streaming service out there. It now has millions of subscribers and has both free and premium plans. Even though Spotify is free and good enough for regular music consumption, it still lacks many features.
So, if you are a die-hard music lover like me, the best option is to purchase Spotify Premium. There are not one but many ways to get Spotify Premium. You can even get a Spotify Premium free trial on specific regions. Another best way to use Spotify Premium is by redeeming a Gift card.
If you read this guide, you may have stumbled across a Spotify Gift card and want to redeem it. Or someone might have sent you a Spotify Gift card, but you don't know how to use it. In this article, we will answer all your questions related to Spotify Gift Cards.
What is Spotify Gift Cards?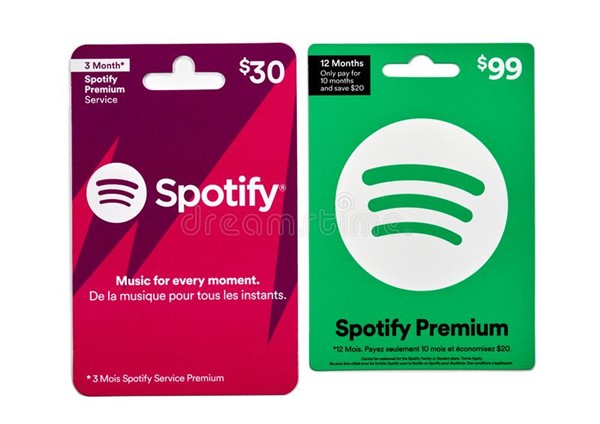 Spotify Gift cards is a code that will provide you with a Premium Individual plan. You can send a Spotify Gift Card of a certain amount to provide them with Spotify Premium.
Let's say you have a friend who wants to use Spotify Premium; you can send him a Spotify Gift card. This way, your friend can use Spotify Premium without going through any paywall.
You can send Spotify Gift cards to your friends, family members, relatives, or loved ones. A Spotify Gift card is a great way to get Spotify Premium for Free.
Where to Buy Spotify Gift Cards?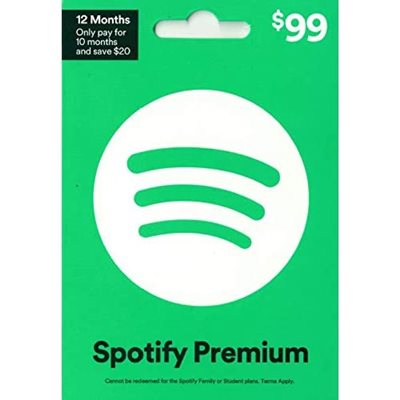 Now that you know what exactly is Spotify Gift card, you may want to gift somebody else. So, if you are looking for platforms to purchase Spotify Gift cards, you can get them easily.
According to the official Spotify website, users can purchase Spotify Gift cards from many online stores, electronic stores, and even e-commerce websites.
You can purchase Spotify Gift cards at grocery stores, convenience stores, and online shopping portals like Amazon.
If you use Paypal for money transfers, you can also purchase a Spotify Gift card from Paypal. Since there are various ways to get a Spotify Gift card, finding one should be easy.
What can a Spotify Gift card be used for?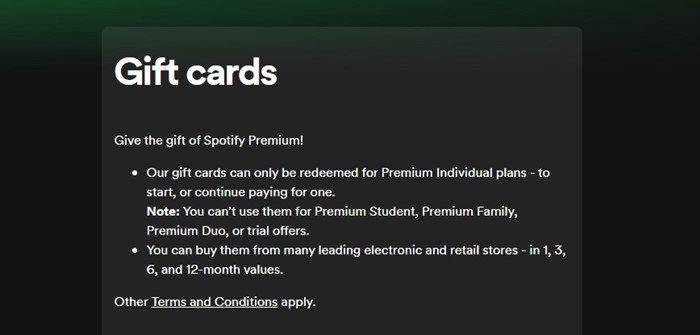 Before purchasing a Spotify Gift card, you need to remember a few things. Below, we have shared some key points related to the Spotify Gift card.
The Gift cards can be redeemed for Premium Individual Plans.
You can redeem a gift card to start Spotify Premium or continue paying for an existing one.
Spotify Gift cards can't be used for Premium Student, Premium Family, Premium Duo, or Trial Offers.
You can purchase Spotify Gift cards in 1, 3, 4, and 12-month values.
So, these are some of the most important things you should remember before gifting someone a Spotify Gift Card.
How to Redeem Spotify Gift Card?
If you have just received a Spotify Gift card, you may be looking for ways to redeem it. It's easy to redeem a Spotify Gift card, and the steps are the same for both desktop and mobile. Here's how to Redeem Spotify Gift cards.
1. First of all, open your computer or mobile web browser. Google Chrome is recommended.
2. Now log in to your free Spotify account. If you are an existing Spotify Premium user, log in to your Spotify premium account.
3. Now open the webpage: spotify.com/redeem
4. Now, you will be asked to Redeem your code. Scratch off the Gift card to reveal the PIN.
5. Once revealed, you need to enter the PIN on the Spotify Code Redeem page and click on the Redeem button.
That's it! This is how you can redeem a Spotify Gift card.
Also read: Spotify Pie Chart: How to Make Viral Spotify Pie Chart
So, this guide is all about how to Redeem Spotify Gift cards. Redeeming a Spotify Gift card is super easy, and the steps shared above will let you do it. If you need more help redeeming Spotify Gift cards, let us know in the comments below.