If we look around, we will find that image and video-sharing websites like Pinterest, Instagram, etc., have risen over the past few years. Talking about Pinterest, it's an excellent platform for sharing images. But what's more interesting is the platform allows you to share and follow the content categories you like.
Users can create virtual boards on Pinterest to 'Pin' the images or follow other boards. It has a massive database of pictures. The platform was immensely popular, which gave rise to similar websites and apps.
Right now, there are hundreds of Pinterest alternatives available on the web which can be used to share images. In this article, we have decided to share some of the best sites like Pinterest, that you can use right now.
Also Read: How To Enable 'Nearby Sharing' Feature of Chrome Browser
List of Best Sites Like Pinterest (Pinterest Alternatives)
Before exploring the list, please keep in mind that inspired by Pinterest's massive success, there are now literally hundreds of sites like Pinterest available out there. Some of them are direct copycats, and some of them are unique in different ways.
Well, We Heart It is a little bit different than Pinterest when it comes to the user interface and target audience. Unlike Pinterest, which targets every age group, We Heart It is aimed at teenagers.
It's an image-sharing platform where you can share or organize the images you love online. Apart from that, We Heart It also allows you to create collections of your favorite pictures and discover new and interesting people around you. The site's user interface is a plus point, as it has an easy-to-use layout.
PearlTrees is pretty much similar to Pinterest when it comes to the concept. Both sites were the same, but instead of the board & pin, you get pearls & trees on PearlTrees.
The site allows users to explore and share different types of image content. Soon after sharing content, you will come across 'trees' similar to the content you share. Overall, PearlTrees is an exciting website that you can visit today.
If you are a designer looking for an image-sharing site similar to Pinterest, then Dribbble might be the best pick for you.
Guess what? The user interface of Dribbble is identical to Pinterest, and it has lots of content for designing, poster making, graphics, Pixel art, and more.
If you are searching for a website to expand your ideas for home decoration and home design, HomeTalk might be the best pick.
This is the site that could help you plan your dream home. The site is filled with thousands of home decor ideas. It's a Pinterest-type site, but it's meant for home decoration.
5. 500px
500px is a popular image-sharing site where you can download images for personal and commercial use. It's a stock image site that has both premium and free images.
We have listed this site because it allows users to tag photos with specific keywords like Pinterest. Those tags help other users to discover the images.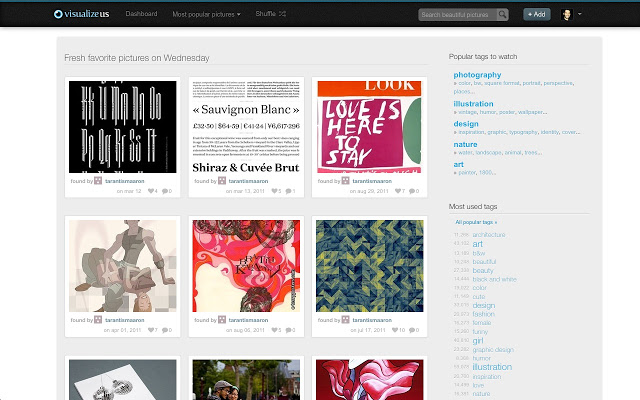 VisualizeUs is a photo-sharing platform like Pinterest, focusing more on furniture and interior designs. The site is best for those who are running sort of ideas to design their home interior.
You will come across lots of decoration ideas, furniture, etc. Also, the pictures shared on VisualizeUs help you better understand how a particular piece of furniture looks in the home environment. Overall, it's an excellent website for interior designers.
It's a platform to discover or share your favorite food, accommodation, and sightseeing suggestions. Lots of travelers share their best places and experience on this site.
You can also communicate with the community to plan your next travel.
This site could be the biggest competitor of Pinterest regarding the user base and interface. Just like Pinterest, Juxtapost has categories to share or discover new photos.
Not just that, but the site also has a special tab where you can see posts similar to the ones which you have viewed before.
It doesn't matter whether you are into photography, web designing, book cover designing, or any other such things; Designspiration is one website you will love to follow.
The explore section of Designspiration arranges posts by categories, allowing you to browse posts you are interested in. Yes, you can even share, like, and comment on your favorite posts.
If you are a food lover like me and searching for a site to discover new foods & recipes, your search should end with FoodGawker. It's an interesting website with a massive collection of delicious food recipes in different communities and genres.
The site also lets you choose from various categories like Breakfast, desserts & sweets, etc. Overall, it's an excellent site for food lovers.
Mamby may not be the perfect Pinterest alternative, but it's still one of the unique social networking sites you can use today.
You get many similar features on Mamby, and a pleasant user interface. The site also offers you filters that you can use to find post types by article, image, video, or link.
You also get an option to find posts using hashtags. Overall, Mamby is one of the best Pinterest alternatives you can use today.
Mix differs slightly from Pinterest, but it's still a fun site to use. You can use this site to discover fun and interesting ideas.
For example, you can find interesting art on the site if bored. You can also explore the food recipes, ASMR videos, and other content on the site.
So these are some of the famous sites like Pinterest. I hope this article helped you! Please share it with your friends. Also, let us know if you want to add other websites to the list in the comment box below.