Although WhatsApp is the most used instant messaging app for Android & iOS, it still lacks many security and privacy features. Comparatively, many instant messaging apps were all set to beat WhatsApp in the world of instant messaging.
Now you have multiple apps when it comes to instant messaging. Apps like Telegram, Signal, etc., offer you better features and security options than WhatsApp. In this article, we will talk about and address one of the biggest issues of Telegram.
Telegram is a free messaging service that's secure, fast, and social. In addition, Telegram is known for its group-related features. For example, you can set up bots on Telegram channels; the groups can hold up to 200,000 members and more.
Not many would know, but Spammers exploit telegram to scam regular users. Telegram spammers use large established groups to cast a wide net for potential victims.
Also read: 10 Best Telegram Bots That Everyone Should Know
Methods to Prevent Spam on Telegram App
So, to stay safe from spammers, one needs to change few settings on the Telegram app for Android. So, in this article, we will share the few best methods to stop getting Telegram spam.
Limit Who Can Add You to Groups
As we have mentioned above, Spammers usually use established groups to lure potential victims. If you are new to Telegram and haven't changed any settings yet, anyone can add you to public groups.
However, Telegram allows you to limit who can add you to groups in easy steps. To limit who can add you to Telegram groups, follow some simple steps given below.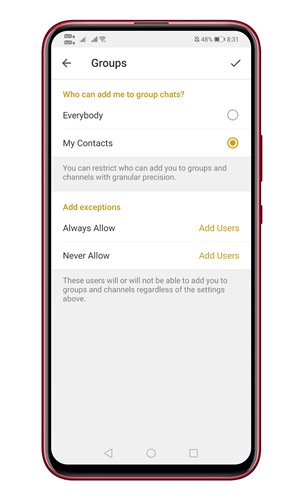 Open the Telegram app on your Android/iOS device.
Next, tap on the Privacy and Security option.
On the next page, tap on the Groups & Channels.
Under the Who can add me, select My Contacts.
That's it! You are done. Now only your contacts are allowed to add you to Telegram groups.
Limit Who Can Find you via Your number
Telegram also allows you to select who can find you by using your phone number. If you haven't made any changes to these settings, everyone can find you using your number.
This also means that if your number has appeared in any data breach, spammers can use it to spam you. So, in this method, we will limit who can find us by using our phone number. Here are the steps to follow.
First of all, open telegram and open the Settings tab.
On the Settings, tap on the Privacy and Security option.
Under the Privacy and security, tap on the Phone number.
Under the Phone number option, change the Who Can see my phone number to My Contact.
That's it! You are done. Now only people who appear on your contact list will be able to see your Telegram account.
Report & Block Spammers
Although this is not a method to prevent spam, it can help you minimize the spam on the platform.
Every Telegram chat has a Report option. You just need to tap on the profile picture of the user and select three dots > Report.
You can utilize the same option to block users as well. You can block spammers to prevent them from sending you messages.
So, these are the few best ways to stop getting Telegram spam. I hope this article helped you! Please share it with your friends also. If you have any doubts related to this, let us know in the comment box below.