If you have just purchased a new Android device, you might know the pain of transferring data from your old phone to a new one. Although we have many apps to ease the data transfer, the process is still tiring and takes a lot of time.
The problem becomes even worse if you have used more than one Google Account on your old Android phone. For example, if you have used two Google Accounts on your old device and have contacts saved in each of them, organizing them could be a mess.
You may even face difficulties while syncing Google Contacts on your new Android smartphone. Hence, if you deal with contact management issues, you need to organize your contacts by merging them into one Google Account. In this way, you will have all your important contacts in one Google account, and you can use that account to sync all your contacts to your new smartphone.
Steps to Transfer Contacts from One Google Account to Another
Hence, in this article, we will share a step-by-step guide on how to transfer or move contacts from one Google Account to Another. The steps would be straightforward; just follow them as directed. Let's check out.
1. First of all, open your favorite web browser and head to the Google Contacts website. Now login with your Google Account, whose contacts you want to move into another account.
2. Now, on the left pane, click on the Contacts button as shown in the screenshot below.
3. On the right pane, select all contacts that you want to move.
4. Once selected, click on the Export button as shown in the screenshot below.
5. On the Export as type, select Google CSV and click on the Export button.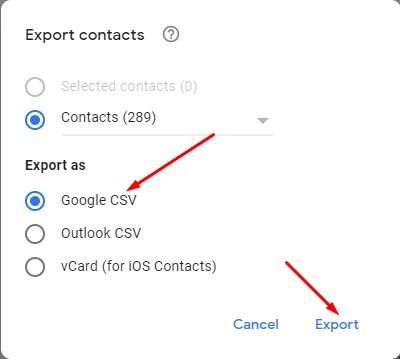 6. Now, you need to tap on your profile picture and switch to another Google Account you want to transfer the contacts.
7. Next, click on the Import button, as shown in the screenshot below.
8. On the Import Contacts prompt, click on the Select file button and select the Google CSV file you have downloaded in Step 5.
That's it! You are done. This will import the contacts from your old Google Account to a new one.
As we have mentioned above, it's pretty easy to transfer or move Contacts from one Google account to another. I hope this article helped you! Please share it with your friends also. If you have any doubts related to this, let us know in the comment box below.