If we look around, we will find that iPhones and Android smartphones are slowly replacing the need for personal computers. If we talk about the iPhone, it can be utilized to do various things. However, there are a few things that the iPhone can't do, like opening Zip files.
Although Apple introduced a feature to zip and unzip files on the latest version of iOS, still it's a complicated process. So, it's always best to rely on a third-party app to open zip files on iPhone. Therefore, this article will share some of the best iPhone apps to extract zip files easily.
Unzip Compressed files On the iOS
Before sharing the list of best apps to unzip compressed files on the iPhone/iPad using Zip extractor apps, make sure to follow the two steps given below.
First of all, locate the zip file on your iPhone. Next, tap on the zip file and tap on the 'Share' button.
Under the share menu, select the 'Open in..' option and choose the app you have installed from the list.
This will open and extract the contents of the zip file.
Zip & RAR File Extractor is one of the best and top-rated iOS apps to extract iPhone zip files. The great thing about Zip & RAR File Extractor is its user interface, which looks clean and well organized.
Apart from that, Zip & RAR File Extractor also got a media player, photo viewer, PDF reader, document viewer, etc. You can also import the ZIP files stored on cloud storage like Dropbox, Google Drive, OneDrive, iCloud, etc.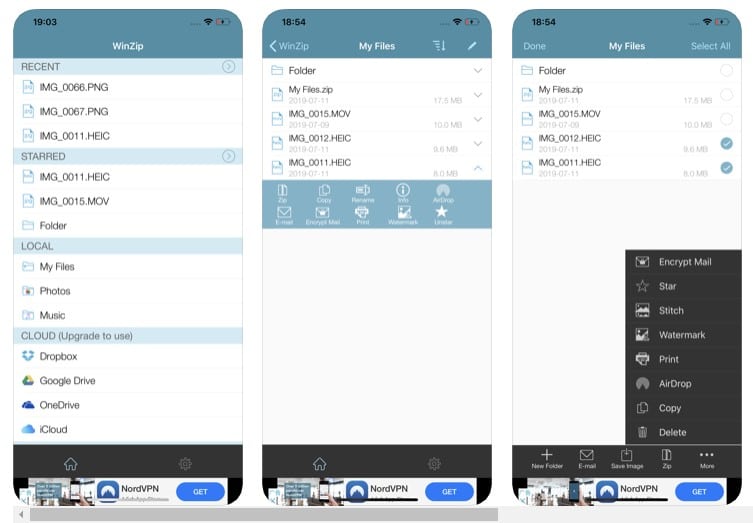 Well, WinZip is another best iPhone app to extract zip files. The app is available in two versions – Free and Premium. For most users, the app's free version is more than enough.
The great thing about WinZip is that it automatically extracts the zip files and displays the content stored in them.
It also offers a few other useful features, such as sending uncompressed files to other iOS users via AirDrop, protecting files before sharing with 128 or 256-bit AES encryption, etc. However, the free version of WinZip shows ads that can ruin the app experience.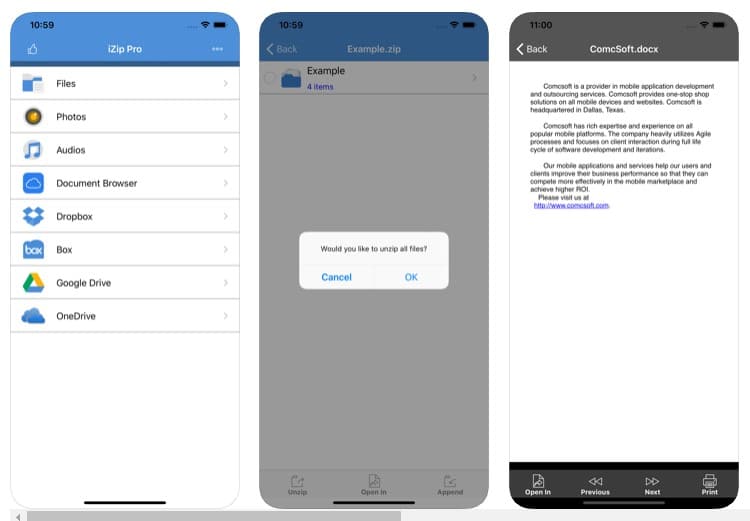 iZip – Zip Unzip Unrar Tool is for those searching for the best ZIP/RAR file management app for iPhone/iPad. With the iZip – Zip Unzip Unrar Tool, you can easily unzip files from ZIP format, including password-protected and AES encrypted ZIP Files.
Not only that but the iZip – Zip Unzip Unrar Tool can unzip lots of file compression formats like ZIPX, TAR, GZIP, RAR, TGZ, TBZ, ISO, etc.
You can even use iZip to open and view various file types such as DOC, Excel, PPT, PDF, TXT, RTF, Pages, JPG, GIF, etc. Overall, iZip is a great file compression app for iPhone.
Well, it's one of the best zip management tools available on the Apple app store. The great thing about Unzip zip rar 7z extract is that it can quickly decompress and compress ZIP files.
It supports various formats like 7zip, RAR, LzH, ZIPX, GZIP, BZIP, etc. Apart from that, it also supports password decompression files.
Unzipper may not be very popular, but it's still one of the reliable apps to unzip compressed files on iPhone. With Unzipper, you can open any .zip files using your iPhone and share the uncompressed contents directly via Airdrop.
Apart from extracting the compressed files, Unzipper for iPhone also allows you to compress photos and files. The app is free to download & use, and it works 100% offline. Overall, Unzipper is a great iPhone app to unzip compressed files.
So, these are the best iPhone ZIP File management apps that you can use today. If you know of any other such apps, let us know in the comment box below. I hope this article helped you! Please share it with your friends also.