InShortViral: Get your Facebook page of your small business a grey verified tick with the method we discussing here. Go through this article to discover the trick on how to verify your Facebook Page With a Grey Tick.
[dropcap]T[/dropcap]here are lots of characteristics that are getting attached to Facebook day by day and the marvelous thing that being freshly continued to Facebook is grey tick verification to the page. Firstly blue tick to a Facebook page was preceded that were for the comprehensive business proprietor those who were officially running any legitimate business and that help them to get the different pages. Presently if you want your small business to be an official one then you need a grey tick to your Facebook page and our complete guide will help you for this.
Also Read: Best Facebook Tricks 2016 and Facebook Hacks
How to Verify your Facebook Page for Grey Tick
The arrangement is very manageable to get your Facebook page verified and for that you just need  your business details and with the conventional requirements and then you will get the page with the grey tick that will describe your official business. Just follow up the steps below to proceed.
Also Read: How To Send Multiple Facebook Friend Requests At Once
Steps To Verify Facebook Page With A Grey Tick:
Step 1. First of all login into your Facebook account and then you need to create a new Facebook page with details of any of the business of some good countries like New York, USA etc.
Step 2. In the above screenshot, I was using company details that I had searched over the internet, you can too do so.
Also Read: How To Use Facebook Messenger Without Facebook Account
Step 3. Now after filling up, all details proceed by clicking on Get Started, Now on the next page you will be entering the details of your page and that must be accurate and also, the website URL that you can get from the same searched result and now continue by clicking save info.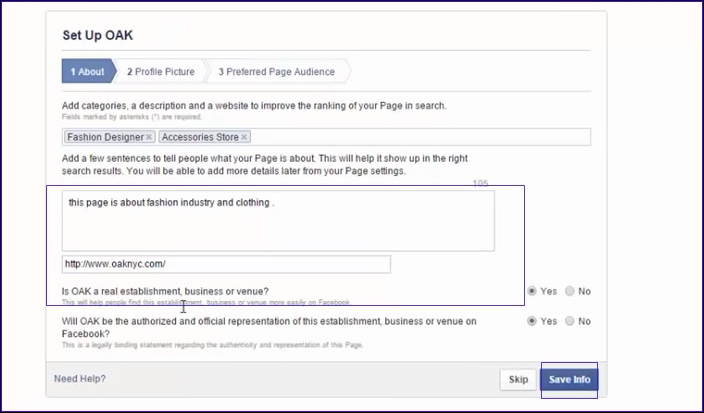 Also Read: How To Like All Facebook Posts And Comments With Single Click
Step 4. Now upload any appropriate profile picture for your page and this must be done.
Step 5. Now you require to target the location for the page, you can use google map search result to drop that location here. Now head towards your Facebook page and then click on settings at the top of your page.  Now below the general section, you need to click on Page Verification option. Now there click on  Verify This Page and the ahead towards by clicking on get started button there.
Also Read: How To Recover Hacked Facebook Account Without Email
Step 6. Now you just need to fill up all the details that are your country, your business details, phone number and all the fields that you will get there.
Step 7. After filling all the details, you just need to click on the option Call me now you will now get OTP on your filled phone number and you have to verify it there.
Also Read: How Hackers Can Hack Facebook Account Password In 2016
Step 8. Just click on Continue and that's it! you are done, now your page is verified. Now you can now have your official local business with a grey tick verified Facebook page.
Also Read: 7 Things I Bet You Don't Know About Facebook
So above is all about Verify your Facebook Page for Grey Tick. With this approach, you can preserve lots of money that you spend on getting your page verified, as the process is very simple and you will get your page verified. Hope you like my work, do share this with others too. Leave a comment below if you have any related queries with this.