Let's admit it: WhatsApp has always been the best app for communication. It's an instant messaging app that facilitates features like text messaging, file sharing, media uploads, etc.
One of the biggest advantages of using WhatsApp for instant messaging is its features. The company regularly adds new features to keep its users engaged on the app.
Recently, WhatsApp got a feature called Channels that lets users receive important updates from people & organizations in a separate and secure space. Now, it looks like WhatsApp is rolling out an AI feature.
The new AI-powered feature of WhatsApp is AI Stickers and is designed to improve communication. WhatsApp AI Stickers are new, and no similar app offers such features.
What are WhatsApp AI Stickers?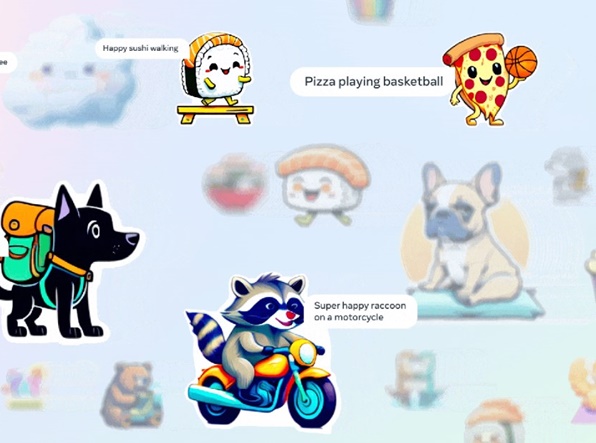 WhatsApp AI Sticker is basically a new feature of WhatsApp that uses artificial intelligence (AI) to generate stickers for you. Like every other AI feature found on Apps, AI stickers on WhatsApp generate stickers based on your text input.
Meta, in its official blog post, said, "Using technology from Llama 2 and our foundational model for image generation called Emu, our AI tool transforms your text prompts into multiple unique, high-quality stickers within seconds"
The feature has been under beta testing for a while and is now rolling out to all users worldwide. WhatsApp AI Stickers are different from third-party sticker makers as the new feature creates personalized & unique stickers on the spot by an AI model.
How to Create AI Stickers on WhatsApp?
While the company is rolling out AI Stickers globally, it isn't available for everyone yet. This feature is now available in limited countries, and you may have to wait a few more weeks to receive it.
However, if you are in luck, you can update your WhatsApp app for Android/iOS and use the feature right now. Here are some simple steps to create AI stickers on WhatsApp.
First, update the WhatsApp app from the Google Play Store or Apple App Store.
Once updated, open the app and select a chat.
Now click on the Smiley icon at the bottom left of the chat field.
On the menu that appears, switch to the Stickers tab.
Next, you will see a Create AI Stickers screen. Tap on the Create.
Now, enter a description of the sticker you want to create.
WhatsApp will now generate four stickers based on your text input.
If you are unsatisfied with the output, edit your description and try again.
Tap on the generated sticker to send it on the chat.
That's it! The generated stickers will remain on the Sticker tray of WhatsApp. You can view stickers you've recently generated by tapping on the timer icon.
How to Favorite an AI Sticker
WhatsApp also provides you an option to mark certain AI stickers as favorites. This way, you can easily access and share the sticker on chats.
Open the WhatsApp app. Now open any chat.
Open the Sticker tray, and tap and hold the sticker.
On the menu that appears, select Add to Favorites.
You can also tap & hold the sticker in your chat to mark them as favorites.
That's it! This is how you can mark an AI sticker as a favorite on the WhatsApp app.
Unable to Create AI Sticker WhatsApp?
If you cannot create an AI Sticker on WhatsApp for Android or iPhone, your app hasn't yet received the feature.
The feature is available in the latest version of the WhatsApp app for Android & iOS. So, update the WhatsApp app from the Google Play Store or Apple App Store.
WhatsApp AI Stickers are currently only available in limited countries and may not be available to you yet. The best you can do is wait several weeks until the global rollout completes.
So, this article is about creating AI Stickers on the WhatsApp app for Android & iPhone. AI stickers are an excellent edition since it lets you generate customized stickers for your chats & stories. So, what's your take on the new WhatsApp AI Stickers? Let us know in the comments below.