WhatsApp started rolling out its Message Reaction feature now for everyone and including the other two useful features for the groups in the latest update for iOS, Android, and macOS.
Recently spotted in WhatsApp beta version, the company is testing a new hide last seen status, about section, and profile photo from the selected contacts.
As leaks were coming about the new features to enhance group chat and communities, so Meta-owned WhatsApp has officially stated its upcoming features and now is rolling out them in the per update.
WhatsApp Latest Update Includes 2GB File-Sharing & New Group People Limit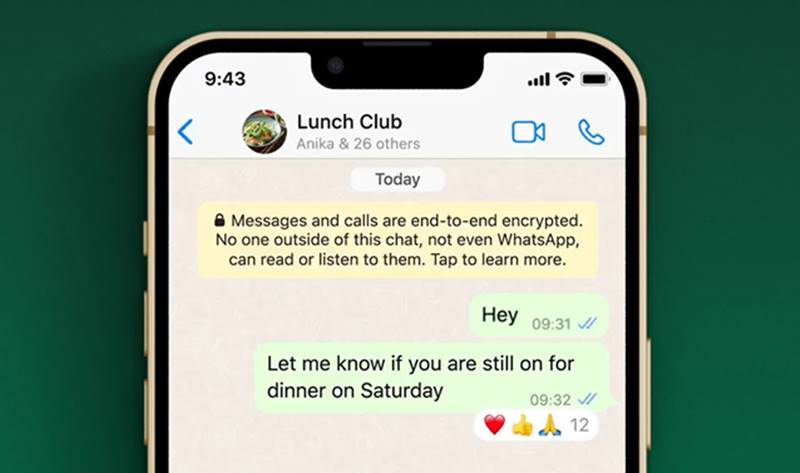 Meta CEO Mark Zuckerberg already hinted on Thursday with his Instagram story that Message Reactions will be rolled out.
Message reaction allows users to react to specific messages with different emojis as Meta's other social platforms, Facebook & Instagram, contain. WABetaInfo first spotted it in the Beta version a month ago, but now it is available for everyone.
Currently, This feature only has six emojis as reactions — Thumbs Up, Red Heart, Face with Tears of Joy, Face with Open Mouth, Crying Face, and Folded Hands.
As our earlier report mentioned, WhatsApp is also working on a new (+) icon option for Message Reactions seen in the beta version, allowing users to add custom emoji reactions to the Message Reactions panel.
You can also check out how to use WhatsApp's new Message Reactions in groups or in regular chats.
Up to 2GB Sized File Sharing
In this update, WhatsApp has also included the requested ability to share large-size files easily in the chat with protected by end-to-end encryption. Previously, the file size limit was 100MB, but it is now expanded up to 2GB in size. Also, it will show you a counter in both cases, uploading or downloading.
Expanded Group People Limit
The company has also expanded the default maximum size to 512 people so you can have more WhatsApp, group members.
If you are wondering that there is no new update shown on the Play Store, restart your PlayStore or wait for the day it will be available.