Microsoft released a new build 22610 for the developers and Windows Insider Program. This Insider Preview build shows some upcoming features to Windows 11.
Microsoft's recent developer event announced some upcoming features to Windows 11, mainly the Tabs like Browser in File Explorer & new colorful themes in Task manager.
The preview update includes many improvements to File Explorer, Family Safety Widget, etc. It mainly contains a newly designed Task Manager with system theme support and some bug & issue fixes as past releases followed.
Windows 11 Latest Beta Preview Retains New Designed Task Manager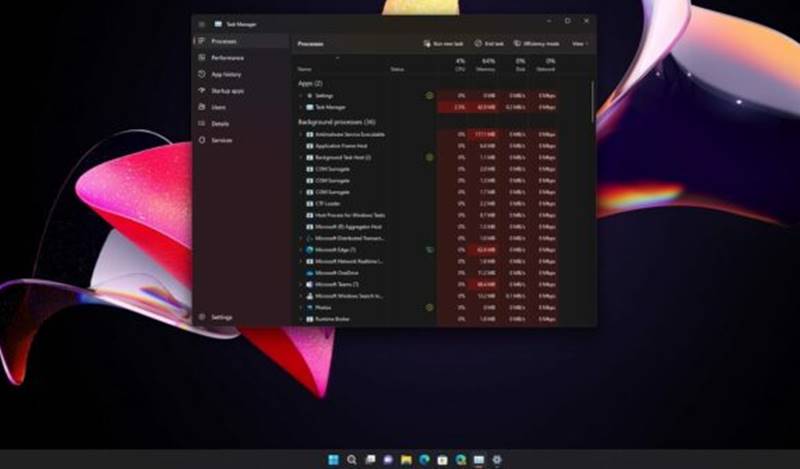 Some minor features like the new battery design icon on the Lock screen and modifications in the Widgets board to bring enhanced content to your Widgets. New Phone link option at Settings > Bluetooth & devices.
Redesigned Task Manager
The Processes page of Task Manager will also use the same colors as you have customized the color theme from the personalization settings; mostly, it will use the blue color due to the Window's primary color or readability.
As you can see in that screenshot, there is also a new power option. New icons will show the running status according to your device's capability. This latest redesign will shift other upper options to the sidebar.
File Explorer Options
As you can see in the screenshot, the updated options icon in the command bar is the rename and properties button in the Windows 11 minimized context menu.
Family Safety Widget
Mainly, its features improvements to the new Family Safety widget, a new location sharing view that will allow you to see your family members' locations, and other features for the member role, there's a new view by which you are able to see your screen time across apps and devices.
Currently, there is no exact date or other information about its stable update to your Windows 11; we can hope for it soon. And you can also experience all these features by joining the Windows Insider Program according to your Windows.