Well, indeed, Android doesn't have a desktop management app like iTunes, but there are lots of third-party apps available on the web that serves as a desktop management app for Android. Apps like ShareIt, Xender, Airdroid can be used to connect your Android device to a PC wirelessly.
If we have to pick the best desktop management app for Android, we would simply select AirDroid. It is because AirDroid is more secure than Xender and ShareiT. Also, both Xender and ShareiT are banned in India due to some security concerns.
What is AirDroid?
Well, AirDroid is a pretty light and fast Android app that lets you manage your Android phone/tablet from a computer. It has both free and premium plans. The free version of AirDroid is suitable for regular file transfer, but it has certain limitations.
The premium version of AirDroid offers some extra features like remote camera access, remote phone calls, and more. Since it's a wireless file transfer app, it requires an active WiFi connection to work. Below, we have listed some of the excellent features of AirDroid.
Features of AirDroid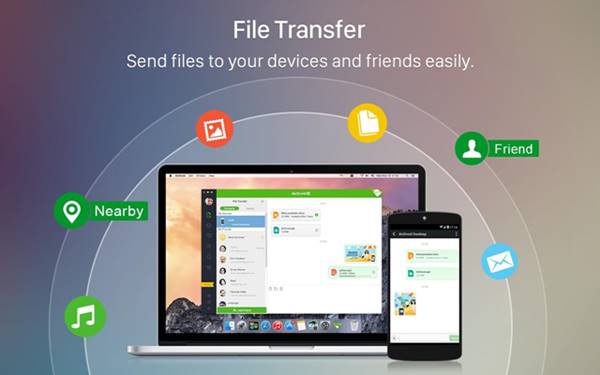 Now that you are well aware of the features of AirDroid, it's time to know its features. Below, we have listed some of the excellent features of the AirDroid Desktop client. So, let's check out the features.
Wireless File Transfer
Both the web version and the desktop client of AirDroid allow you to manage files stored on your Android device. Connecting AirDroid to a PC or Mac is also pretty straightforward; you just need to scan a QR code while connected to the same WiFi network.
Send/Reply to SMS from PC
If you don't want to use MightyText or PushBullet, you can consider AirDroid for your messaging needs. The AirDroid desktop client allows you to exchange text messages from the computer screen.
Receive Android Notification to PC
It doesn't matter whether it's an App notification or system notification like a low battery prompt; you can receive all Android notifications on PC via the AirDroid application. However, you need to enable the Notification Mirroring feature to use this feature.
Install Apps
Yes, you read that right! AirDroid desktop client and web version also allow you to install apps on your smartphone. However, you can't install apps from the Google Play Store. You need to have the apk file of the app to install it via AirDroid.
Transfer Media Files
It doesn't matter whether you want to transfer photos, videos, or any document file; you can transfer it all via the AirDroid Desktop client. To transfer files to your Android device from a PC or vice versa, you need to drag and drop the files on the respective platforms.
So, these are some of the excellent features of the AirDroid desktop client. You need to start using the app to explore more benefits.
Download AirDroid Offline Installer
Well, before downloading the AirDroid offline installer, please note that you can use the web version of AirDroid for your file transfer and remote management needs. However, if you don't have a web browser, you can consider using the AirDroid Offline Installer.
The benefit of having an AirDroid offline installer is that it can be used to install the app on any device without an internet connection. Also, you can use the AirDroid Offline Installer for desktop multiple times on any system. Here are the download links of AirDroid Offline Installer.
How to install AirDroid Offline Installer?
Installing the AirDroid offline installer is pretty easy; you need to move the offline installation files to a portable device and plug the portable device into a system where you want to install AirDroid. Once moved, double-click on the executable file and follow the on-screen instructions to complete the installation process.
Once installed, connect your mobile and PC to the same WiFi network. Now open the desktop client and the mobile app. Use your mobile app to scan the QR code displayed on AirDroid's desktop client.
Once done, it will load all your smartphone files on your computer. You can now manage the Gallery, SMS logs, Call Logs, and more via desktop. That's it! You are done.
This article is all about how to download & install AirDroid Offline Installer on a desktop. I hope this article helped you! Please share it with your friends also. If you have any doubts about this, let us know in the comment box below.