Let's have a look at 20 Best Duplicate Photo Finder & Fixer Tools for Android that will find out the images with the same details and will help you to delete them easily. So follow the complete guide below.
We all nowadays user smartphones to take instant photos or user or for casual photography. It is our more convenient to take pictures through the smartphone cameras and fortunately these small cameras produce really sharp results. Any smartphone user who is also a photo geek would be having numerous pictures in the device. Those pictures probably would also be used often for sharing purposes over social media's or other platforms. All those pictures which the user certainly shares through device also get saved as a copy file. Now alike to this condition, there are many other factors that force the similar crops of images to be saved on the same disk. This is a kind of junk and no user would require to keep it up. For the cleansing of memory, these clones of photos have to be deleted. This could be done either manually or through some apps. For small work, it could be done either manually but for the cleansing of disk full images, it would be better to the user the duplicate photo finder apps. Here in this article were have collected and listed all those best photo finder apps and fixer apps for the Android smartphone users. Just check that out now!
Also Read: Create A Windows Recover Drive/Disk
20 Best Duplicate Photo Finder & Fixer Tools for Android
Also Read: Recover WiFi Passwords Using Android
This app tops on this list because of the factor that it is included with the most powerful algorithm that could easily locate any duplicate image quickly. Users could either scan the part of their storage drives it the full storage for the duplicate images. This app gives an option to the users to justify all the scanned results before the filtered images could be deleted. Overall it is the best available app for the purpose!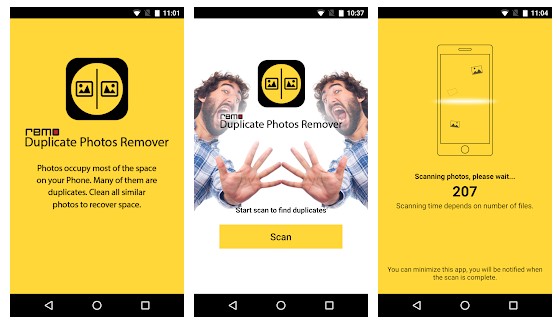 The name of this app justifies the worth, it is the accurate duplicate photos remover app so far. If you have the disk full of cloned images strumming through, then this app could help you make it clear. This is a free app so you can easily grab it from the app stores or internet.
This is the app that automatically identifies all the blurry and dark images out of your gallery and lets you decide whether I'd you wish to remove all of those images. It also scans for the duplicate image content which is by far extremely accurate. Just try this app and toy will love it.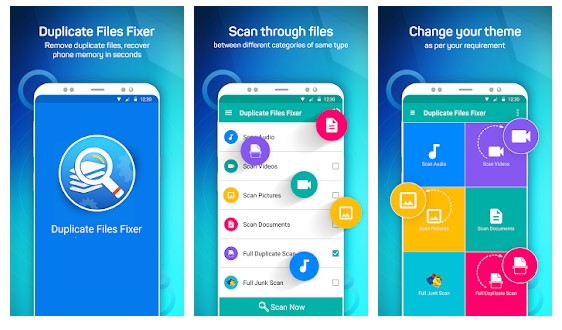 Great app that would easily impress you by its power and speed. Just tap inside the app and select the location for the duplicate image scan. Press just one button and this app will quickly give you the list of any duplicate images on your device. You could delete the useless images while keeping the required ones from the results.
As till now we have been writing about the duplicate image remove apps, but this app is actually the app which provides the users with much more control over the images instead. The clear UI of this app makes it easy for every user to work on it and utilize its functions.
This app allowed the users to scan their storage for the duplicate images. If found any certain duplicate content, this app listed it worth all the other meta details like time, size etc. Everything else is all similar to the other apps stated above. The users would prefer it if they find its UI to be cool.
Duplicate Image Cleaner: The intelligent algorithm beside this app works to check for the duplicate images through visual inspection and not just by the metadata. This could prove to be beneficial to some levels but considerably it worked alike to the other apps only. This app supported the external storage devices too like USB OR OTG.
#8 Photo Cleaner Free
This is advanced duplicate image locator and fixer apps for the Android. It's user-friendly operation makes it really quick for the user to remove all those cloned images from the storage.
One of the easiest useable apps that could help every user to instantly clean their device from all duplicate images. It supports amidst every image formats so clearing any kind of image file from your storage could be possible.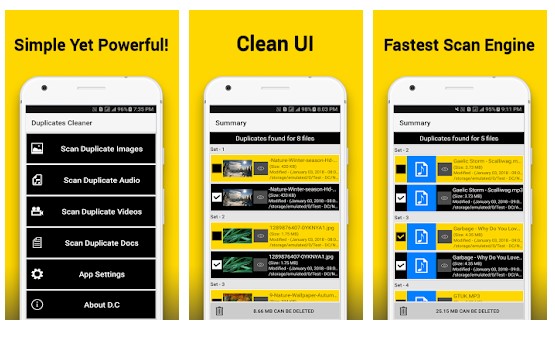 Advanced image searching and scanning with the current algorithms makes this app gain it's position in this list. Further talking about the more features to usability, then this app really deserves higher positions because it is the easiest to use duplicate image locator and fixer apps!
Having duplicate images on a smartphone is natural. At times, these are clicked unintentionally and at others, to capture the best of shots. Duplicate Photos Fixer Pro searches for similar images and removes duplicate photos in no time. The advanced features of this duplicate photo remover make it the best duplicate annihilator.
With Duplicated files finder Android app you can find all duplicate files on your Android device. You can visualize then easily and can delete them. This is one of the best apps which you can use to remove duplicate images.
With Search Duplicate File, an Android smart utility app, you can locate and remove any types of duplicate files from your Android. This is one of the best app you can have to remove unnecessary duplicate images from your Android
Duplicate Photos Remover is an ultimate app that easily scans your phone's internal & external storage (if available) for duplicate & similar looking photos, within seconds! You don't have to sift through hundreds of photos manually.
We must admit that Photos and videos occupy most of our internal storage space. By using Duplicates Remover, you can scan your internal and external storage memory to find duplicated media files. You can later delete them from the app or manually.
Also Read: Top 20 Best Android Penetration Testing Apps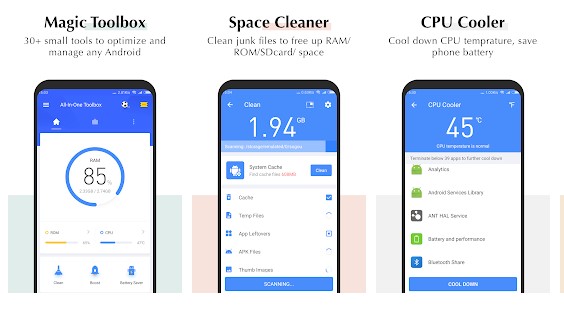 All-In-One Toolbox is your junk cleaner, task killer, speed booster, app master, battery saver, cache cleaner, app locker, CPU cooler, file manager, quick battery charger and more. This app can find duplicate photos and can help you remove them to free up more storage on your Android device.
With AVG Cleaner, your Android device will run faster and smoother, store more data, free up memory by cleaning junk, and stay charged for longer. AVG Cleaner is a smart device manager & optimization tool already installed by almost 50 million people. This also gives user an option to analyze duplicate photos and remove them.
Well, if you are looking for an all-in-one app for your Android smartphone that can clean up junk files and speed up your smartphone, then Falcon cleaner might be the best pick for you. The great thing about Falcon Cleaner is that apart from cleaning junk stuff, the app can also clean up duplicate files including photos, videos, and contacts.
Well, Clean Master is one of the leading cleaning tool available on the Google Play Store. The great thing about Clean Master is that it packs almost everything that you need to optimize your smartphone. From junk cleaning tools to antivirus, Clean Master has it all. Clean Master also packs a powerful duplicate file scanner which scans and deletes duplicate files from the smartphone.
Well, 360 Security is another all-in-one Android tool that you can use for junk cleaning. It also has a duplicate file finder tool which effectively scans and removes duplicate files from your Android smartphone. Apart from that, 360 Security also offers a Junk Cleaner, Anti Spyware, and virus remover. So, 360 Security is another best duplicate photo finder tool that you can use right now.
So these were all the best apps which are made for the only purpose of duplicate image locating and fixing. We just hope that you liked this article. In the case of you feel that any apps are to be included in the list then please give your opinions regarding that in the comments section below!
AUTHOR