We all know very well that a maximum number of users use Google's search engine several times a day for several things to find information about products, trademarks, news, directions, weather data, cinema references, or the schedules of our favorite places and much more.
But, have you ever wondered that there are a few tricks that we can use to perform our query in the search engine to make our searches significantly more effective and efficient.
Also read: How to Enable Google Chrome's Hidden Windows 11 Theme
List of Best Google Tricks That Will Change the Way You Search
Hence, here we will show you ten of these tricks that you can start implementing into practice today. So, now without wasting much time, let's get started and explore the whole list that we have mentioned below.
1. Perform Quick Calculations
You no longer need to use handheld calculators to calculate numbers. Instead, you need to open the Google Search page, type an equation in the address bar.
Google will instantly show you the result in the search suggestions. You don't even need to hit the Enter button.
2. Plan Vacations
You can search for City to City on the Google search page to see the best vacation options. Google Search will show you the travel time, available flights, trains, etc.
Also, Google search will show you the location information and estimated time to reach your destination.
3. Filter Search Results
Well, you might have noticed a top toolbar on every Google search result page. You will find lots of options on the search filter to refine your search.
You can easily select between Images, Videos, News, Books, Maps, and More on the Google Search Result page.
4. Exclude Words from Search Results
Well, you can even exclude words from the search results. For that, you need to add a hyphen – at the start of the word you want to exclude.
For example, if you are searching for remote marketing jobs but don't want to see results from Linkedin, you need to search for remote marketing jobs -Linkedin.
This will tell Google not to show any results with the word Linkedin. Similarly, you can exclude websites as well. For that, you need to add a hyphen- before the site name. For example, remote marketing jobs -site:https://linkedin.com.
5. Narrow Down Search Results by Publish Date
On the default Google Search result page, you will find the option to narrow down the search results by publish date.
For that, search your keyword on Google search. On the search result page, click on the Tools tab. Next, click on the Any time tab and select the filter of your choice.
6. Find Your IP Address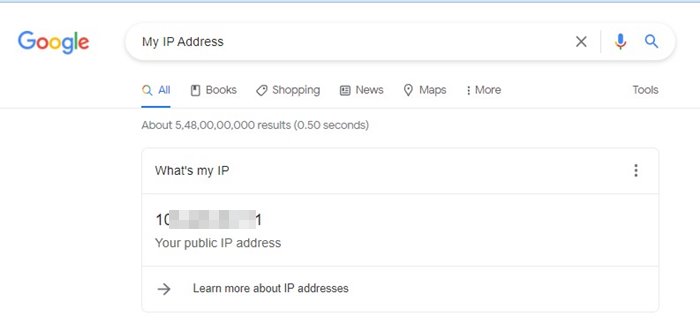 You no longer need to depend on CMD or third-party utilities to find your actual IP Address. If you don't know your IP Address, search for My IP Address on the Google search.
The search result will reveal your public IP Address. You can use this nifty trick to check your VPN connection for IP leaks.
7. Compare foods using "vs"
If you cannot decide between a burger or pizza for your snacks, then type and search "rice vs. wheat," for example, and you will simply receive side-by-side comparisons.
8. Check the web history
Apart from all these things, it is one of the most exciting features the tech giant offers to all its users; I am talking about web history. This feature offers a record of the sites that you have visited, a timeline of your actions, and much more.
So, if you want to access this timeline, then visit Google's My Activity Page.
9. Exact phrases
We can place quotation marks around words for this trick to search for that exact phrase in the exact order we are looking for. However, we should keep in mind that searching with quotation marks could exclude the relevant results.
To search for exact phrases, place the word inside the quotation mark like "Techviral", "Pizza Store Near Me", etc.
10. Avoid capitalizing
Now many of you might be thinking about what will happen if you capitalize on your search terms? First, let me clarify, nothing extraordinary will happen, as Google's search engine is impressively smart.
Google search will show you the same search results regardless of whether the words were capitalized or not.
So, what do you think about this? Share all your views and thoughts in the comment section below. And if you liked this top list, do not forget to share this top list with your friends and family.