As of now, there are hundreds of instant messaging apps available for Android smartphones. However, out of all those, Signal seems to be the best option. Compared to all other instant messaging apps for Android, Signal offers more privacy and security features.
For a list of best Signal Private Messenger features, check out the article – Best Features of Signal Private Messenger You Should Know. Recently, we found another best security feature of Signal known as 'Screen Security'.
Many people might think that Screen Security is only limited to blocking screenshots. However, that's not true. The screen security also prevents Signal previews from appearing in the app switcher on your phone.
Also Read: How to Backup & Restore Signal Chats On Android
Steps to Block Screenshots in Signal Private Messenger
Since these days, people often take screenshots of the conversations, many times, the intention behind such action isn't a good one. Signal nows such things, so they have introduced a Screen Security feature.
With Screen Security turned on, Signal completely disable screenshots for the app. In this article, we will share a step-by-step guide on how to block screenshots in Signal Private messenger. Let's check out.
Step 1. First of all, open the Signal Private Messenger app on your Android device.
Step 2. Once launched, tap on your profile picture.
Step 3. Now on the Settings page, tap on the 'Privacy' option.
Step 4. On the Privacy screen, turn on the toggle for the 'Screen Security' option.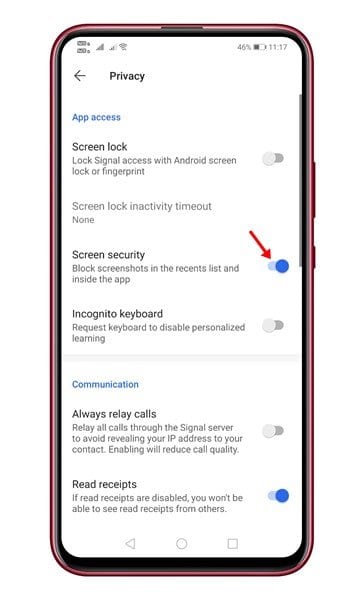 Step 5. Once enabled, whenever you or your friends try to capture a screenshot, they will get a message saying 'Screenshots are not permitted on this screen'
Step 6. To disable the feature, turn off the toggle for 'Screen Security' on Step no. 4.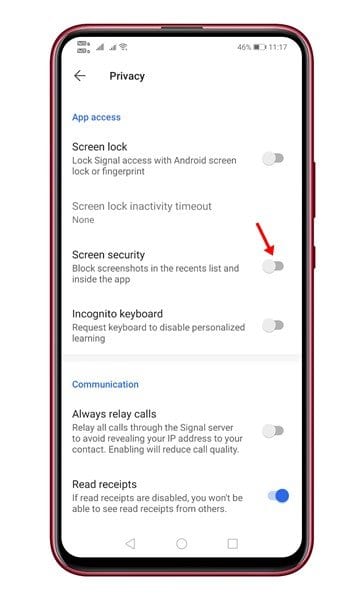 That's it! You are done. This is how you can block screenshots in Signal Private Messenger.
So, this article is all about how to block screenshots in the Signal Private Messenger app. I hope this article helped you! Please share it with your friends also. If you have any doubts related to this, let us know in the comment box below.