Parental controls are essential, especially if you have kids at your home using your smartphone. Since you can't deny lending a phone to your kids, you can still follow a few precautions to block sensitive content.
Most social networking sites, like Twitter, Instagram, etc., provide parental control options. Snapchat also offers a Family Center feature that allows parents to view and monitor their teen's activities.
With this new feature, parents can now monitor their child's Snapchat usage habits. The new feature also got a Restrict Sensitive Content feature that protects kids from viewing sensitive content such as Stories and Spotlight recommendations.
Hence, if you are a parent looking for ways to prevent your kids from viewing sensitive content on Snapchat, continue reading the article. Below, we have shared some easy steps to control and block sensitive content on Snapchat.
How to Block Sensitive Content on Snapchat?
In order to block Sensitive content on Snapchat, you first need to update your Snapchat app. Once updated, follow some of the simple steps we have shared below. Here's what you need to do.
1. First, open your phone's App Store and update the Snapchat app.
2. Once updated, open the app and tap on your profile picture at the top-left corner.
3. This will open your profile page; tap the Settings gear icon at the top-right corner.
4. On Settings, tap on the 'Family Centre'.
5. On the Welcome to Family Centre screen, tap the Continue button.
6. You will be asked to pick your teen's Snapchat account. Select the account and tap on the 'Send invitation'.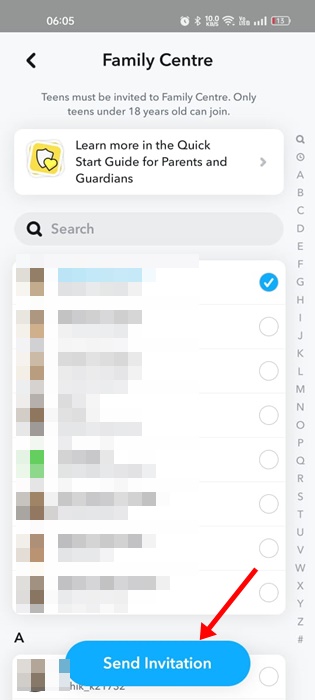 7. Now, you need to ask your kid to accept the invitation. Once the invitation is accepted, you can see their friend list and all recent conversations.
8. You will also get an option to restrict the Sensitive Content. For that, tap on the Restrict Sensitive content option and enable the toggle on the next screen.
That's it! This is how you can control and block sensitive content on Snapchat.
What is the Sensitive Content on Snapchat?
Snapchat is an app that has two different types of content – Regular and Sensitive. The Regular content on the app can be viewed by all age groups.
On the other hand, the Sensitive Content filters certain things that appear to be sensitive. According to Snapchat, these things are considered as 'Sensitive Content'.
Nudity or Adult Content that is inappropriate to view.
Content that includes Explicit words or sentences.
Content that depicts Terrorism, Violence, Hate, and Molestation.
Frequently Asked Questions
Is Family Center on Snapchat free?
Yes, the Family Center feature on Snapchat is free. You just need to use the latest version of Snapchat to utilize the parental control feature.
How to Block Sensitive Content on My Child's Snapchat?
To block sensitive content on your child's Snapchat account, you must set up the Family Center and add your child's account. Then, your child needs to accept the invitation to share their account information with you.
How to block someone on Snapchat?
Snapchat has a feature that lets you block all your annoying friends. Setting up a blocklist on Snapchat is pretty easy; follow our guide – Block or Unblock Someone on Snapchat.
What type of Activity can I see with the Family Center?
The family center allows you to view your teen's friends, see who they've messaged, restrict sensitive content, etc.
Also Read: 15 Best Snapchat Tips & Tricks
Blocking sensitive content on Snapchat is easy; you need to know the right way of doing it. If you need more help configuring the privacy settings of Snapchat, let us know in the comments. Also, if you find this guide helpful, share it with your friends who want to make Snapchat safe for their child.