In our busy schedules, staying organized is the biggest challenge. Even though you have many apps that can help you in task management, what if you forget important events?
Remembering important events like a friend's birthday or your marriage anniversary date can become difficult when you're so busy with your work. And the guilt of forgetting these events can haunt you for years.
The best you can do in such a case is to install a Day Counter app. Day counting apps can save you from the guilt of forgetting important events. After installing day counter apps, you need to make a reminder for any event, and the app will show you a countdown.
10 Best Day Counter Apps for Android & iPhone
So, if you are interested in exploring the best day counter apps for Android and iOS, you have landed on the right page. Below, we have shared some of the best free day counter apps for the phone. Let's get started.
1. DayCount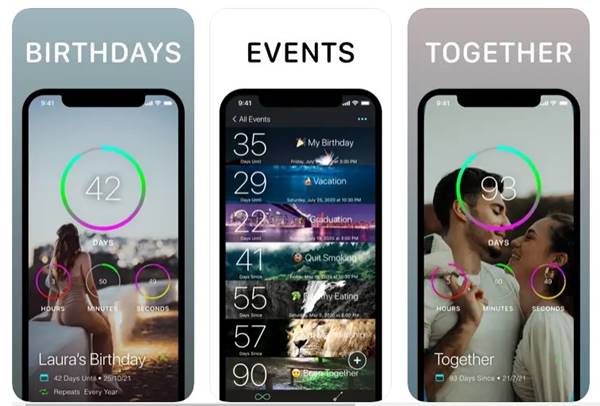 DayCount is a great iPhone app that can help you remember all your events. The app is free on the Apple App store and has been downloaded over 4 million times.
It could be a great app if you want to boost your productivity. With this app, you can focus on what's important to you, receive alerts when you want to be reminded, and track your time.
After adding an event on DayCount, it shows you the countdown in years, months, weeks, days, hours, minutes, and seconds. Apart from these, DayCount also brings you a widget that you can place on your home and lock screen.
However, you only need to note that most of the features of DayCount features are locked behind a paywall. Hence, you must purchase a DayCount premium to use all its features.
2. Time Until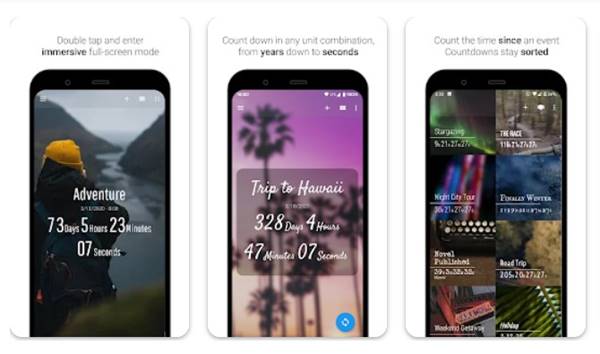 If you are searching for an Android app that can let you create stylish countdowns for any event in the future or past, then look no other than Time Until.
Time Until is a beautifully designed day counter app for Android that is free. To start using this app, you need to set an event and put a reminder in seconds, minutes, hours, days, weeks, or months.
Once you add an event, it lets you see the countdown for the day since the event has passed. The free version of Time Until for Android lets you set up 10 reminders; you can unlock more by purchasing its premium version.
Also, Time Until provides you few colorful widgets that you can place on your home screen. The Time Until widgets lets you get to your important events directly from the home screen. Overall, Time Until is a great app you shouldn't miss at any cost.
3. TheDayBefore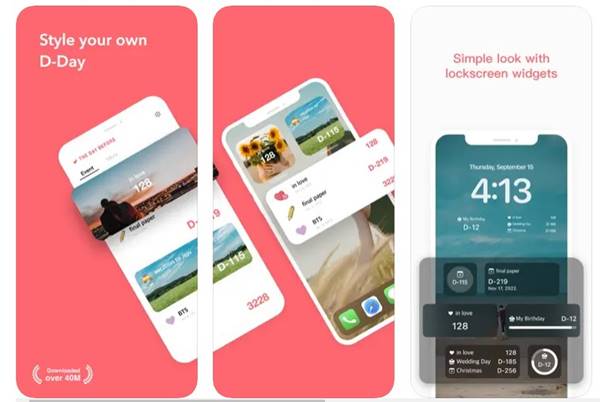 TheDayBefore is a very popular day counter app for Android and iOS. Millions of users now use the app, which helps you remember all your important events.
You should immediately install TheDayBefore on your Android and iOS if you want to attend all important days, such as an anniversary with your lover, a family's birthday, an important exam date, etc.
The good thing about TheDayBefore app is that it provides you with various calculation methods. You can count days, months, weeks, DDMMYY, Monthly repeat, Yearly repeat, and more.
And just like every other day counter app on the list, TheDayBefore also provides a home screen widget in 3 different sizes. On the Widget, you can manually set the background image, change its text colors, and more.
4. Countdown App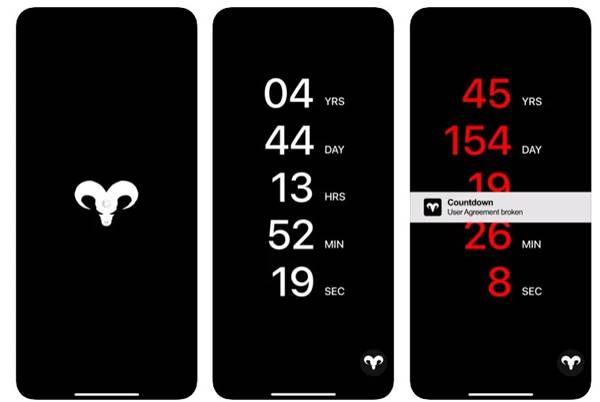 Countdown App is a day counter app for iPhone that helps you to count how many days are left and how many days have passed until an event. This one could be a perfect pick for those who prefer simplicity over everything else.
Since it's a day counter app for iPhone, it could be a very useful tool to manage important events like Birthdays, Celebrations, and other important dates.
Apart from tracking remaining days based on the events, you can also create dates in the future manually, and the app will show you exactly how many days are left until the date.
Yes, you even get an option to create dates in the past to see how many days have already passed since the event. Other useful features of the app include sharing date information, setting images for a particular date or event, etc.
5. Countdown Days App & Widget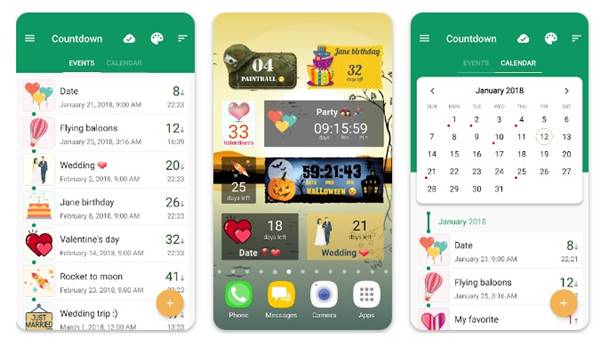 Countdown Days App & Widget is a very popular day counter app for Android that will help you stay on top of your weekly plans.
Compared to other applications listed in the article, Countdown Days App & Widget has a cleaner user interface and provides you with better options.
With this app, you can set a daily reminder, a reminder for an event in the past, and recurring events with repetitions on a weekly, monthly, or yearly basis.
And as the app's name says, Countdown Days App & Widget also brings countdown widgets to your home screen. You get 4 different widgets that are fully resizable.
The only drawback of the Countdown Days App & Widget is that only some app features are free. You need to make an in-app purchase to unlock certain app items.
6. Event Countdown Timer & Widget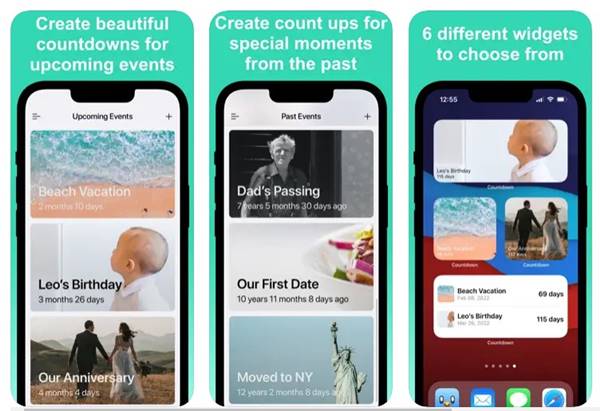 Event Countdown Timer & Widget is an iPhone app on the list that lets you create beautiful countdowns for your important events. You can create countdowns for both an event in the past and the future.
The app is not very popular, but free and without hidden charges. This is a great iPhone app to create countdowns to birthdays, vacations, concerts, weddings, and other important events.
Every countdown event you create in the app can be customized later. In fact, the app is known for its customization option. You get a virtually unlimited amount of backgrounds to choose from.
Some other features of Event Countdown Timer & Widget include scheduling events to repeat later, 6 different widgets, the ability to share the countdowns, etc. Overall, Event Countdown Timer & Widget is a great day counter app for iPhone you should take advantage of.
7. Countdown Star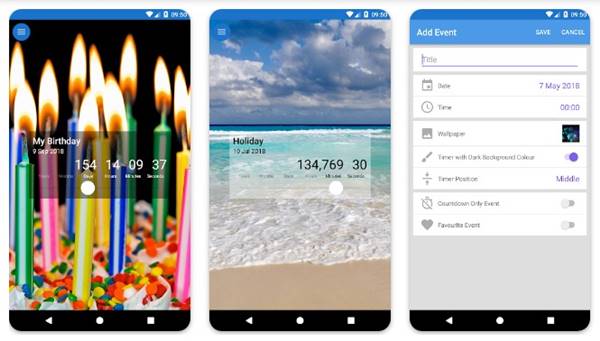 Countdown Star is an event day counter app for Android and iOS. The app is very popular on both platforms, and it's available for free.
It doesn't matter whether you are looking for an app to count the remaining days for your graduation, wedding, or other important events; Countdown Star is there for you to help.
Countdown Star is a fairly beautiful and well-built app that can show you exactly how many seconds, months, days, hours, and time are left until your event.
You can manually add your past or future events for the countdown, customize existing events with your wallpaper, display your important events on your Apple watch, etc. The app is fully compatible with the latest version of iOS, iPadOS, and watchOS.
8. Dreamdays Countdown
Dreamdays Countdown is a great day counter app for iPhone and Android that you can trust to ensure you won't miss any important event. The app is fairly lightweight but has a few bugs that sometimes crash it.
The good thing about Dreamdays Countdown is that it lets you count down to any important event with reminders and voices. Yes, the app does support adding voice memos to the event you will add.
By default, the app provides you with five different countdown templates for tracking anniversaries, birthday, holidays, life, and school. You can also add your category and add as many events as you want.
Dreamdays Countdown also allows you to change the background image of every event and color code the labels of the events. You can also set up passcode protection to keep your important event safe.
9. Countdown+ Widgets Calendar
Countdown+ Widgets Calendar is a full-fledged day planner app for Android and iOS. You can use a wide range of features for planning your day and upcoming events with this app.
Yes, you can set a countdown to an event, birthday, concert, holiday, or any event in your life, but mostly the app provides features to organize your day.
After creating a new event on the app, you see different categories like goals and achievements, sports, etc. Assigning your events in these categories unlocks event-specific features.
For example, if you create an event and put it in the Sports category, you can enter important information related to the Sporting event.
The app also brings highly customizable widgets to your Android and iOS. The widgets are highly customizable; you can customize the widget font, text color, background color, and more.
10. Exam Countdown
Exam Countdown is a very beneficial app for students. It's an app that brings a simple countdown timer for exams and important tests.
Apart from the countdown timer, you get a calendar, widget, and reminder options. Exam Countdown is available for Android and iOS and is completely free to download and use.
To start using the app, you must install it and add your exam dates. Once added, you can set reminders or countdown timers. Even if you don't plan to use it as an exam countdown app, you can store all your exam and test dates in one place.
You also get a variety of ways to set countdowns. You can set the countdown of years, days, hours, minutes, and seconds to the exam. Apart from that, you can also color code the most important exams.
Exam Countdown is a must-have for all students preparing for examinations at all levels. There's a premium version that removes ads and unlocks widgets and color icons.
Also Read: How To Directly Download APK from Google Play Store on PC & Android
All the apps listed in the article were available on the Google Play Store and Apple App Store. So, these are some of the best day counter apps for Android and iPhone. If you want to share your favorite day counter app, let us know in the comments below.