If we look around, we will find that video-sharing platforms are on the rise. All thanks to the video platforms like YouTube, Twitch, Facebook, etc. video streaming industry has recorded massive growth over the past few years.
These days, you will find users talking about videos, sharing ideas on being a YouTube content creator, etc. All these things show the craze of video platforms. If you are also willing to pursue your career in the field of videos, you would need a proper video editing program.
As of now, there are hundreds of video editing programs available for Windows; you can use any of them to create, edit, and share videos directly to different video-sharing platforms.
However, the problem is that sometimes having so many choices can be confusing. As a result, users often ask us to recommend the best video editing programs for PC. So, in this article, we will talk about one of the best and highly used video editing programs for PC, known as VideoPad.
What is VideoPad?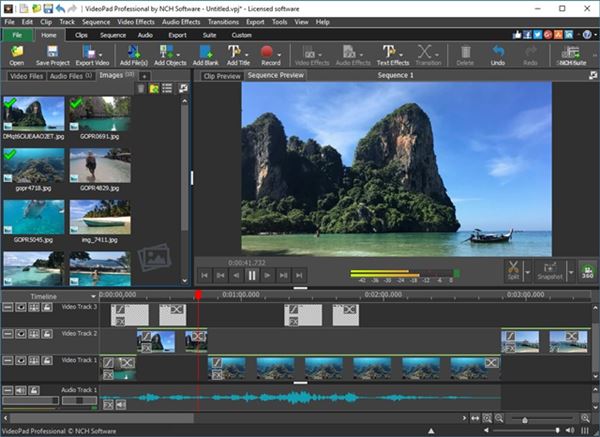 Well, VideoPad is a professional video editing software designed for everyone. When we say everyone, it means it's perfect for beginners as well as professionals. The video editor is designed to be intuitive, and it can create quality videos within a few minutes.
When it comes to file compatibility, VideoPad supports almost all popular video formats, including AVI, WMV, DIVX, MP4, MPEG, and many more. You can even use this video editor to edit videos captured from a camcorder, GoPro, webcam, etc.
VideoPad is one of the most effective video editors for PC that brings you smarter tools to carry out your video editing tasks. It's also one of the fastest video editing programs available on the marketplace.
Features of VideoPad Video Editor
Now that you are aware of the VideoPad video editor, you might want to know its features. Below, we have highlighted some of the best features of the VideoPad. Let's check out.
Easy to use Interface
Designed to be intuitive, the VideoPad video editor is extremely easy to use. This is mainly because of its excellent and clean user interface. The Interface is clean and nicely organizes its tools.
Awesome Video Transitions
The premium version of VideoPad brings stunning video transitions that you can use on your projects. It offers you almost hundreds of video clip transitions effects. All of the transitions are free to use.
Wide Range of Effects
Just like Video Transitions, VideoPad also offers you hundreds of effects to improve the quality of your videos. Also, you can create your visual effects and save them as templates on VideoPad.
Digital Audio Tools
Since VideoPad is a full-fledged video editor, it also brings a few digital audio tools. With digital audio tools, you can import and mix music tracks like a professional.
Video Optimization
If you are looking for an advanced tool to optimize your videos, look no other than VideoPad. VideoPad offers you complete video optimization tools that could help you fine-tune your video.
Other editing tools
Apart from regular video optimization, VideoPad offers you a wide range of tools for a different purposes. For example, you can slow down, speed up, or reverse video clips. You can reduce the camera shake, create looped gif videos, etc.
So, these are some of the best features of VideoPad. It has more features that you can explore while using the tool on your PC.
Download VideoPad Latest Version for PC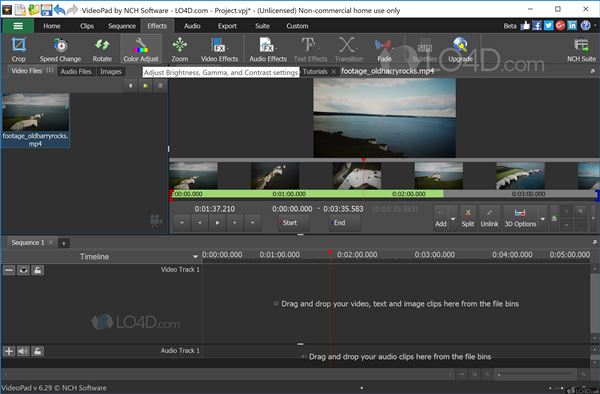 Now that you are fully aware of VideoPad, you might want to download & install the program on your PC. Please note VideoPad is not available for free. However, you can use the trial version to enjoy all premium features for free.
The premium version of VideoPad offers you all editing tools along with 50+ visual effects. So, if you want to enjoy the full benefits of VideoPad, you need to purchase the premium version of the program.
Below, we have shared the latest version of VideoPad. The file shared below is free from virus/malware and is entirely safe to download & use. So, let's get to the download links.
How to Install VideoPad on PC?
Well, installing VideoPad is pretty easy, especially on Windows 10 operating system. First of all, you need to download the VideoPad installation file that we have shared above.
Once downloaded, run the VideoPad executable file and follow the on-screen instructions to complete the installation process. Once installed, you will be able to use the program.
However, if you are running the trial version, you will have limited features. So, make sure to purchase the license key to activate the product.
Designed to be intuitive, VideoPad has served as the best program to edit videos. You can use the program to create videos for YouTube, TikTok, or any other video-sharing platform. I hope this article helped you! Please share it with your friends also. If you have any doubts related to this, let us know in the comment box below.