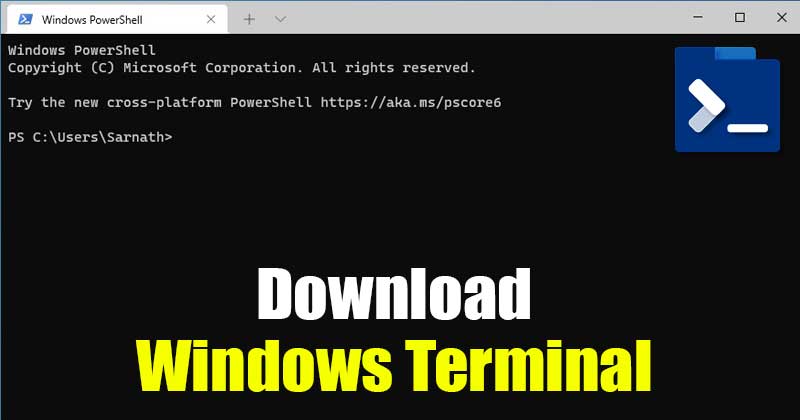 Well, the previous year, Microsoft introduced a new Windows Terminal. Many users were already using the modern terminal that offers better features like tabs, split panes, multiple session times, and more.
The new Windows Terminal app also features themes and customization for developers who want to tweak the Terminal app. For customization, you need to edit the JSON file with the Terminal.
Although the new Terminal is released the previous year, Microsoft hasn't yet included the program on Windows 10. That means users need to manually download & install the new terminal on their Windows 10 computer.
So, in this article, we will talk about how to set up and use the new Windows Terminal on Windows 10 computers. But, before that, let's check out some of the features of Windows Terminals.
Windows Terminal Features
Now that you are aware of the Windows terminal, you might want to know its features. Below, we have highlighted a few features of the new Windows Terminal app; let's check them out.
Fast & Efficient
The Windows Terminal is a modern, fast, efficient, powerful terminal application. Also, the new Terminal looks modern,and ioesn't consume much of your RAM resources.
Combines Command-Line Tools & Shells
The new Windows Terminal combines many command-line tools and shells like Command Prompt, PowerShell, and WSL. So, it's one application to access various command-line tools & shells.
Multiple Tabs
Well, Microsoft finally introduced tabs in the command-line environment. The new terminal app for Windows 10 allows you to create tabs. That means you can run different command-line tools like CMD, PowerShell, etc., from a single Window.
Supports a Variety of Command-line Apps
Any application with a command-line interface can run inside the new Windows terminal. This includes Command Prompt, PowerShell, Azure Cloud Shell, WSL Distributions, and more.
Customization Options
Well, the modern Windows terminal is highly customizable. For example, you can configure your Terminal to have a variety of color schemes and settings. Not only that, but you can even change the background of your Windows terminal.
Supports Unicode and UTF-8 Character
The new Windows Terminal supports Unicode and UTF-8 Characters. That means it can show emojis and characters from a variety of languages.
GPU Accelerated Text Rendering
If your laptop or PC has a dedicated GPU, then Windows Terminal will use your GPU to render its text. The GPU Accelerated text rendering provides improved performance and stability.
So, these are some of the best features of Windows Terminal. Some other features include command-line arguments, custom actions, and more.
Download Windows Terminal Latest version
Now that you are fully aware of Windows Terminal, you might want to download & install it on your operating system. Please note that Windows Terminal is available for free, and it's an open-source project. Since it's an open-source project, one can expect more features in the future.
There are two different ways to download the new terminal in Windows 10 – one through the Microsoft Store, and the other requires manual installation.
So, if your PC doesn't have Microsoft Store access, you need to download the file shared below. Below, we have shared the working download link of the latest Windows Terminal.
How to Install Windows Terminal on Windows 10?
If you don't have access to the Microsoft Store, you need to download the file shared above. Once downloaded, run the file on your computer and follow the on-screen instructions to complete the installation.
If you have access to the Microsoft Store, follow our guide Enable Tabs in your Command Prompt Window. After installing Windows Terminal, launch it from the Start menu and use the app.
The good thing is that you can customize Windows Terminal as per your wish. You can change the colors, change the background color, and more.
So, this guide is all about downloading Windows Terminal. I hope this article helped you! Please share it with your friends also. If you have any doubts related to this, let us know in the comment box below.