Now you can See the Email Sender's Company and Logo in your Gmail Inbox with the help of the Google Chrome extension that will extract the sender's details and display the company favicon in front of you.
Gmail is a very successful mailing interface. Today millions of people use Gmail accounts daily to send and receive emails. And more than billions of users are there on Gmail that uses this mailing service daily, but usually, users don't know lots of hidden features that you can unlock in Gmail. And we are here to discuss the trick that will embed the email sender's company and logo in your inbox.
Yes, it's possible, and I bet many of you don't even hear about it. That is why we are always here with some innovative things that our precious users must love to try. And this guide will discuss the complete way to help you see the Email Sender's Company and Logo in your Gmail Inbox with a simple trick. So let's have a look at the guide that is discussed right below.
Also Read: Send Self-Destructing Emails To Your Friends In Gmail
See the Email Sender's Company and Logo in your Gmail Inbox
If I am not wrong, most of you guys are using Google Chrome and must try out many excellent chrome extensions that add up many new features to the browser. And in this, you will be using one of the Chrome extensions that will help to implement our topic.
Don't panic if you don't know about Chrome extensions, as I explain the complete tutorial step by step with screenshots that will make it easy for all of you guys to install and use this extension. So follow up on the below steps to proceed.
Also Read: Unsubscribe All Annoying Emails In Gmail At Once
About The Extension:
Gmail Sender Icons is a Google Chrome extension that makes it easy for you to identify the email sender in Gmail. It shows the company domain of the email sender and the official logo (favicon) of the sender's organization alongside the email message. For instance, if you receive an email from [email protected], the Gmail extension will add a virtual label google.com to your email message and a Google website logo.
The favicons and the sender's domain are visible across Gmail, including search results. The sender's label is applied virtually, and the actual labels of the email message are left unchanged.
The Gmail Chrome extension uses the Google S2 service for generating the website's favicon, while the Gmail messages are parsed with the Inbox SDK framework. All processing is done locally in your browser, and no Gmail data is shared or uploaded anywhere.
Also Read: Best Ways To Protect Your Gmail Account From Hackers
Install Gmail Sender Icons Extension And use It In Gmail
1. First, you need to download and install one of the coolest and now my favorite google chrome extension, Gmail Sender Icons, the extension that will extract the sender's details and be using it to show the favicon in front of emails.
2. Simply browse the link and click on Add To Chrome and you will see the extension will start downloading. Within a few moment extension will get added to your browser, and you will see the black color icon at the right corner
3. Now, click on it, and you will see two options. Make sure that both of them are enabled.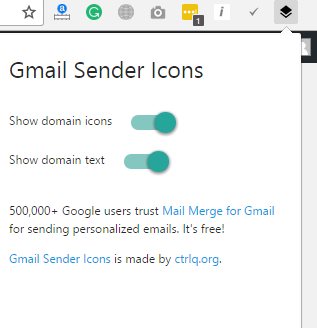 4. Now open your Gmail inbox, and you will surprisingly see the company's icon in front of every email.
5. That's it. You are done; now it will be easier for you to manage your emails better and identify the sender easily. This can also be helpful in detecting the spam emails on your account.
Also Read: Sign Out From Your Gmail Account Automatically
So above guide was all about Seeing the Email Sender's Company and Logo in your Gmail Inbox. You just need to use the extension, which will make judging the email's sender easier. I hope you like the guide; keep on sharing with others too. Leave a comment below if you have any related queries about this.