Last month, the Indian Government banned PUBG Mobile with other 117 Chinese apps. And now, at the end of October, all the servers of the are shut down. When you open the game now, you will see an error saying, "Server is Busy, please try again later. Error code: restricted area." and "Unknown error. Please Restart your device and try again. Error code: 70254639".
Even after the ban, many of them were playing the game as the game servers were not removed. The game was only removed from the official stores. Just a day before, PUBG Corp. has posted a message on Facebook informing about the servers in India. They announced that all the services and servers in India would be shut down from 30th October to India.
All the servers are now shut in India, and you will see a message as shown in the picture below.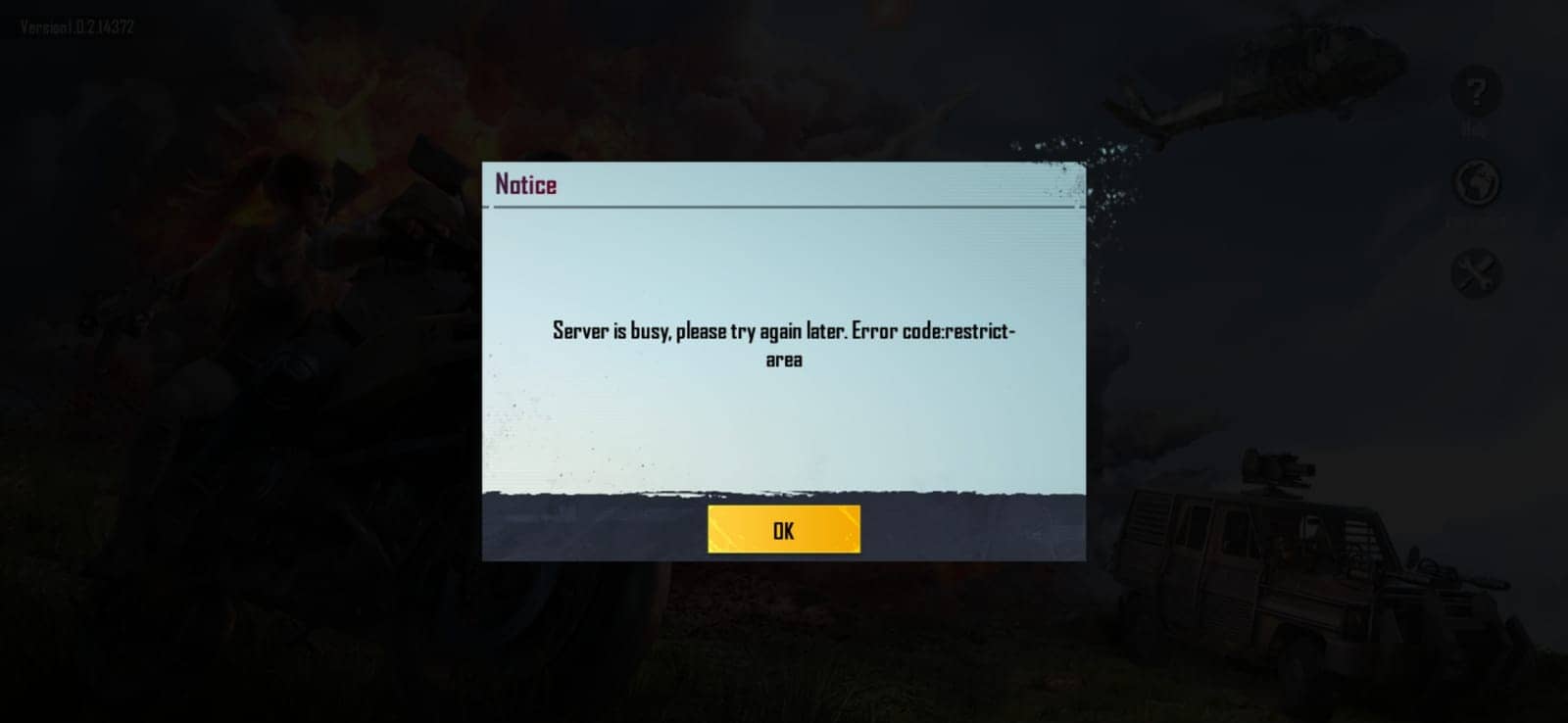 Now, let us check out how you can fix this error. I am sure all the PUBG fans are searching for a solution to fix this error. So, here we are with the solution.
LATEST UPDATES:
How to Fix "Server is busy, please try again later. Error code restricted: area" in PUBG?
Officially, there is no solution to get this game back as the game is officially shut in the Indian region. But, if you still want to play the PUBG game, then you can try out the VPN (Virtual Private Network).
You might have heard about VPNs, which are used to use the apps which are banned in a particular region. By using the VPN, you can change the region and change the server and start using that app or a game that is banned in your country.
So, let us try out a VPN for PUBG also. There are so many VPNs available that can be used. Here we are going to try out with NORD VPN.
Use VPN to fix "Server is busy, the error" in PUBG
Follow the steps and start playing PUBG.
Firstly, download the Nord VPN on your device from the official store.
Once it is downloaded, install the app and open it.
For creating a new account, it will ask you to enter an Email and password.
Now, click on Quick Connect to get connected to a server.
Swipe up and check out the countries
You will automatically be connected to that country server.

That's it! Now, open the PUBG Game and start playing with different servers.
How to Fix "Unknown error. Please Restart your device and try again. Error code: 70254639" error in PUBG?
First, we saw the "Server is busy" error and now this is a new error "Unknown error" in PUBG mobile. It says to restart your device and try again. If you are also getting this error then retry and check whether it allows you to play games or not.
NordVPN Alternatives
If you don't want to use NordVPN for any reason, then you can use another VPN. These are some of the best NordVPN Alternatives.
ExpressVPN
QuickVPN
Windscribe
TunnelBear
CyberGhost
PureVPN
More methods to Fix PUBG Error
If you are not satisfied with the above method, then you can try out another method. We have provided the best methods to play PUBG Mobile after the ban. 
So, this is the solution to fix the PUBG server is a busy error. As of now, the best solution is using a VPN only. As with VPN, we can change the server, so; you might get a chance to play PUBG in India. We hope this article was helpful to you.