In recent years Android has progressed a lot, and we all have seen numerous new versions released. There is the Android N Preview release and an official update for some devices.
Users who are just curious about new versions of Android would like to experience the Android N features. This version has been launched officially and is available for limited devices, mostly for the new ones.
Steps to Get Android N's All New Emojis on your Android Device
Here in this article, we will discuss how you can get Android N's All New Emojis right on your device, no matter how old your device is. Yes, it's possible and can be easily done on your device.
1. First of all, you need a rooted android, and for that, you can follow our guide to Easily root your device with Root Master.
2. Also, you need to back up all your apps in your Android, and for this, we suggest Titanium Backup for this purpose, as this will work on rooted Android and give you the complete backup of all your data. Save the backup file on your SD Card.
3. The major thing you have to do is backup your current ROM, which can be best done with the help of either using Clockworkmod or using Rom Manager App. This app automatically back up your Current Rom and save the Rom Backup File In Your External SD Card.
4. After doing all the above steps, proceed with installing the Custom Recovery. You can search out the method for your respective android device, and in MTK devices, you can use the app Mobile Uncle Tool to install the custom recovery.
5. You need to Download the Android N Emoji Pack (.zip).
6. Now use the Rom Manager App, which is quite safe, and flash the zip you downloaded.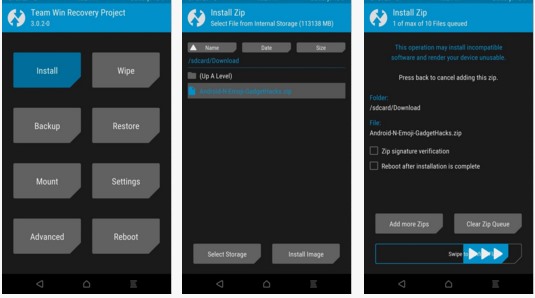 7. That's it; you are done. Now you will see your device will have all new cool emojis for which you don't need to wait for an official update.
So this is all about how to get Android N's all-new emojis on any Android device. Use the above guide, and you can easily get all-new cool emojis of Android N right on your device. So try this today, and keep on sharing with others too. Leave a comment below if you have any related queries about this.